The Scary Truth About Millennials And Alcohol Abuse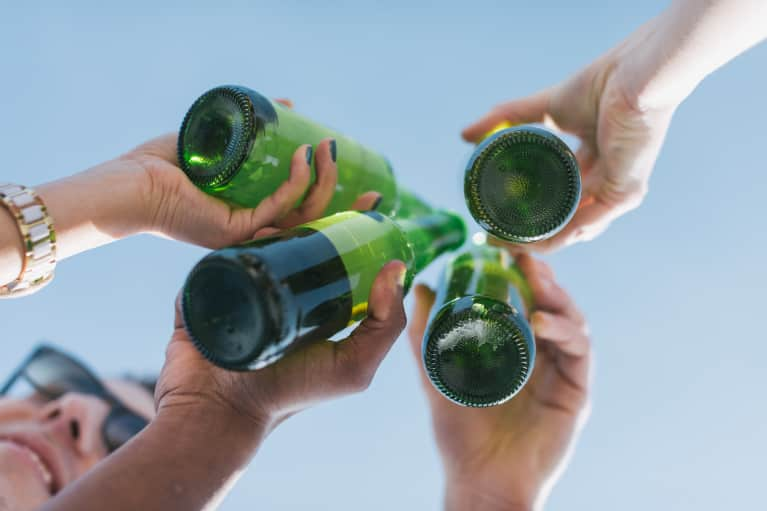 Last Thursday night, I was sitting at a rooftop bar under glowing string lights as the waitress arrived with our drinks. In this quintessential hipster moment, each of my friends excitedly took their mason jars, Instagrammed a photo, and raised a glass. And there I was, awkwardly holding up my glass of water. (It was in a mason jar, though. Am I still cool?)
Before you cast judgment on me, no, I'm not one of those people who's disgusted by alcohol, looks down on those who drink, or even speaks about drinking often. In fact, I've never even written about drinking until now. Because, for me, there isn't much to think about. Ever since I made the decision to stop drinking, my life has improved so dramatically that I've never had one "what if" or moment of FOMO. It's just not in me anymore.
From a young age, I thought of drinking as a mature and fun activity that had the power to make you classier. I saw my parents drinking at fancy dinner parties, attractive college types getting wasted on TV, and older cousins toasting with cocktails at family events. So, from the second I was given the opportunity, I went for it. I was 14. Now, 10 years later, I can confidently say that most of the mistakes I've made in my life were caused by alcohol consumption.
Twenty-five percent of millennials with financial stress use alcohol to cope.
Even beyond just mistakes, I also attribute my most embarrassing, dangerous, and traumatic moments to drinking. I don't know if I was ever a textbook-definition alcoholic, but I certainly saw my quality of life decrease when I was drinking heavily, especially in college. Everything from my friendships to my health to my self-worth dwindled so low that I no longer recognized myself.
So, long story short, I quit. As a 24-year-old, it's hard to always recognize what's happening to you when distracted with life's changes—graduation, jobs, new cities, friends, family, relationships, everything! So if you're a millennial (or you know one), here are some pretty sobering (pun intended) facts to know about alcohol consumption and its impact on our generation:
1. Millennials don't always drink for obvious reasons.
Thirty-one percent of American alcoholics are young people, and over half of young alcoholics have been diagnosed with anti-social personality disorder (ASPD). So basically, a lot of millennials aren't just binge drinking because they're in college or just want a fun night out with friends. The majority are actually using alcohol to cope with the disorder symptoms, some of which are depression, anxiety, irritability, fatigue, mood swings, and shakiness. We're not talking about just a few individuals here; we're talking about the majority of young alcoholics.
2. Millennials are crazy wine consumers, drinking 159.6 million cases of wine in 2015 alone.
That's more wine than any generation has ever consumed within one year. "Finally, as technology, laws and new business models continue to expand the way we buy and talk about wine, Millennials have led the way," said Ben O'Donnell in Wine Spectator. "Of Millennials who drink wine, more than 50 percent of them talk about it on Facebook, with more than a third using YouTube, Twitter and Instagram for wine-sharing purposes. Navigating a wine world with far more options than their predecessors' makes information a necessity."
3. They're also obsessed with their health (aka less beer, more vodka).
According to a 2014 study, 95 percent of millennials deeply value their personal health, which directly correlates to their drinks of choice. Instead of going for the six-pack of beer, they're now reaching for less calorie-dense options, such as vodka, wine, and spirits. While taking shots of vodka was previously less popular, the consumption of shots (over mixed vodka drinks) has risen from 13 to nearly 30 percent.
4. They drink when they're stressed.
While the average stress level of every other generation is 4.9, millennials top out at 5.5. If you're still doubting whether stress and drinking correlate, check out this statistic: 25 percent of millennials with financial stress use alcohol to cope. With alcohol becoming less expensive (we're looking at you, Two-Buck Chuck), it's no wonder that anxious drinking habits have become more common.
If any of these experiences ring a bell, it might be time to take a step back and re-examine your habits. There are also plenty of resources to get more information, seek help, or just talk to someone. So take care of yourself. These young years are precious.
Related reads: