8 Easy Ways To Shake Up Your Healthy Dinner Routine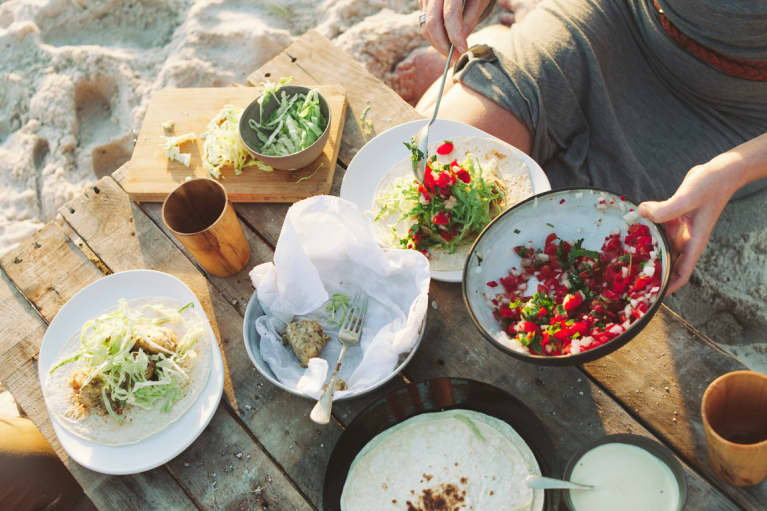 A dinner rut goes a little something like this: You find yourself getting tired of cooking the same old stir-fry every week, and yet, you feel completely uninspired to make anything new. Before you know it, you're hitting up your roster of takeout joints more than you'd like to.
We've all been there.
Getting out of a food rut is hard when you're lacking ideas you're excited about or when you don't have all the right ingredients to try something new.
Luckily, we're here to help you out. Here are eight easy ideas to get you out of your dinner rut:
1. Buy an ingredient you've never cooked with before.
2. Use a meal delivery service.
Let someone else take care of shopping for the ingredients and recipe research and get it all delivered to your door.
Services like Blue Apron are great for this (and now, get $30 off your first order). You can choose the dishes that fit with your dietary restrictions and tastes from a selection of chef-curated recipes, and the service takes care of everything else, from responsible ingredients sourcing, to portioning, and temperature-controlled delivery.
You'll get super fresh ingredients and recipes delivered to you each week. They'll deliver a two-person or family-size portion, depending on how many people you're cooking for, and meals end up being less than most takeout—starting at $8.74 per person per meal, plus shipping is always free.
They offer a great selection of unique dishes that change from week to week, so you're guaranteed to get out of your rut.
3. Invite some friends over.
Guests introduce a whole new element to meal planning, whether it's a vegan guest or you're just looking to impress, use this opportunity to find something you really want to share.
It could be an old favorite that you put a new twist on or a new recipe that you've been dying to try but wouldn't normally attempt on a regular weeknight.
4. Source recipes from a new place.
Pick up a new magazine, browse the cookbook section of bookstore, or find a new website that resonates with you. You just need a little nudge to spark some inspiration, so looking at something fresh is always a good move.
5. Re-create your favorite restaurant dish.
Love that nourish bowl from the corner cafe or have a go-to curry from that Thai place you always order from?
Mix it up and make your own at home. Customize it by adding a favorite vegetable or protein that the original might not have.
6. Treat yourself to a new kitchen tool. Then use it.
It can be something as simple as a julienne peeler or microplane grater, or as fancy as a spiralizer or slow cooker. Think of new ways you could use the tool (like sweet potato noodles instead of zucchini) or look up recipes that use it (think slow-cooker chili).
7. Choose a particular cuisine as a jumping-off point.
Decide it's Mexican night or pick a theme night for each weekday, i.e., Curry Monday, Taco Tuesday, Breakfast-for-Dinner Wednesday, etc. Use that as a guideline, and get creative with it.
8. Try a new cooking technique on ingredients you're already comfortable using.
Always steaming that broccoli? Try sautéing it with some ghee or roasting it with avocado oil. Add garlic or ginger to the mix, or try it with a new dressing.
Think of something you default to, then completely mix it up. This works particularly well with vegetables as they have such different characteristics when raw, roasted, sautéed, or steamed.