How Olympian Caroline Burckle Eats To Fuel Her Fitness-Filled Days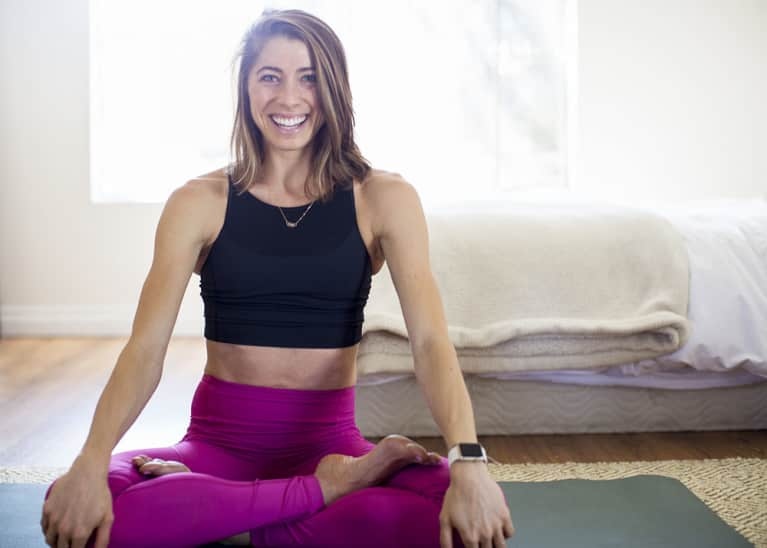 Describing my diet is simple.
Yes, it is just that...simple. Not complex; not compound. My palate has been keen to all things green and fresh since I was a little, lanky swimmer chick. I am a secret student of Chinese medicine (yes, I study my almanac Healing With Whole Foods in my downtime), thus I really believe that food heals everything. I notice at the drop of a hat how my physical and mental states drastically shift with what I put into my body.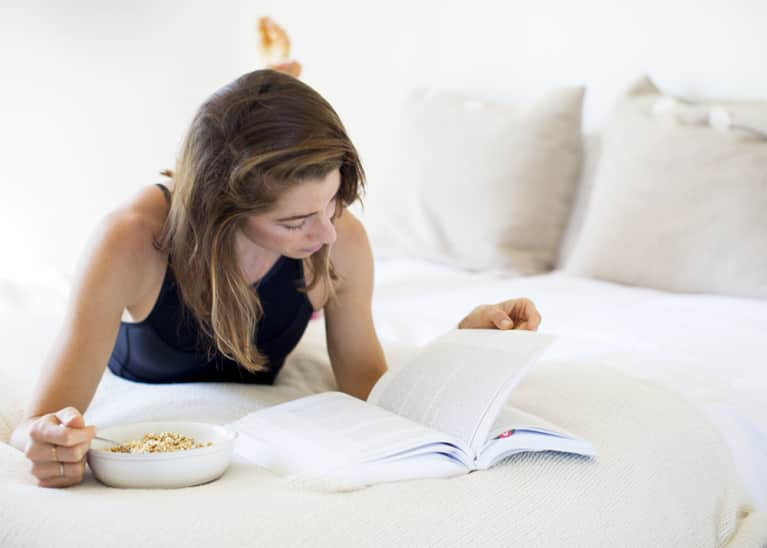 The Journey to My Food Philosophy
Even though I ate clean as could be as an athlete, training for swimming led me to depend on endless meat and oodles of protein powders by default. Upon retiring from the competitive sport, I scaled every cliff to figure out how to eat for my body.
I've settled on the if-it-doesn't-grow-out-of-the-ground-then-toss-it philosophy. Less is more, moderate is best, and perfect is boring. When cravings hit, I reach for a Kashi GOLEAN Plant-Powered Bar—my favorite is Salted Dark Chocolate & Nuts. The sweet dark chocolate and salted nuts just #GOTOGETHER to create a delicious on-the-go, satisfying snack. It's part of what I like to call a well-balanced Burckle.
Weird? Nah, just consistent. I'm used to being questioned on my super-clean and green diet. But here is the deal. I have never been like everyone else. I feel super blessed to have had the ability to use my body as my tool. When this is the case, you treat it like gold. I will always fuel it with the most warming, vibrational, and resourceful nutrients.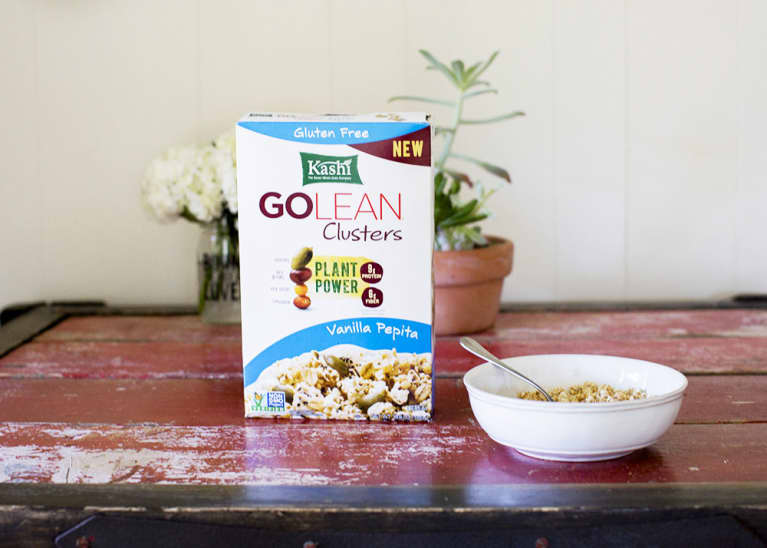 Here is a glimpse of my foundational favorites. These foods keep my wheels turning; I won't go a day without my 3 A's and 3 C's:
avocados, apples, and anadamide formula (a cacao/maca/turmeric/reishi blend)
coconut oil, cordyceps, cucumbers
Now, how do I use these? I ingest 1 tablespoon of coconut oil every morning at 5:30 a.m. before I work out. The good fats, along with my pre-workout date-and-almond-butter snack, #GOTOGETHER to fuel me for my sweat session.
After I work out, I blend iced-coffee concentrate and some yummy cacao and maca in my tumbler and drink it afterward (along with my water/electrolytes, of course). I find my energy levels to be far more consistent when I have this yummy blend.
For breakfast I swear by coconut yogurt and Kashi GOLEAN Clusters Vanilla Pepita cereal. I mix them with blueberries or raspberries and cinnamon, and sometimes even a little sprinkle of cayenne. The spiciness of the cayenne balances perfectly with the sweetness of the vanilla and crunch of the yellow peas to #GOTOGETHER in a way that leaves my taste buds and belly feeling satisfied. For some extra protein (beyond the red beans and whole grains in the Kashi cereal), I add a side of scrambled egg whites with avocado to this mix to keep me full.
I have three to four small meals and snack consistently throughout the day. I snack on hummus, apples, hard-boiled eggs, avocados, almonds, and sweet potatoes. Dinner is usually a big stir-fry with some yummy wild salmon or portobello mushrooms.
Before bed, I make either ginger or Egyptian licorice hot tea, or my own blended concoction of almond/cashew milk, turmeric, cinnamon, and protein powder. The soothing ingredients #GOTOGETHER, and the good fats help me sleep. Oh, and I have another tablespoon of coconut oil before I hit the sack to do it all again the next day in the best way, Kashi GOLEAN and all!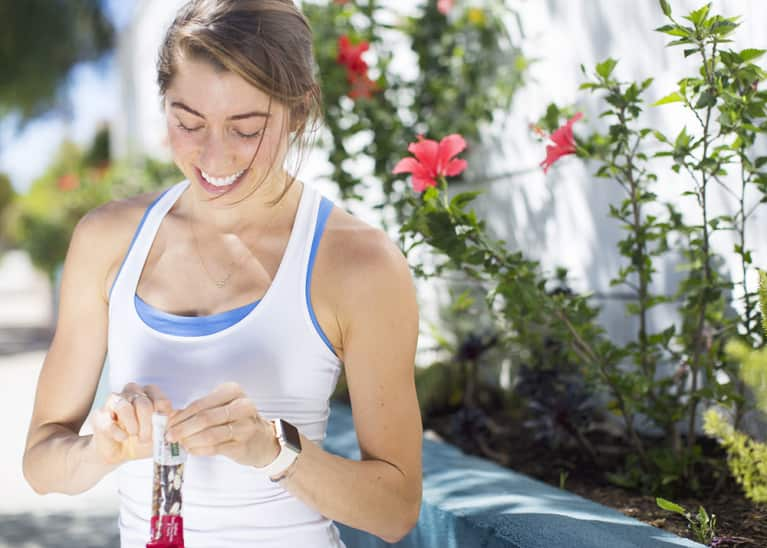 How My Diet and Lifestyle #GOTOGETHER
I rarely start my day without a sweat or movement (even if it's just a few rounds of sun salutations), thus maintaining my meals-all-day plan has always worked for me.
When I'm on the go, it's crucial to keep my blood sugar levels in check because, sometimes, real life hits. Travel, dinners, getting off my routine—I've learned to accept it's absolutely OK. Balance is key, and I find that as long as I stick to something green and protein at every meal, I will be fueled for life.
So, listen to your body, and go back to what has worked for you. And always ask yourself: what does, indeed, #GOTOGETHER to make you the brightest version of you?
Now…go do that!