6 Mental Blocks Keeping You From Living Greener + How To Overcome Them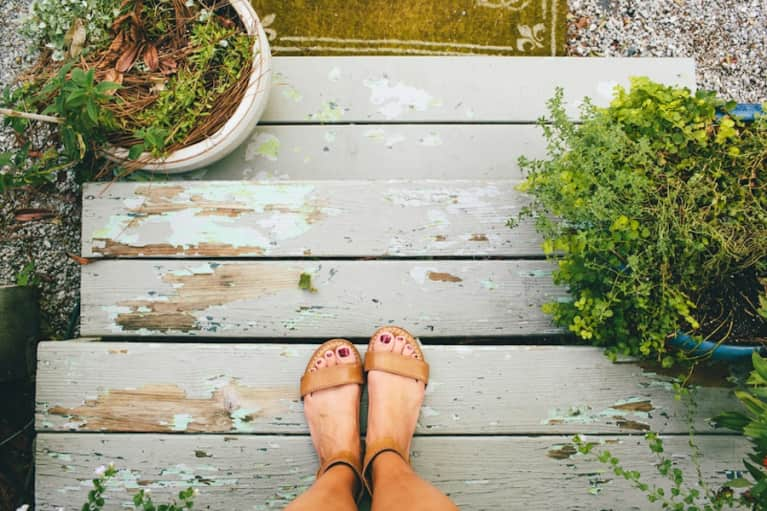 Reducing the amount of "stuff" you go through is an intimidating concept to many, and deciding how to take those first few steps can be downright overwhelming. But embarking on your own zero-waste journey doesn't need to be a complete lifestyle overhaul. Even the smaller, more methodical zero-waste strategies come with their own personal and environmental rewards.
Here are six pieces of advice to help you lessen your waste and get on track to greener living.
1. Reduce your purchases.
Refusing to buy items that you don't need is the single best way to reduce your waste. After all, there's no need to throw away what you don't purchase in the first place.
The problem: It seems hard to distance yourself from a society that covets consumerism.
The solution: Start by keeping track of your weekly and monthly necessities, and then list the nonessentials you are thinking about purchasing. Give yourself a month or two to reflect on those potential purchases. If you find them unnecessary after a few weeks, you'll save yourself some cash and potential waste.
2. Stay away from disposables.
When you do have to make a purchase, try to stay away from disposable products with short lifespans.
The problem: You've grown accustomed to using disposables, and you find them more convenient.
The solution: Change your mindset and look for durable products that will pay for themselves in the long run. Focus on quality, not quantity, and always keep longevity in mind as you browse store shelves. Choose ceramic plates over paper, textile bags instead of plastic, reusable containers instead of Styrofoam, and everything in between.
3. Start recycling everything.
With a recycling rate hovering at only 34 percent, we have a long way to go here in the United States.
The problem: You're confused about what materials you can and can't recycle.
The solution: Start by finding out exactly what your curbside program accepts by checking your municipality's public works webpage. For non-accepted materials like CFL bulbs and lead paint cans; use resources like Earth911 to find nearby drop-off sites.
You can also join one of TerraCycle's many recycling programs for difficult-to-recycle waste streams, or check out our new premium recycling option called the Zero Waste Box. Simply go to Staples.com and purchase a box, fill it with the appropriate waste, and then ship your full box back to us for recycling. Shipping costs are included in the price of each box, and every box comes with a prepaid shipping label.
4. Give your items second lives.
Recycling an item should always be the last resort, especially when it can be repaired, reused, or upcycled instead.
The problem: You're not sure how to repurpose old items.
The solution: If you have something in need of repair, there are tools available online that can give you practical tips about how to fix it. If your item is in working order but you don't use it anymore, look for a local thrift store or charitable organization to take it off your hands.
When repair and reuse aren't viable options, upcycling is a great solution and one that really allows you to play up your imagination. Whether you turn an old container into an indoor garden, make your own clothes out of old textile products, or make a gift bow out of food wrappers, you can revitalize your waste by turning it into a new, practical (and often beautiful!) product.
Containers and packaging are among the most wasteful materials in the country, representing nearly 30 percent of the waste we send to landfills every year.
The problem: Nearly everything in stores today comes in some sort of packaging.
The solution: Start looking for fresh fruits, vegetables, and other items that won't generate waste. If that means sacrificing a bag of chips for an apple, your health will thank you as well. When buying a packaged good is unavoidable, try to stick to those items that have simple, clean packaging.
6. Be conscious of food waste.
Food waste is a huge problem, and it's one that generates high levels of methane in landfills and billows even more greenhouse gases into the atmosphere.
The problem: There's a lot of food in your fridge, and some of it goes bad before you get the chance to enjoy it.
The solution: Keeping uneaten food out of the trash begins with the way you shop. Keep track of what you and your family eat every week, and limit your grocery purchases accordingly. Make smaller (but more frequent) trips to the farmers market for fresh produce, and get only what you need for the week. You'll end up with fresher, locally grown food that will stay out of the garbage can.
You can also consider starting your own composting bin at home. Though composting isn't for everyone, there are plenty of ways to get started no matter where you live or how much space you have available.