4 Steps To Greening Your Makeup Bag Without Going Crazy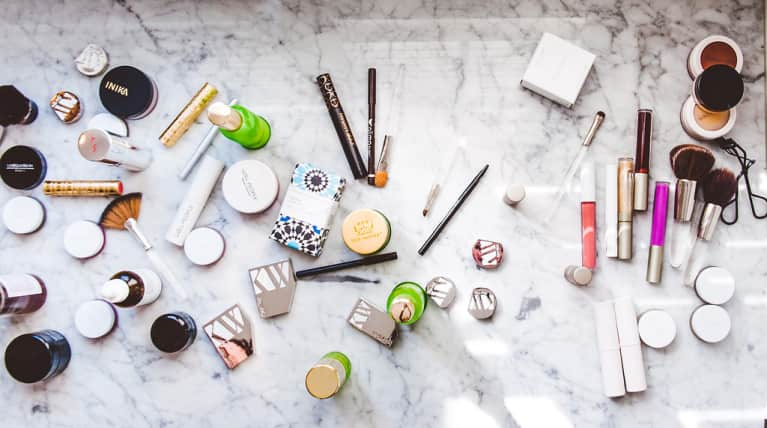 When it comes to makeup routines, women are definitely creatures of habit. We have a hard time letting go of products that have served us well, which explains why, even though friends tell me they want to make the switch to safer beauty products, they often don't because the process seems so overwhelming. They don't know where to begin, which ingredients to avoid, what brands to trust, or where to shop. And honestly, I don't blame them. But I can help cut through the clutter. Here's how:
1. Remember to be open-minded.
Chances are that if you're transitioning to a more green beauty routine, you're already open to suggestions. Still, be patient. You may go through a few mascaras until you find your match, and just because one isn't good doesn't mean the whole batch is bad. And keep in mind that there are some things that natural cosmetics just cannot do. That mascara, for example, is going to be safer and smudge-resistant, but it won't be waterproof. Ever. That's nature trying to tell you that you shouldn't be wearing the same makeup for 24 hours straight (so remember to wipe it off before bed).
2. Shop at exclusively green beauty retailers.
Yes, yes, you should always do your own research—when you can. But sometimes there just aren't enough hours in the day. To make things snappy, you can find a list of trusted green beauty retailers on my Where to Shop page. These independently owned e-commerce sites have the highest standards when it comes to safer beauty because they do not tolerate green-washing, and you can shop worry-free. Many of them even have sample programs, so you can try a few options before making a commitment.
3. Don't do a complete overhaul.
I know it's tempting to revise your entire makeup bag all at once, but that can be really overwhelming. Instead, switch out one or two cosmetics at a time (OK, three if you really want), or as you run out of your old products. Doing it this way will also keep a hold on your mirror time, since you naturally stay in front of it longer during a new product's "trial period." And there's nothing worse than realizing you're late because you spent the last 40 minutes fumbling through a bag of new makeup you aren't yet familiar with.
4. Find green products that you can swap for your old standbys.
To get you started, here are a few products that are dead-ringers for best-selling favorites—chemicals not included.
Take Out: Bright Red Cream Blush
Swap In: Nu Evolution Pressed Blush in Flushed, $28
Almost every Caucasian woman I know has used a standard bright red blush at some point in her life, but sadly, they often contain parabens and triclosan. Gross. Nu Evolution's Pressed Blush in Flushed gives a pretty healthy glow, and with ingredients like buriti oil and oregano leaf extract, it's actually good for your skin.
Take Out: Brow creams and pomades
Swap In: EcoBrow Defining Wax and Defining Brush, $26 and $23, respectively
If you're a slave to your brows (and, really who isn't?), chances are you don't just use a measly brow pencil to fill in and shape. Hardworking creams and pomades have a cultlike following, but with ingredients like polyethylene and propylparaben, I'll pass. I've fallen in love with EcoBrow's wax and brush option instead. The naturally waterproof formula glides right on and really sits within the little hairs so brows look natural instead of drawn on. To use it, I like to apply a generous coat of the wax on the angled brush and apply with a very light hand in short, hairlike strokes. Then I blend it with the spooly end of the brush to give it a polished finish.
Take Out: Brightening powders
Swap In: W3LL People Bio Brightener Powder, $24
In a past life I used standard brightening powders on the reg to brighten up my dark under-eye circles, or to blur imperfections when I put it on top of a tinted moisturizer or foundation, but they can also contain a host of parabens, not to mention BHT (another nasty preservative). So I swapped it out for W3LL People's Bio Brightener Powder, which does a beautiful job of softening, blending, and blurring, and the totally translucent formula makes every complexion look luminous. Perfection.