Make The Most Of Your Matzo With This Gluten-Free Granola Recipe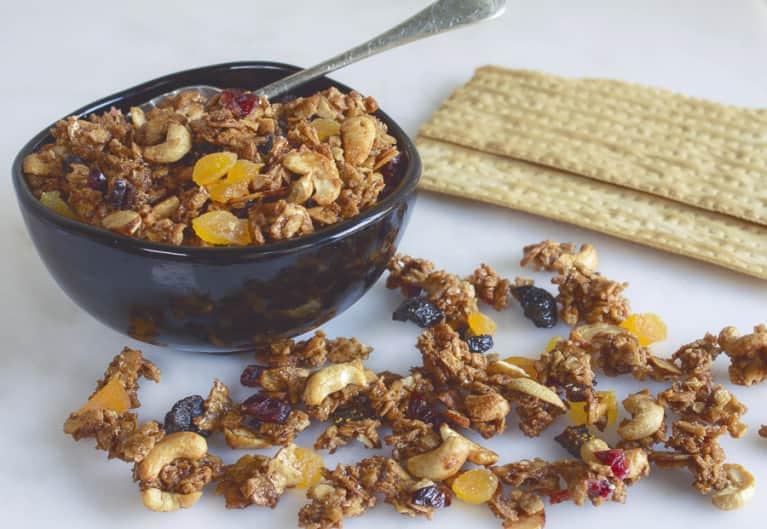 Prepare yourself for the crispiest, crunchiest, most delectable granola you've ever had. Kosher for Passover and gluten-free, too!
A wonderful nosh when you're craving a treat, over yogurt, your favorite nut milk, or by the handful.
Matzo is the official Passover unleavened bread. Coated with just the right blend of sweeteners, nuts, and dried fruits, it bakes into a heavenly granola.
I have been making granola for years, and this year I'm enjoying this one during the eight days of Passover.
Wonderful gluten-free matzos (look for fiber-enriched) are now available in shops nationwide and make a great kosher alternative to oats. Be sure to look out for sweeteners that are certified kosher.
This makes a great gift when visiting friends and family; I pack mine into glass canning jars.
Matzo Granola With Fruits + Nuts
Makes about 4 cups
Ingredients
4 sheets gluten-free matzo*, 2 cups when cut
3 tablespoons maple syrup
3 tablespoons raw honey
2 tablespoons coconut palm sugar (or light brown sugar)
3 tablespoons safflower oil
2 teaspoons cinnamon
1 teaspoon vanilla
¼ cup natural sliced almonds
¼ cup raw cashew halves
½ cup dried fruit, a mix of cranberries, cherries, apricots, and figs
Preparation
1. Preheat the oven to 350°F.
2. Cut the matzos by laying two sheets on a cutting board, cut into 1/3-inch squares by cutting across the perforations. Place in a medium-size bowl.
3. In a small skillet, heat maple syrup, honey, coconut palm sugar, and safflower oil. Over low heat, stir until the sugar is dissolved, 3 minutes. Pour over the matzo, add the cinnamon, vanilla, and nuts, and stir well. (Flax meal and chia seeds can be added with the nuts if you desire, 2 tablespoons of each would be a nice addition.)
4. Pour the granola onto a rimmed baking tray, and smooth with a rubber spatula. Bake for 12 to 15 minutes or until golden (the nuts will be a good indication of doneness.)
5. In the meantime, cut the dried fruit into 1/3-inch pieces. Remove the granola from the oven. Carefully add the dried fruit and toss to combine.
6. Flatten the granola by pressing hard with a spatula. Return to the oven and bake for 3 minutes. Do not overcook, or the fruit will burn.
7. Let cool for 5 minutes, then release the granola from the pan with a metal spatula and break into bite-sized pieces. Store the fully cooled granola in an airtight glass jar.
*I recommend Yehuda brand
This recipe may not be reproduced without the consent of its author, Karen Sheer