How A Celebrity Nutritionist (And Single Mom) Eats Healthy Even When Life Is Crazy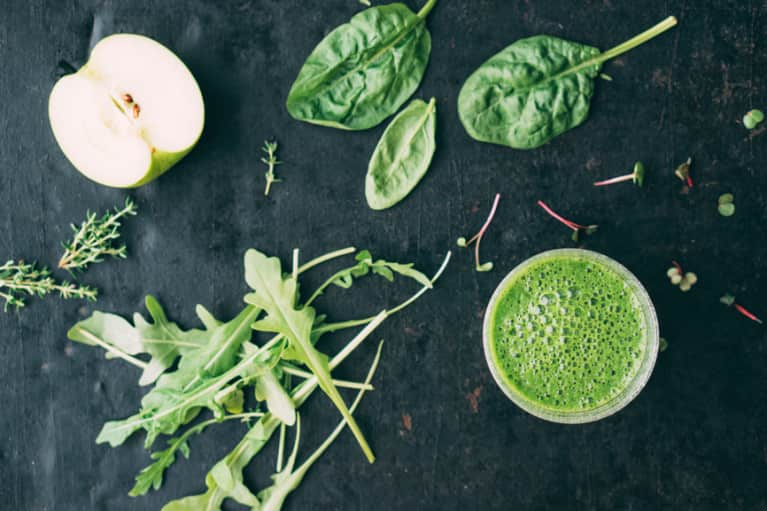 As a single mom of two teenage sons who juggles two businesses, I need to stay healthy and look good yet don't always have time to prepare elaborate meals or spend hours at the gym.
Many of my clients and readers feel the same way, making fast, convenient, and healthy their mantras to stay lean and healthy while juggling an ever-increasing, fast-faster schedule.
My Food Philosophy: Fast, Convenient, and Healthy
Convenience becomes huge with meals. I cook whenever I can, preferring to know exactly what goes into my food. Yet my super-hectic schedule lately demands grab-and-go meals, so I'm more apt to combine some precooked chicken into a giant salad.
I outsource many tasks, but I still love to grocery shop. I've become really good at scrutinizing labels and ingredients for sneaky sugars and food intolerances. They're everywhere. Even I get duped occasionally.
Recently I visited a grocery store to throw together a healthy salad with a lemon-enhanced mineral water. I sat down, popped open the can, and realized that innocuous-sounding water contained as much sugar as a soda! WTH!? If I fall victim, I totally understand how my clients and readers struggle.
A big needle mover to eating healthy whether I'm at home or on the road (I travel about half the year) involves planning ahead. I prep ingredients ahead of time, create a daily menu plan, and allow some flexibility if plans suddenly change. Life happens, after all.
Here's what a typical day looks like for me:
I always start my day with a cup of Bulletproof Upgraded coffee. Before Bulletproof, coffee didn't sit well with me.
Breakfast is always a protein shake within an hour of getting up. That's a no-brainer. I have too many decisions to make in the morning; breakfast shouldn't be one of them.
My shake always includes a non-soy, nondairy protein powder with leafy greens, frozen raspberries (unless I'm dialing down fructose), avocado, freshly ground flaxseed, and unsweetened coconut or almond milk. Sometimes I'll throw in cacao bits (amazing!) or a spoonful of almond butter.
Being on the road still means a breakfast shake. I bring a professional-quality fiber-blend powder, some leafy greens (I'll hit up a hotel restaurant sometimes), and those little containers of unsweetened coconut milk that blend perfectly in my NutriBullet.
I'm usually on the go, so I'll throw together some precooked chicken with a big salad drizzled with extra-virgin olive oil and red wine vinegar.
If I'm out, I'll do the same thing or some grilled protein with tons of veggies at Whole Foods. If I'm really in a bind, I'll do another protein shake. My rule is to eat every four to six hours and no skipping meals.
My workday seems to get later every week, but I try to maintain a consistent schedule and not eat dinner too late.
I always eat some version of a low-sugar-impact plate that combines lean protein, healthy fats, tons of non-starchy veggies, and slow carbs.
That might look like wild-caught salmon with spinach and lentils or grass-fed beef with broccoli and quinoa. Again, simple and easy.
I rarely snack. I find when I eat within an hour of getting up and eat consistently, I'm not hungry between meals.
If I'm genuinely hungry—not stressed or whatever—I'll make a protein shake or have one of my bars.
With my erratic, often unpredictable schedule, I always keep emergency food nearby but seldom snack.
"Don't you ever get a hankering for chocolate cake?" someone recently asked.
Fortunately, I don't have sweet-tooth genetics. That doesn't mean I never indulge. I'll have some organic, low-sugar dark chocolate and almond butter with my glass of pinot noir, which is my idea of bliss.
If everyone at the table insists a particular dessert is the best thing ever, I might have three bites. I don't mean what you'd eat during a late-night bender alone at the fridge. I'm talking about three polite bites and then fork down. I've never been in a situation where people have trouble finishing the dessert!
I keep gluten and other highly reactive foods out of my diet about 95 percent of the time. Artificial sweeteners, agave, and other sugars and trans fats fall under my "never ever" list.
Dairy becomes the one food I can't ever touch. Fortunately, enough alternatives like coconut-milk-based ice cream and yogurt make skipping dairy easy.
Fitness-wise, I'm all about doing what works for you. I don't have the time or inclination for super-long Vinyasa flow or other classes, and I don't spend hours at the gym. If you love your yoga, that's cool. I'm just not that gal.
Many days I'll combine burst training with weight resistance. I might do weight resistance in the morning at the gym and then burst training in the afternoon, or on super-crazy days I'll combine them.
Spending more than an hour total exercising every day rarely happens. With burst training and weight resistance, you never need to. I've combined both with my Fast Blasts, which you can knock out in eight—yeah, eight!—minutes a day.
You can download a FREE one here.
I'm a huge believer in supplements, and if you have a meal with me, you'll probably see me pulling out a huge baggie afterward.
When I travel or otherwise don't have time to sort everything out, I carry all-in-one packets that combine a professional-quality multivitamin-mineral and fish oil, which takes the guesswork out of what to take.
Sleep becomes a huge needle mover, and I almost always meet my quota. Along with a hot bath and chamomile tea (and OK, occasionally pinot noir), I take a synergistic sleep supplement that combines melatonin and other sleep nutrients.
I find it helps me dial down that constant chatter in my mind so I can drift off to deep sleep.
When I sleep well, I don't become as overwhelmed with stress. I have a fabulous team that always steps up to the plate, but ultimately my name is on everything so I'm responsible.
Burst training becomes one of my best de-stressors, though. I'm also fond of regular massages and even Starbucks bestie dates to unwind.
Big shout-out to water: I keep a big canteen nearby and sip liberally throughout the day, except during meals when liquid can interfere with digestion.
Last but not least, I'm huge about intentioning. Every morning, I write what I feel grateful for along with short- and long-term goals, or what I call "stretch goals." I then share these with others to gather support and stay focused to make those intentions become reality.