Should You Be Eating Your Sunscreen? The Scoop On Ingestible Sun Protection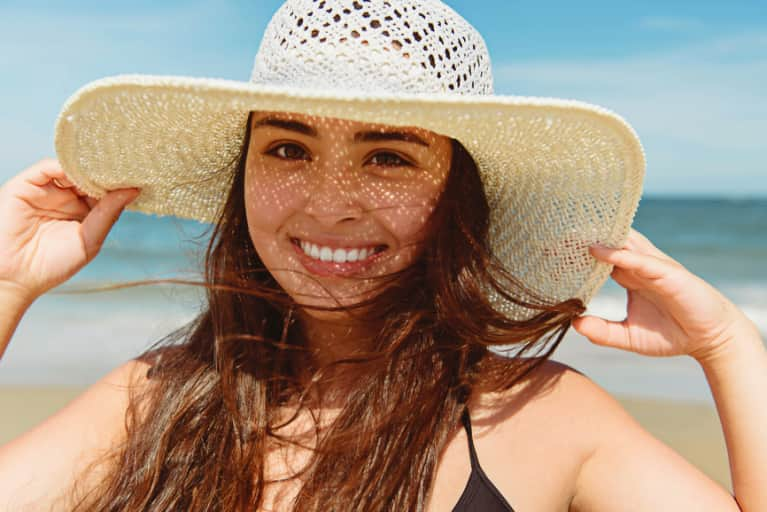 As we creep into the stretch of months when the sun is at its strongest—and so is the urge to lounge in it—it only makes sense to stock up on our sunscreen arsenal. But this summer we're eyeing a new way to shield ourselves from harmful UV rays, and it has nothing to do with slathering something on your skin—it's actually something you can eat.
Brands like Lycored, Life Extension, and Heliocare are taking a cue from Mother Nature and using ingredients derived from tomatoes and ferns to harness their ability to shield cells from UV rays, with the idea that they can help do the same for your skin. But before you start praising the beauty gods for never having to worry about questionable sunscreen chemicals or goopy mineral-based formulas again, Francesca Fusco, assistant clinical professor of dermatology at Mount Sinai School of Medicine, warns that these new oral supplements are just that—a supplemental aid in warding off the damage caused by UV exposure. "These just basically act as a scavenger to mop up free radicals and protect skin structure and immune response," she says. "It's a complement to your topical sunblock formula, not a replacement for it."
Why go the extra mile? Most derms say the average person doesn't apply nearly enough sunscreen to get the protection specified on the bottle, so this can help you get there. And, of course, there's always the lack of reapplication or the slap-and-dash job you do when you get around to it. These ingestible sunscreens boost that protection to keep you more guarded against the various harmful effects of UV radiation. So while it might not seem worth it if the only time you see the sun is going to and from your office, if you plan on heading outdoors all day it could be worth considering (especially if you're photosensitive, in which case Fusco definitely recommends taking them). Just don't forget to also pack your topical sunscreen and reapply it every 90 minutes for continuous protection.
Related reads:
5 Critical Truths You Need to Know Before Buying Sunscreen