The One Thing Your Beauty Routine Is Missing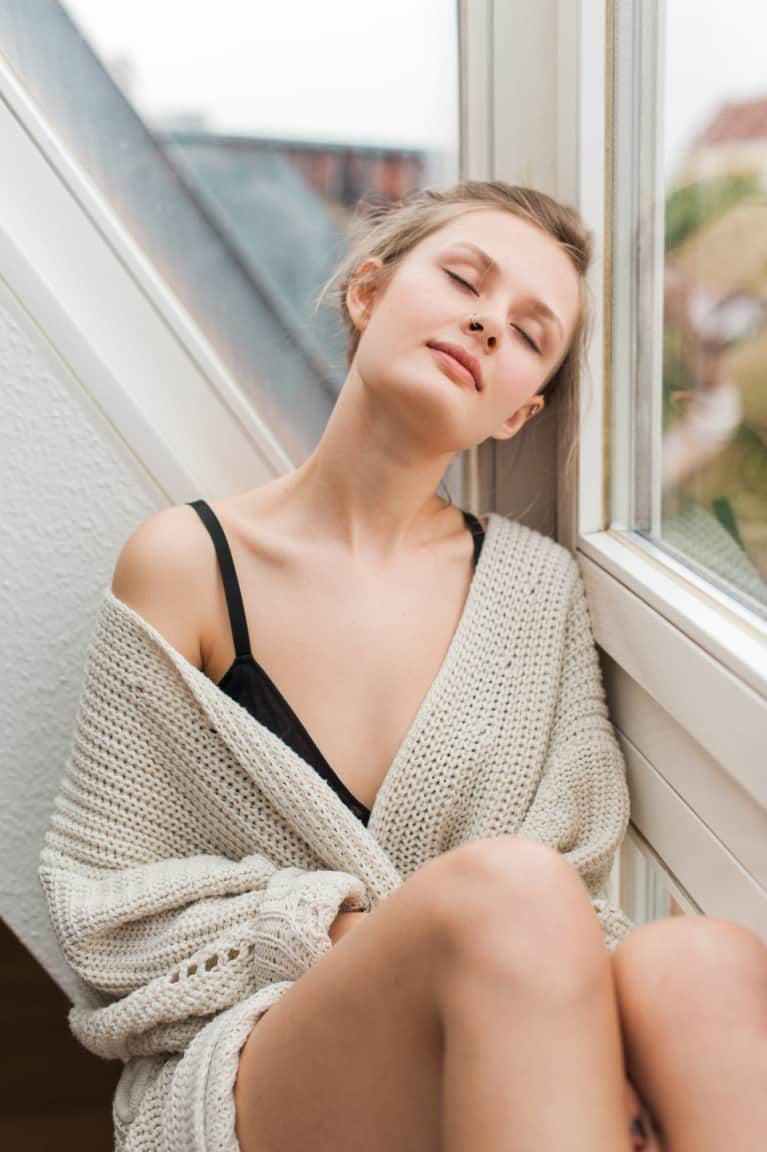 When it comes to our daily beauty routine, it's often all about products and pricing—and how well the stuff is going to work to promote a youthful glow, of course. But what if we told you the best thing you could do was, well, nothing? Research now shows that stillness and meditation have the power to help turn back your biological clock, meaning we finally have some control over the aging process, and it's all too easy to put into motion. Read on for five reasons to incorporate the practice into your day, knowing you don't have to spend a dime to reap the rewards.
1. You'll change your chromosomes.
It's official: Meditating is a practice worth sticking to. Research shows that people who did it daily for at least four years have longer telomeres than people who don't, while another study from the University of California–San Francisco found that women who could focus on the present moment—as opposed to allowing their minds to wander—had longer telomeres. Have no idea what telomeres are? They're the protective caps on the ends of chromosomes, and if you have shorter ones, then it could be a marker of accelerated aging. So instead of worrying about your nighttime makeup look, try to stay present while exfoliating in the shower, really focusing on how your skin feels throughout.
2. Meditation helps you sleep better.
When it comes to hormones that promote a natural glow, melatonin is one that shouldn't be missed. It's produced by the pineal gland, which basically goes into hibernation during the day and comes alive at night. When that happens, our body secretes melatonin into the blood, according to the National Sleep Foundation, and the hormone helps us fall asleep and maintain a strong sleep cycle (which we all know is great for beauty). Unfortunately, though, melatonin levels naturally decline as we age and the peak levels produced throughout the night start to drop. But you don't need a bed—or a time machine—to get your levels up. Stillness and meditation have been shown to significantly increase melatonin levels, so if you work it in for 10 minutes a day (or more), the practice can be a powerful antioxidant that slows cellular damage and improves energy levels.
3. You'll be in a better mood.
Dehydroepiandrosterone, or DHEA, is generally considered to be the hormone of youth thanks to its intimate association with mood, enhanced sexuality, energy, and even memory function (because if all of the above are working well, then you'll look great). But just like melatonin, it declines as we age (though genetics and lifestyle factors help determine how much). That said, meditation has been shown to increase the production of the hormone in those who practice it regularly, so consider it an easy way to help turn back the clock.
4. It keeps fine lines at bay.
Studies have shown that there's a serious link between stress and skin conditions, including acne, psoriasis, and atopic dermatitis. When we get stressed, the cortisol hormone skyrockets, and research has shown that cortisol increases DNA damage, interferes with DNA repair, and alters the healthy function of the cell cycle. Not to mention an excessive amount of cortisol can accelerate the breakdown of skin collagen, the protein that keeps the skin smooth and elastic, causing thinning of the epidermis that, over time, can lead to fine lines.
But researchers found that meditating can decrease cortisol levels by as much as 47 percent. Why? When we move away from our typical busy lifestyles and the daily flight-or-fight response that comes with it, our bodies are able to devote resources to the "beautifying" and restorative activities that tend to be lower on the priority list. When at ease (like you are while meditating), nutrients digest and are better metabolized, which then allows the skin to repair, regenerate, and provide that youthful glow we're all after.
5. Meditation enhances your vitality.
When you meditate, an important part of the practice is letting go of your thoughts (you can acknowledge them, but should try not to focus on them). Doing this—resting your thoughts—can release vital energies known as chi into your system that allow your mind, body and complexion to work to their fullest capacities. It's believed that this can ultimately affect blood circulation, lower risk of cardiovascular disease, and decrease stress. So when you focus on improving from the inside out, that natural glow starts to shine.
Related reads: