14 Things You Need To Know Today (April 20)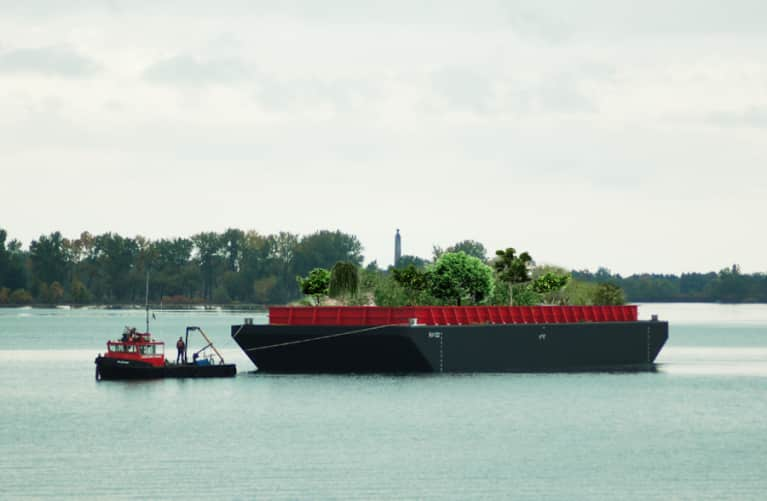 1. A floating forest will take over New York this summer.
Yes, you read that right. A ship that's covered in trees and edible plants will be making its way through the East River this summer, and New Yorkers are invited to pick produce from it free of cost. (TreeHugger)
2. Hillary Clinton doesn't care about calories, and you shouldn't either.
On the campaign trail this week, Clinton stopped to get some ice cream in New York's East Village. When a reporter pressed her on the calorie count of her frozen treat, she brushed him off, as if to say, I've got better things to think about. (Eater)
3. Doctors urge taking action on climate change.
The American College of Physicians released a new paper calling for "aggressive, concerted" action to fight climate change through reductions in greenhouse gas emissions. The leading group of doctors note that because of rising temperatures, the threat of respiratory illnesses, heat stroke and infectious diseases has increased. (HealthDay)
4. This woman's response to being criticized about not breastfeeding is perfect.
A mom from Gainesville, Florida, named Annie Ferguson Muscato recently had an unfortunate run-in with an opinionated stranger who told her "breast is best" while she was buying baby formula at Target. So, she took to Facebook to respond to the woman and talk about her experience trying and failing to breastfeeding. "I know happy, healthy baby is best. I know FED is best. What I'm sure we both know is that parenting is hard. Really hard. That sometimes what we plan for and what we want just doesn't work out, but we are all here trying to do what's best for our babies," she wrote. (mindbodygreen)
5. Pee can now be used to power up electronic devices.
Researchers at the University of Bath have developed a miniature fuel device that can generate electricity from urine. "Pee power" is affordable, renewable and carbon-neutral. It could provide a means of generating much needed electricity to remote areas at very little cost. (Science Newsline)
6. Disclaimers on photoshopped ads might not help with body image.
We know that frequently viewing images that feature digitally-altered "perfect" models can harm women's sense of body image. So, researchers in a new study decided to test whether adding disclaimers, such as "WARNING, this photo has been photoshopped," would make a difference. It turns out that women who saw the disclaimers didn't report any higher body satisfaction than those who simply saw the image. (ScienceDaily)
7. Utah's governor is signing a resolution that calls porn a health hazard.
The republican governor, Gary Herbert, aims to combat the "sexually toxic environment" propagated by pornography. Utah would be the first state to make such a declaration. (CNN)
8. Athleta is expanding its market to adolescents.
The new line, called Athleta Girl, will launch on April 26, along with a campaign called "The Power of She." Pieces in the line will cost about $32-$38 each. (Buzzfeed News)
9. Chefs are leading the movement for sustainable seafood.
Chef Michael Cimarusti and others like him have been able to change the tide of the seafood industry by cooking with fish that's responsibly sourced and avoiding those that are overfished. In fact, overfishing is at an all-time low, which is a big win for seafood lovers. (Tasting Table)
10. Watercress extract can help smokers detox.
Researchers have found that watercress extract taken multiple times a day significantly inhibits the activation of a tobacco-derived carcinogen in cigarette smokers. The trial also showed that the extract detoxifies environmental carcinogens and toxicants found in cigarette smoke. The effect is stronger in people who lack certain genes involved in processing carcinogens. (Science Newsline)
11. Uber Pool is on board with a #CarFreeNYC.
Uber's carpooling feature is rapidly expanding, and company execs think this ride-sharing mentality will only get more popular as time goes on. In order to highlight its commitment to sustainability, Uber is supporting the #CarFreeNYC initiative that calls for drivers to leave cars at home this Friday in acknowledgement of Earth Day. (The Verge)
12. More avocado and vegetarian options boost sales for Pret a Manger.
The chain is adding more vegetarian dishes to their menu after they had a record sales year in the UK in 2015, which they attribute to the addition of more veggie-friendly items. (The Guardian)
13. Star Wars' Daisy Ridley has a powerful message about self-esteem and social media.
In a world of perfectly lit, composed, and filtered Instagrams, she's a shining Rey of light. "I woke up like this #NoFilter #NoMakeup," the star wrote across a selfie which clearly featured both makeup and a filter. "Three of these statements aren't true... Social media is great but also a bit scary 'cause what people post is the most filtered, most carefully chosen and cleverly edited moments of their lives," Ridley wrote. "And self esteem is a huge issue for people around the world." (mindbodygreen)
14. This smart shower is seriously cool.
The eco-friendly OaSense shower—currently raising funds via Kickstarter—turns itself off when users are applying shampoo or soap. (TreeHugger)