5 Universal Truths I Learned From Being Adopted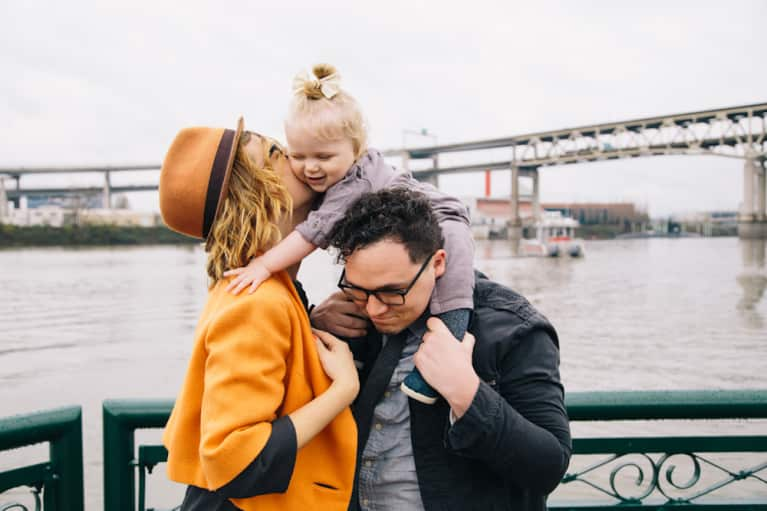 I always knew I was adopted. My adoptive parents shared it with me as a young child, using books like Why Was I Adopted?—which aimed to help young children like me understand adoption as a loving choice made by the birth parents in hopes of giving us a better life.
Not only were we open about the fact of my adoption—all throughout my childhood, me, my adoptive parents, and my birthparents exchanged letters, gradually increasing the openness and frequency of our communication and interaction. My parents made an incredible commitment to navigating the tightrope of balancing open connection with healthy boundaries when fear, insecurity, and shame could have easily taken over.
As a child and teenager, I loved the connection we cultivated. It felt special to have my birthparents come to many special events in my life. I stuck strongly to a story of "adoption is great! It's all good! Nothing challenging to see here!" It wasn't until my early twenties that some of my unconscious challenges began to manifest into conscious awareness through my dreams.
I also got curious about the cautious way in which people asked about my experience with adoption. I noticed it sometimes felt as if they expected me to be ashamed of or try to hide that part of my identity.
I started asking myself, "How do I feel about this?" and realized that the adoption story I thought was my truth was actually that of my biological and adoptive parents. The bottom dropped out when I realized I'd never asked myself, "What's my version of this story? How does this really affect who I am and how I show up in the world?"
I began tapping into the role adoption played in developing my sense of identity, belonging, difference, and core beliefs about my worthiness to be loved and wanted.
Finding the courage to self-explore expanded my ability to see the gifts and complexities of open adoption. I began to really connect with the emotional experience of adoption while simultaneously maintaining gratitude for what I believe is a divinely synergetic, purposeful soul connection that brought us all together. I believe those connections led me to the most important relationships of my life.
Though my story could easily be called a "best-case scenario" in the world of adoption and foster care, I know that best-case scenarios don't lead to exclusively positive feelings. Despite this realization, I've held back from sharing my story because of some belief that because my experience isn't more difficult than everyone else's, it isn't valuable.
I now realize that the point of sharing isn't to say, "My experience is worse or better, harder or easier, or more or less important than someone else's." The purpose is to show how we can find common themes to help others foster growth and well-being.
While there are many possible threads to explore around the experience of open adoption, for now I'm including five things I've learned from being adopted that I believe can apply to a broad range of people, personalities, and life experiences:
1. We all have catalyst experiences.
These experiences shape our life and create core beliefs about love, worth, belonging, difference, safety, connection, identity, and purpose. We need to focus less on comparing our stories and making judgments about the experiences of others. Instead, we need to allow our differences to be a place to explore our capacity for understanding, empathy, healing, and change.
2. Relationships of any kind require a balance of openness, connection, and boundaries.
Creating more expansive and interwoven connections, like the ones necessitated in cases of open adoption or blended families, requires us to be open enough to take down our inner walls and replace them with effective boundaries.
3. It's crucial to stay curious and let go of preconceived notions about certain experiences.
We can't know whether an experience should affect someone positively or negatively. Best-case scenarios don't come without deep challenges to work through, just as worst-case scenarios don't mean there isn't hope for positive outcomes and inspiring resiliency. The only way to have a chance at knowing is to stay curious, open-minded, and considerate.
4. Processing a challenge doesn't mean the experience as a whole is "bad."
If we let it, exploring the emotional challenges of our experience can actually create greater depth and appreciation for the gifts that experience may have also provided.
5. All forms of parenthood, childhood, and family structure have equal value.
We need to re-examine our biased perception that biological parenthood is "better" than other forms of parenthood, just like we need to reset the cultural value we place on being a biological child. It isn't "better" than being an adoptive, foster, or stepchild. The same can be said about the value we place on an "intact" family over a blended family. How a structure looks from the outside is far less important than how that system functions on the inside.
Related reads: