Star Wars' Daisy Ridley Has A Powerful Message About Self-Esteem On Instagram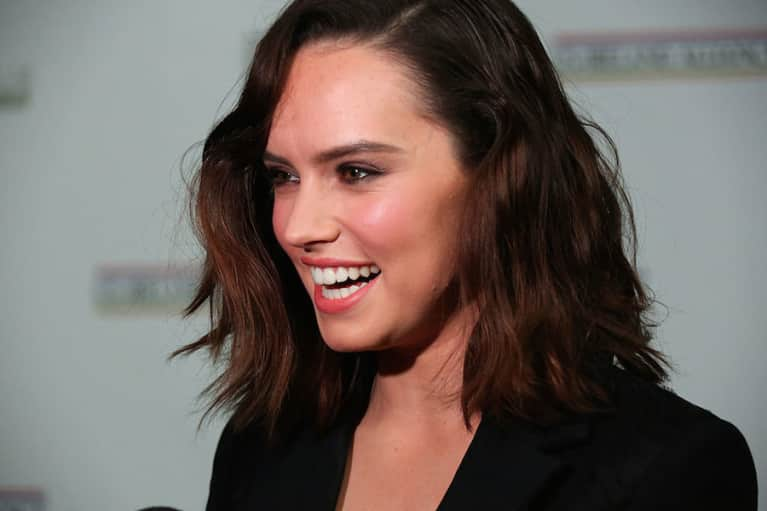 April 19, 2016 — 13:39 PM
Let's be real: Daisy Ridley is the real Force that's been awoken. In a world of perfectly lit, composed, and filtered Instagrams, she's a shining Rey of light.
On Monday night, Ridley sent out an important message on Instagram about how social media and self-esteem relate to each other: "I woke up like this #NoFilter #NoMakeup," the star wrote across a selfie which clearly featured both makeup and a filter.
Her caption explained the reason for the sarcasm:
"Three of these statements aren't true... Social media is great but also a bit scary 'cause what people post is the most filtered, most carefully chosen and cleverly edited moments of their lives," Ridley wrote. "And self esteem is a huge issue for people around the world."
Much like Hipster Barbie, the #authentic pictures we post of ourselves are, in fact, pretty inauthentic. And her photo itself is an example of this hyper curation.
My skin isn't great so I don't post no make up selfies, much as I'd like to; I have a trainer urging me on in workouts and don't include all the times I say, "I can't do it," and I don't smile all the time but I like to share the pictures where I am. But I actually do love myself, I try to think good thoughts always and am surrounded by the most wonderful people, so I'm keeping it balanced (like the Force, obvs). Just thought I'd say :)
But this isn't the first time Ridley has used social media as a Force for good.
Back in March, she used Instagram to respond to a meme which body-shamed her for being too thin.
"I'm a normal girl thrust into extraordinary circumstances, just like Rey," Ridley wrote. "I will not apologize for how I look, what I say and how I live my life 'cause what's happening inside is much more important anyway and I am striving to be the best version of myself, even if I stumble along the way."