What A Plant-Based Chef Eats In A Typical Day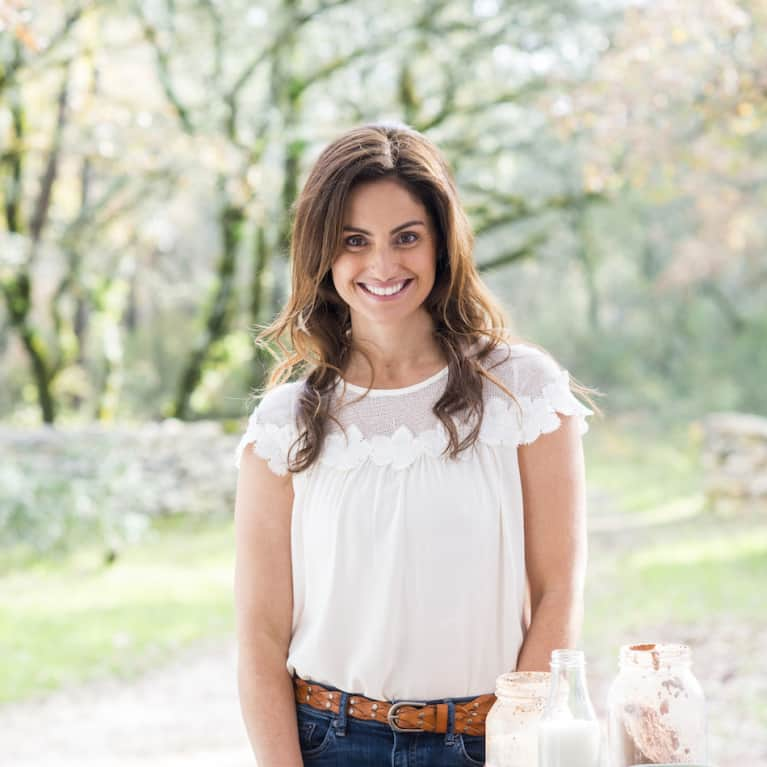 Mafalda Pinto Leite is a plant-based chef based in Portugal. This mother of four has been researching, cooking, writing, and teaching about food, organic beauty, and health for the last 15 years.
Trained at the Natural Gourmet Institute in New York City, where she graduated as a certified culinary chef and nutritional practitioner, she's worked with Jamie Oliver, Matthew Kenney, and Eric Treuille and now has her own line of affordable superfoods.
Today, we're delighted to share what Mafalda eats in a typical day—check out all the plant-based goodness below!
I always wake up an hour before any of the kids do. It's my "me" time. I practice an hour of Kundalini yoga as soon as I wake.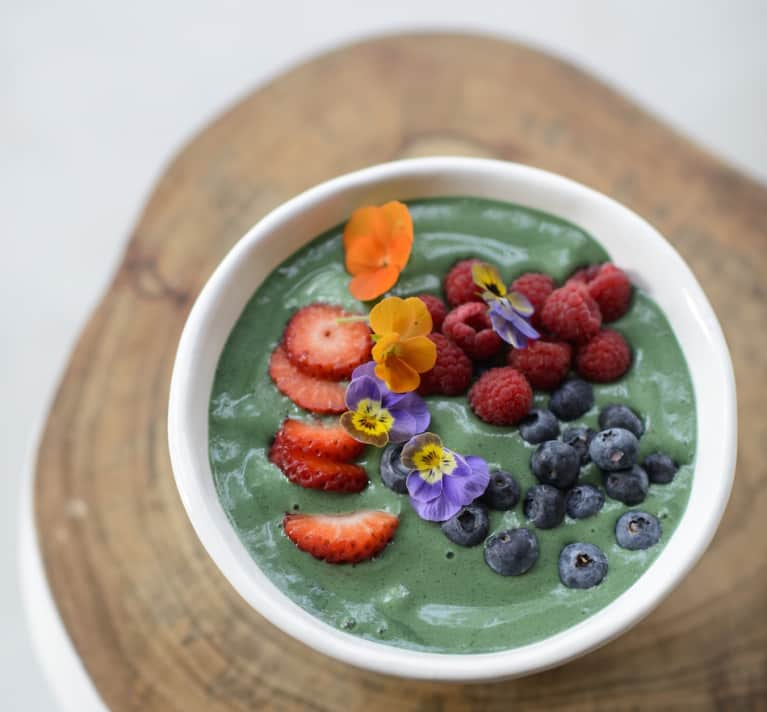 After yoga I drink 2 big glasses of room temperature water. I try to drink 2 to 3 liters of water throughout the day, especially one big glass 30 minutes before a meal. I start taking care of the children´s breakfast and packed lunch, wake them up, give them breakfast (anything from vanilla chia pudding loaded with fruit and coconut yogurt to an açaí bowl with homemade granola). Then the school runs begin ...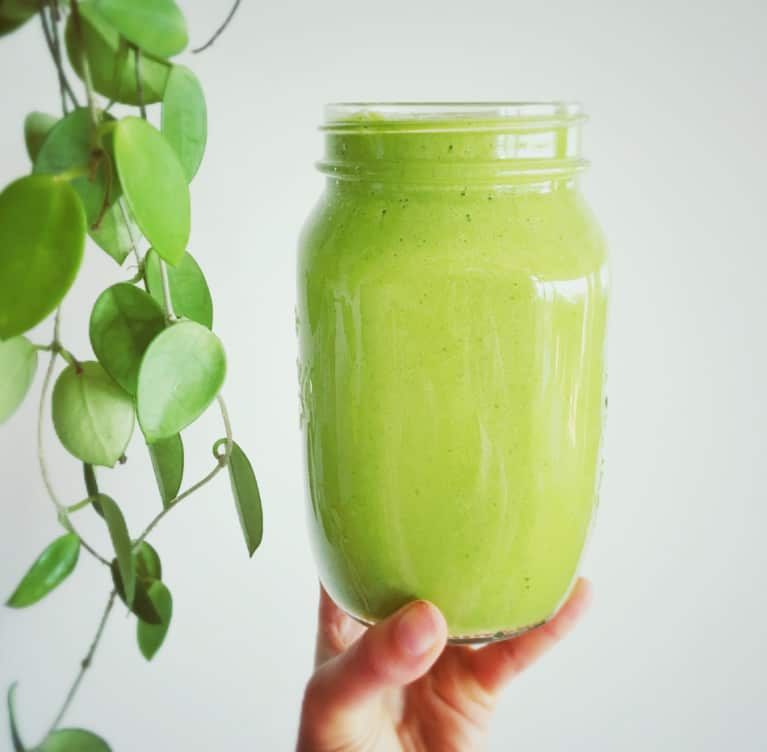 Back home, I make my green smoothie. When spring arrives I'm more prone to eating raw foods. Basically, I have a large green smoothie (1 liter or more), which I sip throughout the morning.
This one has: 2 big handfuls of chard, 1 celery stalk, 1 cucumber, some mint and parsley, 2 frozen bananas, 2 scoops of blue adaptogen protein powder (I use Moonjuice), 1 teaspoon of matcha (I use Puro Sumo), 2 medjool dates, and is topped with homemade coconut milk. Blend everything until smooth and creamy.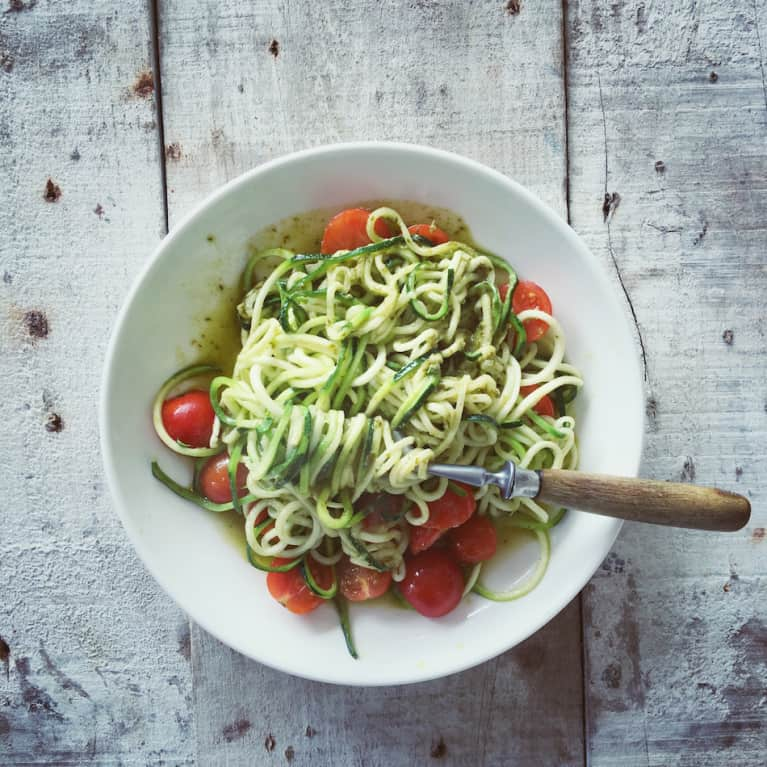 I have a big salad lunch. I'm eating "raw till 4," which basically means that until 4 p.m. I eat only raw plant foods. Lunch is usually a big salad with seeds and a nice creamy dressing. When you start eating this way, you actually crave the salad more than anything!
I like a combination of lettuce; loads of herbs (parsley, basil, coriander); cucumber; grated carrot; and beet, pumpkin, and hemp seeds (for the protein); avocado; and a lemony tahini sauce.
Raw zucchini noodles are great, too, with a blended herb sauce and tomatoes.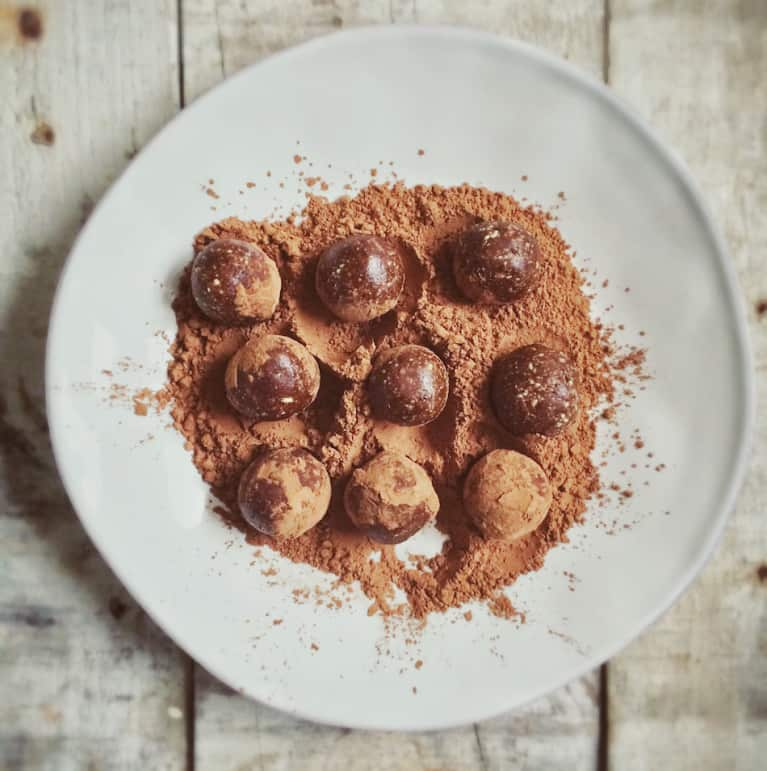 If I'm hungry or need something extra before 4 p.m., I'll have another smoothie or a bliss ball. Love these glazed ones, infused with mucuna (a caramel-tasting bean that elevates mood, creativity, and libido and helps regulate sleep patterns while soothing the nervous system).
1 cup raw cashews
1 cup raw macadamias
½ cup pitted medjool dates
1 tablespoon raw almond butter
1 teaspoon (or more) mucuna
Pinch of raw vanilla powder
Pinch of pink salt
2 tablespoons raw cacao butter
1 tablespoon coconut oil
2 tablespoons maple syrup
Pinch of raw vanilla powder
Preparation
1. Mix cashews and macadamias in a food processor until fine crumbs form.
2. Blend the rest of the ingredients until well-mixed (it's going to be kind of gooey).
3. Form into small balls and freeze for 15 minutes.
4. Make the glaze: Melt cacao butter, coconut oil, maple syrup, and pinch of vanilla powder together. Let cool without solidifying.
5. Dip each ball in the glaze and return to the freezer, for around 10 minutes. Repeat process 2 more times. Enjoy! Keep in fridge for 4 days or in freezer for up to 2 months.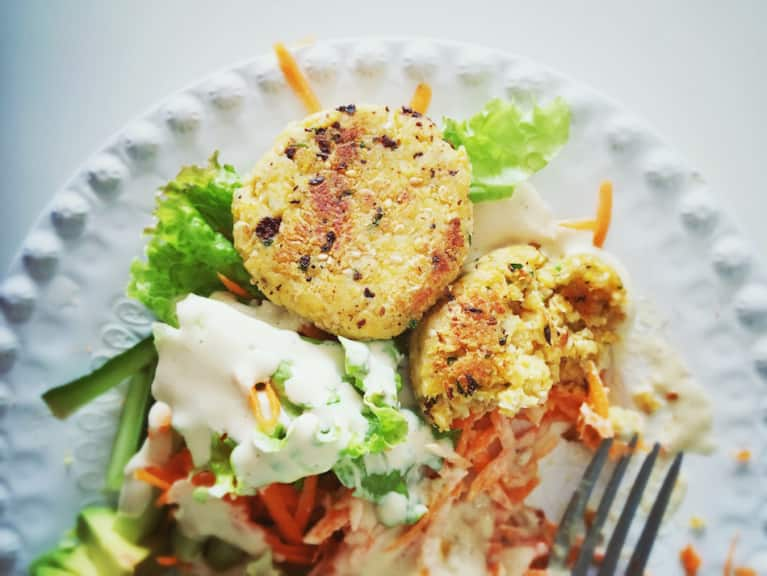 I always have an early dinner, as I don't like to go to bed with a full stomach. Since I work from home, it's the only time of day that I'm Wi-Fi free. No more computers or cellphones—just focusing on the kids and cooking for them. They're plant-based too—their favorite dinner is my cauliflower lentil curry with jasmine rice.
My dinners can be anything from raw veggie noodles with a good sauce to baked falafels with a big crunchy salad.
If I'm craving something sweet I'll have a bliss ball or a Zenbunni chocolate that I have hidden in between my cookbooks; my favorite is the Mocha Mucha.
Bedtime! With four children it´s always a challenge to get them to go to bed (and fall asleep). So I try to start this process by 8:30 so they can have some reading time before they doze off. I'm so tired that I usually fall asleep before they do.