14 Things You Need To Know Today (April 19)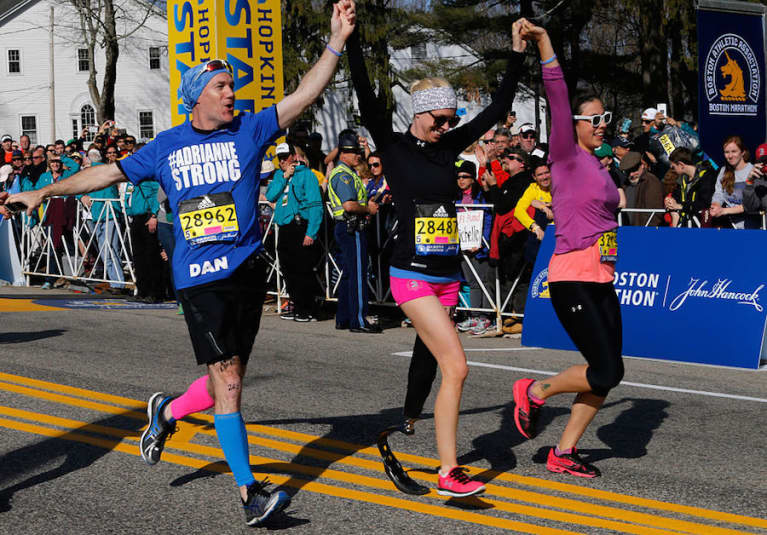 1. A survivor of the Boston marathon bombings in 2013 just completed this year's race with a prosthetic leg.
Adriene Haslet, along with 30 other survivors and their family members, participated in today's race. She told the AP, "A lot of people think about the finish line. I think about the start line." (The Boston Globe)
2. Bottled water is about to overtake soda consumption.
Americans are about to be drinking more bottled water than soda, according to market research group, Euromonitor. Despite the excess of plastic bottles this presents, it's better than the sugar- and chemical-laden sodas that contribute to high diabetes and obesity rates. (Quartz)
3. Women hop between jobs more than men.
Which might not be a bad thing for their careers. While the reason for this is largely unknown, one theory is that working women look for jobs with more flexible hours when they decide to have a family. (Fast Company)
4. Americans love the environment, but not enough to pay for it.
According to a recent poll, 79 percent of Americans consider themselves environmentally conscious, but only 26 percent of them said that they actually think about the environmental impact of their daily decisions, and even less are willing to pay for eco-friendly retrofits like solar panels. (TreeHugger)
5. More people are praying than you think.
According to a new study, nearly 9 out of 10 American have prayed for health at some point in their lives. Interestingly, they tend to pray for others people's health even more than for their own. (Science Daily)
6. Lena Headey has a few choice words for people who criticized her choice to use a body double.
People said it was tragic and depressing that Lena Headey used a body double on the emotional finale of Game of Thrones. Her response? Uh, I was busy acting. Headey told Entertainment Weekly, "In order to do my job, I allow myself to be really vulnerable... Things really affect me. And the thought of being naked for three days and trying to contain her in the way she would be, I think I would feel very angry. I didn't want to be angry. I don't think Cersei would be angry. I did what I thought she would do, emotionally." (Refinery29)
7. Mosquito bites are about to get a heck of a lot more tolerable.
Scientists out of Duke University have located the skin nerve that makes people prone to scratching, and they're working on formulating a drug to neutralize it. (Fast CoExist)
8. A 10-year-old boy wrote an incredibly touching poem on his experience with Asperger Syndrome.
The boy, Benjamin, was asked by his elementary school teacher to write a poem using sentences that began with "I am." He chose to describe what it feels like to be on the autism spectrum. The poem has occasioned an outpouring of support from the web community. It begins, "I am odd, I am new / I wonder if you are too / I hear voices in the air / I see you don't, and that's not fair." (Mic)
9. Dietary changes could reverse type 2 diabetes.
In a new study, almost half of patients with type 2 diabetes who followed a strict low-calorie eating plan had a remission for at least six months after the diet was over. Researchers say that the findings bring hope that the disease is reversible with lifestyle changes and weight loss. (NY Times)
10. Is an IMAX spin class the next big thing in boutique fitness?
IMAX just introduced IMAXShift, a new indoor cycling class that takes place in front of one its "larger-than-life" screens. People will ride through the solar system, over the coasts of Hawaii, or through trippy, music-reactive visuals. They already built it (here in DUMBO, Brooklyn), but will they come? (mindbodygreen)
11. Group meditation might actually lower crime rates.
A recent study lasting decades suggests that when a large group practices Transcendental Meditation, there is decreased social violence. This finding suggests that if governments were to support the establishment of meditative groups, it could have a remarkable effect in reducing hostilities and fostering peace. A number of countries are already creating such groups through private organizations, and gaining increasing governmental support. (Science Newsline)
12. This number can predict your happiness (and it's not your salary).
A new study found that the amount of cash people had in their checking accounts—in other words, easy accessible money—predicted how satisfied they were with their lives. The researchers found that it was even more important than income or the amount of debt they had. (TIME)
13. Certain supplies of fish could be transporting toxins.
Persistent organic pollutants, or POPs, make proteins that are essential for removing toxins from the body less effective, which could prevent humans who consume them through fish from fighting off dangerous toxins in the body. It's important that fish carrying POPs aren't allowed to end up on our plates. (TIME)
14. Exercise can boost a man's odds of surviving prostate cancer.
A large American Cancer Society study found that men with prostate cancer who exercised the most were 30 percent less likely to die from the disease than those who exercised the least. The association was true both for those who exercised frequently before the diagnosis, and those who did so afterwards. (HealthDay)