The Co-Founder of Suja Juice On The 11 Skin Products She Can't Live Without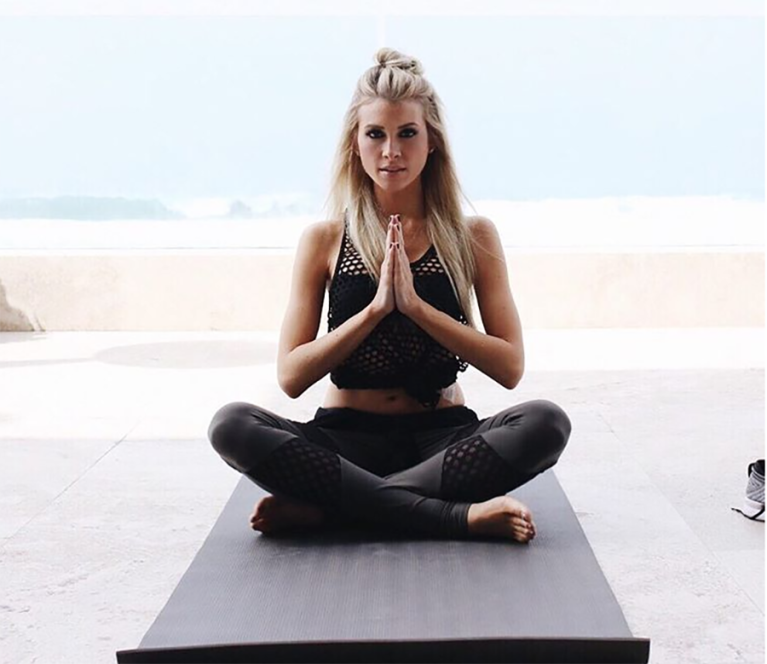 Our editors have independently chosen the products listed on this page. If you purchase something mentioned in this article, we may
earn a small commission
.
As the face behind BLAWNDE.com and the co-founder of Suja Juice (one of the largest organic juice companies in the U.S.), Annie Lawless has worked tirelessly to find the best beauty products for her skin, especially after experiencing years of chronic eczema that eventually led to a diagnosis of Celiac disease. Here's what the certified holistic health coach and yoga instructor uses day in and day out for reliable, photo-worthy results.
My morning beauty routine is really aimed at reviving and protecting my skin for the day ahead. I like to use lighter products in the morning than I do at night, as they keep my skin looking fresh all day and prevent any buildup or shine.
First, I use a very light cleanser because I cleanse thoroughly before bed, so my skin doesn't need much of a wash other than to wake myself up and energize my face. For this, I like to use the Calm Skin Chamomile Cleanser by Eminence. I find it to be very gentle and soothing, which is a nice feeling when I first wake up.
Then I gently dry my face by pressing a soft towel into my skin and apply a toner or essence. My favorite is the Astara AHA Nutrient Toning Essence because it gently removes dead skin cells and infuses vitamins E and B5 to protect me from damaging environmental elements. It also contains hyaluronic acid, which binds moisture into the skin and helps it stay hydrated throughout the day.
After toning, I spray a hydrating mist all over to put moisture back into my skin. I'm currently loving the Avene Thermal Spring Water. I love spritzing it on before applying moisturizers and oils so my skin is better prepared to absorb the hydration that's about to come its way.
When it's time for that moisturizer, I have to use products that can balance and handle my combination skin that's very dry on the cheeks and perimeter but very oily in the T-zone. My absolute lifeline is the Ultra Repair Face Moisturizer by First Aid Beauty. This product is seriously a unicorn because it's extremely hydrating and makes my ultra-dry areas completely supple and hydrated yet is so lightweight that it doesn't make my oily areas greasier or break out. I don't know how they did it, but First Aid Beauty really nailed this product.
As for makeup, I have a blog and YouTube channel that require constant shooting and filming, so I need to be camera-ready. If I'm on a set or shooting for a brand or magazine, I don't always have control over the cosmetics that are put on my skin. That's why I always use an antioxidant-rich primer before any makeup goes on—it creates a barrier between my face and the makeup so that my skin doesn't directly absorb the ingredients in the makeup. My go-to: Skin Calming Face Primer with SPF 20 by Colorescience because I love that it has sun-damage protection in there too.
At nighttime, my routine is all about deep cleaning and lots of hydration to combat all the elements my skin just had to face. Since I wear a lot of makeup during the day, I cleanse in two steps. First, I massage a cleansing oil into my skin to break down my makeup and dissolve oil. I've used the DHC Deep Cleansing Oil for years, and it gets the job done like nothing else. Next, I go in with a more frothy, foaming cleanser to wash away the makeup-filled cleansing oil and reveal completely clean skin. I love the Care Purifying Foaming Cleanser by Suki because it's filled with nourishing essential oils and antioxidants and doesn't strip my skin's moisture barrier. Once a week I like to exfoliate with a grainy scrub, like Ole Henriksen Walnut Complexion Scrub, to remove dead skin and promote cell turnover.
Once I'm all cleansed, I really like to put deep hydration into my skin so it can really do its work while I sleep. I use the Hydrating Toner by Sanitas to replace moisture then immediately follow it with the same Avene Thermal Spring Water mist I used in the morning. And just as I did in the a.m., I follow that spritz with hydration, hydration, hydration. My nighttime moisturizer application is my favorite part of my skin care routine because it's where I nourish my skin the most. My absolute favorite is the Greek Yoghurt Advanced Nourishing Sleeping Facial by Korres. It has a whipped soufflé-like texture and melts right into the skin. A lot of creams can just sit on top, but this really absorbs into it and feels incredible.
Lastly, when my skin is extra blah and needing some TLC, I like to mix two to three drops of Sunday Riley Luna Sleeping Night Oil into my moisturizing cream before applying. It's a retinoid oil that contains lactic acid, so it helps correct dullness, plumps the skin, and exfoliates. Total bliss.