4 Ways To Use Art To Overcome Anxiety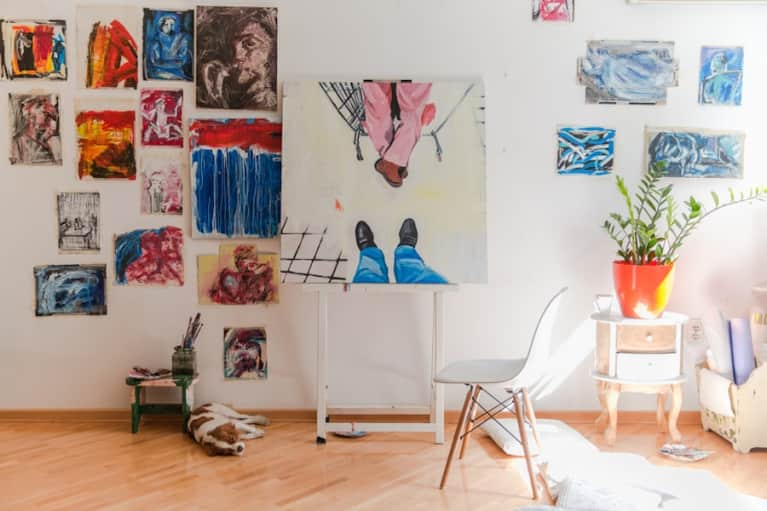 These days, more people than ever seem to feel stressed by the fast-paced nature of the daily grind.
The recent explosion in mindful art practices like electronic dance festivals, adult coloring books, and five-minute journaling exercises prove that people are starting to recognize the benefits of engaging in the arts. When you're engaged in art, your mind begins to slow down, your concentration focuses, and you feel more present.
This art-induced meditative state comes with a slew of benefits, and expressing yourself in creative ways can really enhance your overall well-being. Here are four different types of art that can improve your health:
1. Music can bust through stress.
Today, music is easier to access than ever. It's often free and, with the use of our phones and music players, it goes where we go. Exposure to so many different genres gives us the ability to use music like we would use a medicine cabinet. If we're feeling sad, we can find a tune that makes use happy. If we're stressed, we can find a melody that calms us down.
One body of research found that music therapy can prove effective in reducing anxiety and stress, strengthening the immune system and facilitating faster recoveries from illnesses. Another found that patients with coronary disease who listened to music for 20 minutes exhibited significant reductions in heart rate, respiratory rate, myocardial oxygen demand, and anxiety, both immediately after and one hour after the intervention.
2. Visual arts help the body heal.
When we're young, we are fearless with the paintbrush and crayons. Yet when we get older, we become a bit more timid and afraid that whatever we paint or draw won't be good enough. This self-judgment deters most of us from expressing ourselves through visual art, which is a shame because the visual arts are a way to convey things that words cannot. Whether it be making your own art or putting up someone else's, utilizing creative visuals seems to produce a healing effect deep within.
One study found that making art helped cancer patients focus on positive life experiences and enabled them to maintain a social identity that wasn't defined by illness. Another study showed that hospital patients who were surrounded by visual art and music experienced less pain compared to those who were not.
3. Dancing is therapeutic.
Dancing with people is like a group meditation in that it turns off your thinking mind and keeps you grounded in the present moment through movement and sound. The effects of dance and movement have been shown to improve the quality of life, shoulder function, and body image among breast cancer survivors.
4. Expressive writing is liberating.
Expressive writing allows us to analyze and verbalize the feelings that often reside in our subconscious. Journaling has been linked to creativity and spiritual awareness, and it helps participants identify and work through feelings, improve relationships, and learn new things about themselves.
We all have an artistic side waiting to be articulated, and art is a vehicle we can use to heal ourselves and one another.
Related reads: