3 Delicious Ways To Sneak More Green Into Every Meal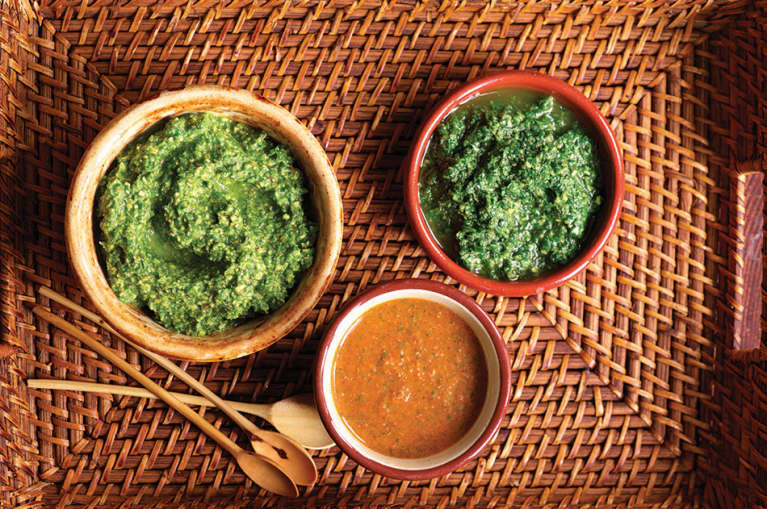 Our editors have independently chosen the products listed on this page. If you purchase something mentioned in this article, we may
earn a small commission
.
Greens are an important part of a healthy diet, but sometimes the old recipes feel a bit, well, old. Here are three new ways to use all those nutrient-packed leafy greens that you might not have thought of.
Wild arugula is potent but it doesn't dominate like basil, so you can taste the sweetness of the pistachios and bite of the shallot along with its sharpness.
This condiment enhances the flavor of so much more than pasta. You will also want to use it on vegetables from artichokes to zucchini—tossing it with steamed carrots is just one example.
Also serve it with an omelet, beans, grains, and seafood, including shrimp, salmon, roasted white fish like branzino or trout, and grilled tofu.
Make a little less than 1 cup
Ingredients
3 packed cups wild arugula
1 large shallot, chopped (about 2 tablespoons)
1⁄3 cup shelled pistachios
1⁄3 cup extra-virgin olive oil, preferably a fruity one
1 teaspoon fresh lemon juice
Salt and freshly ground pepper
Preparation
1. In a food processor, combine the arugula and shallot and whirl until finely chopped.
2. Add the nuts and whirl until the arugula looks moist, about 1 minute. With the motor running, drizzle in the oil, then the lemon juice. Season with salt and pepper.
This pesto keeps tightly covered in the refrigerator for 3 days.
Try a variation using regular arugula, almonds, and garlic.
Beets + Beet Greens With Citrus Dressing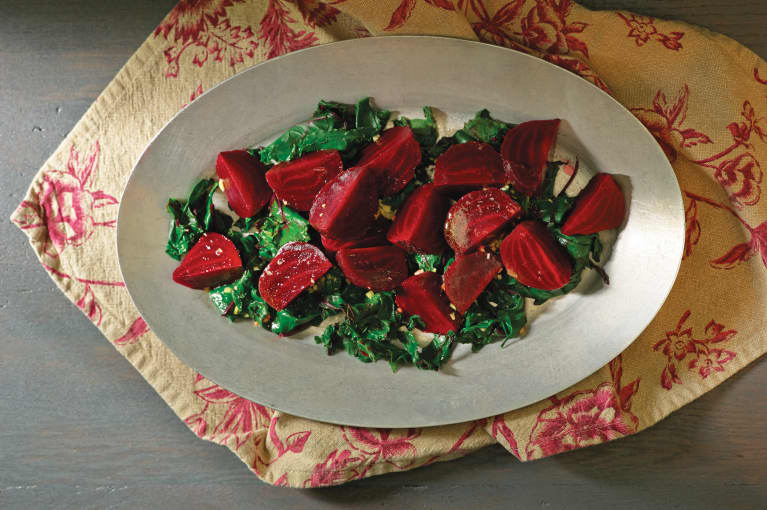 For me, a bunch of beets is a twofer, like the bonus of getting two Broadway theater tickets for the price of one. Along with sweet, earthy beets, you also get their greens, which taste like a cross between spinach and red chard.
Served together and bathed in a ginger dressing, they are always a hit. Serve with sliced grilled steak, or make a vegetarian plate together with cooked beans and quinoa.
Serves 4
Ingredients
1⁄2 small garlic clove, finely chopped
1 inch fresh ginger, peeled and chopped
2 tablespoons orange juice
1⁄2 teaspoon fresh lemon juice, optional
1⁄2 teaspoon salt
Freshly ground pepper
1 tablespoon extra-virgin olive oil
4 medium red beets
Greens from 1 large or 2 medium bunches of beets
Preparation
1. Place the garlic, ginger, orange juice, lemon juice if using, salt, and 3 or 4 grinds of pepper in a small jar. Cover and shake the jar. Add the oil and set the jar aside to let the flavors develop and blend.
2. In a deep saucepan, cover the beets with cold water to a depth of 2 inches and cook over medium-high heat, partially covered, until a small knife easily pierces them. Transfer the beets to a plate until they are cool enough to handle. Leave 1 inch of water in the pot.
3. Cut the stems off at the bases of the beet leaves or fold the front sides together like closing a book, and pull the leaf away from the stem and center vein. Discard the stems and veins. Wash the leaves in a large bowl of cold water, paying particular attention to the crevices where sand hides and changing the water several times. Coarsely chop the leaves; there should be about 6 packed cups.
4. Add the chopped beet greens to the pot with the reserved cooking water, and bring to a boil. Using a wooden spoon, push the greens into the water and cook until almost tender, 5 to 6 minutes. Drain the beet greens in a colander, and set aside until cool enough to handle.
5. To avoid staining your hands, slip them into sandwich-size plastic bags and peel the beets. Cut them into 1⁄2-inch slices. Arrange the sliced beets in an overlapping ring around the edge of a serving plate.
6. Squeeze the excess moisture out of the cooled greens, pull apart the compressed leaves, and mound them in the center of the plate. You can cover the arranged salad with plastic wrap and refrigerate it for 8 hours. Store the dressing separately.
7. To serve, shake the dressing vigorously for 15 seconds, then strain it over the beets and greens.
Beet greens are also good simply drizzled with good-quality olive oil and a spritz of fresh lemon juice.
Shoppers at farm stands often have the farmer tear the tops off their bunch of beets. Ask for any extra greens when you purchase your beets.
Chocolate Fudge Energy Squares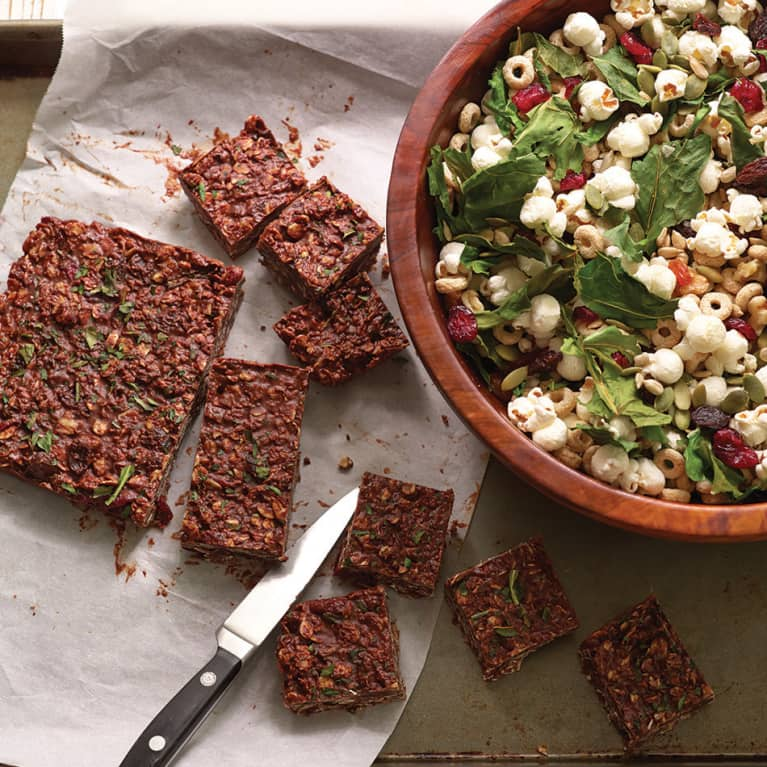 How can a snack this sinful also be healthy? Easily, when it is loaded with protein from nuts, fiber, and Crisped Kale (see recipe below). Serve these energy bombs directly from the refrigerator to keep them firm.
Makes 16
Ingredients
½ cup smooth almond butter
2 tablespoons honey, preferably wildflower
2 tablespoons raw coconut oil
3 to 3½ ounces dark (70 percent) chocolate, broken up
1 cup old-fashioned rolled oats
1⁄4 cup reduced-fat unsweetened shredded coconut
½ cup dried cranberries, cherries, or raisins
1⁄4 teaspoon salt
1⁄4 cup finely crushed Crisped Kale (recipe below, see note)
Preparation
1. Line an 8-inch loaf pan with parchment paper, using an 8-by-18-inch strip that will cover the bottom and the two long sides of the pan with a couple of inches left for overhang.
2. Combine the almond butter, honey, and coconut oil in a medium saucepan and cook over medium heat until they are warm, stirring with a flexible spatula until they are completely blended, 4 to 5 minutes. Remove from the heat and mix in the chocolate until it melts.
3. Dump in the oats, coconut, dried fruit, and salt, mixing until they are evenly combined with the chocolate mixture. Mix in the kale. Spread the mixture in an even layer in the prepared pan.
4. Chill until the mixture sets into a giant chocolate bar, about 2 hours. Lift the bar out of the pan and cut it crosswise into 8 bars. Cut the bars in half crosswise. Store and serve from the refrigerator.
To store: This snack keeps wrapped both in plastic wrap and then foil in the refrigerator for 5 days.
8 green curly kale leaves or 1 small bunch (8 ounces) Tuscan kale, stems removed, torn into 2-inch pieces
1 tablespoon extra-virgin olive oil
Preparation
1. Set a rack in the center of the oven. Preheat the oven to 250°F. Line a baking sheet with baking parchment.
2. In a mixing bowl, massage the greens with the oil until they are evenly coated. Spread the greens in one layer on the prepared baking sheet. If edges overlap slightly, it is OK.
3. Bake the kale for 15 minutes. Using tongs, turn and rearrange the pieces. Bake for 15 minutes, and turn the pieces again. Bake until the kale is completely dry and crunchy, up to 15 minutes more. Stored in an airtight tin, crisped greens keep for 5 days.
To finely crush Crisped Kale, hold a quarter-cup measure over a wide bowl, place some kale in the cup, and press it with your fingers, breaking the kale into small bits and flakes. Keep adding and crushing the kale until the cup is full. This will take about 1 cup of Crisped Kale leaves. The bowl keeps things neat.