6 Things People Get Wrong About Eating For Brain Health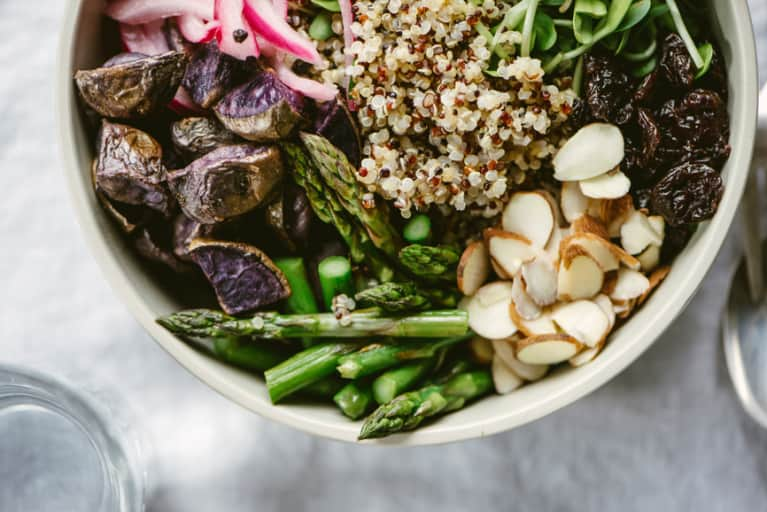 Our editors have independently chosen the products listed on this page. If you purchase something mentioned in this article, we may
earn a small commission
.
Your brain is by far your greatest asset. Every feeling, thought, dream, action—everything depends on your brain.
In my clinical practice in psychiatry, food has become my favorite medicine for brain health and mental wellness. The goal of my new book, Eat Complete: The 21 Nutrients that Fuel Brainpower, Boost Weight Loss, and Transform Your Health is to help you feed your brain.
When you feed your most important cells first and feed them right, you'll be more vibrant, less anxious, sharper, and a healthy weight as you are getting the nutrients you need from fewer calories.
Talking to thousands of people about their food, mental health, and eating plans over the last decade of clinical work has shown me the six mistakes eaters are making:
Beware the beige food! The colors in food signal medicine because natural pigments in food have different health-promoting molecules; lycopene is red and carotenoids are orange, and they are both linked to a lower risk of dementia.
We often refer to these phytonutrients as "antioxidants," but they are much more than this. They send powerful signals to our DNA that help quell inflammation and promote resilience at the cellular level. Some compounds in plants even promote the growth of new brain cells by promoting the expression of brain-derived neurotrophic factor (BDNF).
Simply put, more colors on your plate means a bigger, better brain. Researchers at Harvard found that having higher levels of carotenoids in the blood is correlated with a more optimistic outlook. More rainbows equal more smiles.
2. Relying on supplements
The foundation of health is food. There is no "insurance policy" for eating poorly, so why do so many people put their faith in supplements?
Remember, everything you put in your body must be dealt with and either absorbed or excreted. That's a lot of work for your liver and kidneys, which is why I get so concerned when I see people who don't know what they are putting their bodies with supplements, as many essential nutrients can be toxic in high levels.
I meet a lot of people who are down on Big Pharma but in love with supplements, which always surprises me. The first vitamin was discovered 100 years ago, but there was a lot of human health and happiness before that.
Relying on food for vital nutrients is simpler than relying on supplements and will transform your health.
3. Going vegan instead of plant-based
As the vegan movement gains traction, let's not forget vegan eating plans miss two of the most important nutrients for brain function: vitamin B12 and DHA. You can supplement, but studies show that the rates of B12 deficiency in both vegans and vegetarians is very high.
Still, most eaters have much to learn from vegans, as they are masters at cooking plants. Following a plant-based plan that also incorporates animal foods with these nutrients ensures you get ALL of the nutrients your brain needs.
Many eaters struggle with seafood. I get it. I didn't eat seafood for years, but as a young doctor I learned about the function of the omega-3 fats in the body just after I moved to New York City, a surprisingly great place for seafood.
Being a "compleater" (or someone who eats the complete range of nutrients necessary for good brain health) requires sensible seafood. Understanding what the healthiest, most sustainable, and most delicious seafood options are is one of my favorite topics in my clinic.
5. Still eating too many processed foods
Few eaters are actually sensitive to gluten. For those who are, eliminating gluten is a miracle. But for others, much of the perceived health benefits of going gluten-free likely come from eliminating baked goods (croissants, bread, hot pockets), pasta, and other highly processed foods. It's not like a gluten-free brownie is health food.
Eliminating processed foods and focusing on fermented, traditional whole grains is key to getting rid of the empty calories and simple carbs as the base of your food plan.
6. Eating what grandma ate
We need a new phrase for a new generation of eaters. What if grandma was dining on margarine, Snackwells, and green-bean casserole made with French onion soup mix?
Yes, traditional diets are superior for health. Diets based on whole foods, simple cooking, and seasonal variety are highly protective for the brain; think Mediterranean, Japanese, and Norwegian dietary patterns.
What do they have in common? They are all plant-based, absent of highly processed foods and empty calories, and encourage regular seafood and more mindful meat consumption.
To get your food plan back on track, my new book focuses on foods with the 21 nutrients most important to brain health. Mixing up the latest science of health with traditional food has never tasted better.