How To Reconnect With Your Essential Self + Why It Actually Matters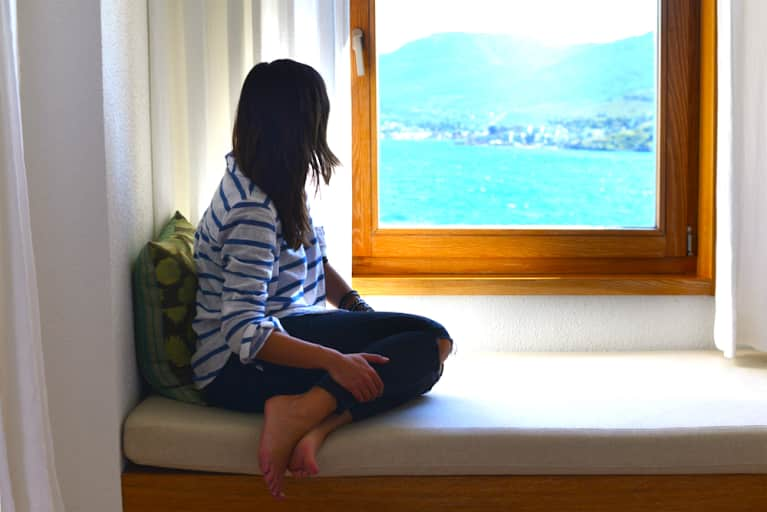 If you're reading this, you're probably feeling unsettled, have a longing for something more, and wish you felt less tired and more passionate. These might be signs you're ready for a new path. Here are eight of those signs, and some insight on how to deal with 'em.
1. You're stressed, angry, or sad way more often than you feel at peace.
2. Life feels more like a chore than a great adventure.
4. You find solitude uncomfortable.
5. You're bored more often than you're fascinated.
6. You seldom do things you loved doing as a kid.
7. You rarely laugh aloud.
8. You daydream about being elsewhere regularly.
Did you tick off most of the items on that list? Don't worry. We're all in this together. It can get better. Just keep reading.
A decade ago I gave up my job as a magazine editor, left my 7-year relationship, and relinquished a life of red carpets, VIP status, and free trips to glamorous locales. For what? I didn't even know. I just knew I couldn't let it be more of the same.
I was taking too many sleeping pills, dealing with too much stress and anxiety, and my health was crap. Plus, I ticked off nearly every item on the list above.
The new path I chose wasn't easy. There were a lot of bumps along the way. I anticipate there'll be more, too. But eventually I re-created my entire life—I got my dream job, ideal work-life balance, and perfect home. You can, too. Here's how:
Start by connecting more deeply with your Essential Self.
The Essential Self is a term coined by Martha Beck—a masterful woman who coaches everyone from CEOs, famous actresses and billionaires to heroin addicts. The Essential Self is who you would be wherever, whenever you were born. Whether it's Japan, Costa Rica, or the United States, in this century, last century, or five centuries ago, your Essential Self is who you are no matter the customs and social mores of your culture. The Essential Self adds up to your innate talents, tastes, and desires.
Most of us have designed a life not based on our Essential Selves, but on our Social Selves. The Social Self is who we think we should be, based on the customs and cultural norms of our environment and key individuals in our life. If we've designed a life based on our Social Self, we often find ourselves dissatisfied. We walk around wishing that life was different, that we felt different, that we lived with peace and passion.
Connecting to your Essential Self is the first step in embarking on a new path.
Next, review your thought patterns.
The Essential Self is already there within you, whole and complete. It's often just hidden by Social Self–thinking. Things like "I have to work a 9-to-5 job or I'll be a bag lady on the street," "I can't disappoint my family," "The only way to stay safe is to do what everyone else does" are examples of Social Self–thinking.
Notice your thoughts. Do they stem from fear—worrying about not having enough or concern about losing something? If they do, they're getting in the way of your new path, and your Essential Self. Try to dissociate yourself from the part of your brain that thinks this way. Talk to your mind as though it were a toddler having a tantrum. Offer love and compassion, but don't buy into the drama.
Remember the bottom line.
We tend to gain a lot when we choose a path more aligned with our Essential than our Social Selves—freedom, love, energy, time, and even money. All we lose are stress, lack of energy, and unhappiness.
Related reads:
Pre-sales for Lindsey's new book, From Darkness To Light, are on now. Order your copy before June 4 and receive her 30-Day Program "Design Your Dream Year" for free.