Elle Macpherson Made Us Smoothies & Spilled Her Wellness Secrets
mbg Contributor
By Andrea Bartz
mbg Contributor
Andrea Bartz is a Brooklyn-based novelist and freelance writer with a degree in magazine journalism from Northwestern University. She recently debuted her first novel, The Lost Night.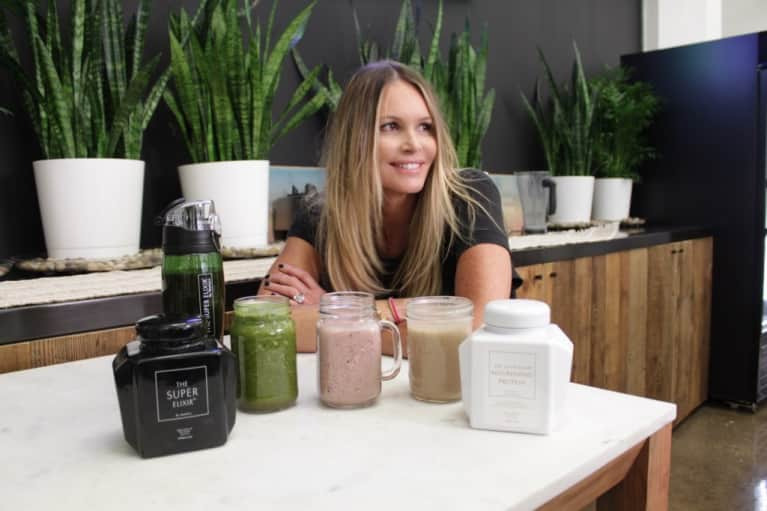 Supermodel Elle Macpherson is best known for gracing the cover of Sports Illustrated a record-breaking five times. What's less immediately apparent (unless you read between the lines of her bright eyes, shiny hair, and clear, glowy skin) is her current life as our balanced, blissful health hero. At 52, she certainly looks like she could still make a living baring a bikini on newsstands. But these days, she's far more into her role as a busy mother of five who just launched her own brand, WelleCo.
Elle stopped by our Brooklyn offices last week, where she treated us to her best wellness tips, as well as tasty smoothies made with her nutritional powders. Her blended creations were much like Elle herself: the perfect blend of healthy and sweet.
Her wellness wake-up call
Elle came to New York City from Australia when she was 18. She found plenty of work—and fell into a habit of packing her schedule full. "I learned as a young girl that the more you do, the more productive and successful you are," she says. "I thought I was so cool only sleeping four hours a night. I was proud of it! But as I matured, I realized what I thought was so valuable—not sleeping and working around the clock—was actually causing a lot of damage to my body, my psyche, and my wellbeing." Now, she aims for seven hours a night.
Still, when she was 49, Elle had a health scare that prompted her to meet with a nutritionist. "I told her that I was not feeling like myself, that my energy level was not what it usually is, my skin was dry, and something wasn't working," she recalls. When the nutritionist said she suspected Elle's bodily pH balance was off, Elle was surprised: "I didn't think I was eating acidic foods. But then she told me that it's not just about what kind of foods you eat; it's also about what's happening when the food is in your body." Inevitably, stress and jet lag from all of her traveling had caught up with her. The nutritionist recommended a smoothie mix-in: a green powder that she says changed her life. Impressed by how much the powder helped her whole body, she founded WelleCo, which carries Alkalizing Greens and Nourishing Protein.
"I don't define myself by my weight, dress size, or circumference. I define myself by my joy factor, so I do things that will make my heart sing."
The secrets to her healthy glow
The smoothies, of course, were just one piece of the puzzle as Elle switched to an alkaline diet. "Before, I ate more carbs like risotto, pasta, and red meat," she says. "Today, I eat more plant food and vegetables and less red meat. The greener, the better!" Her favorite vegetables are beets, boy choy, and eggplant, but her diet isn't all green: A self-proclaimed chocoholic, she indulges daily, but only on the kind that has a 70 to 80 percent cacao content. She sips espresso every morning and tends to avoid dairy, though she'll have it on occasion.
Elle's daily routine reflects her commitment to balance. She gets up around 5 and spends about 45 minutes reading, writing, and meditation or doing breath work. "No emails, Instagram, or making phone calls," she says. "I love mornings and use the time to center myself for the day." At 6, she wakes her son up for school and makes a healthy breakfast for them to enjoy together—chia seed pudding, spelt bread with avocado, or maybe a protein shake with own chocolate-flavored WelleCo Nourishing Protein powder.
It's impressive, how she effortlessly balances being a mom and an entrepreneur while maintaining her wellness practice. But she sees the self-care piece as fundamental. "My wellness practice is not a program that I have to follow rigidly," she says. "It's become part of who I am today." And who she is today has nothing to do with the superficial beauty we've all seen and admired. "I don't define myself by my weight, dress size, or circumference," she says. "I define myself by my joy factor, so I do things that will make my heart sing." Laughter's a daily must, she says, as well as workouts that challenge her body and feed her soul: yoga, Pilates, paddle boarding, skiing (water or snow), and running. "I really like Bikram yoga, even though I'm really inflexible," she adds. "I like hands-on, so I enjoy lessons with someone who can help me make adjustments."
She's diligent about taking her supplements, too. "My favorites are the Super Elixir and the Nourishing Protein powder by WelleCo," she says. "I am a chocoholic, so I also love my Nourishing Protein powder, which is full of vitamins and minerals and great things for your body. It's a great meal replacement or healthy snack. The Super Elixir is 45 ingredients with all your vitamins, minerals, and alkalizing super-greens. Take it with water, and then you're ready to rock 'n' roll!"
Elle showed us how to utilize her WelleCo Nourishing Protein and the Super Elixir in her favorite smoothies. We were impressed with not only the organic ingredients but also their containers: Created by a sculpturist from UV-protective ceramic, the canisters maintain the integrity of everything inside. Leave it up to Elle to make green powder and sprouted brown rice protein chic!
½ cup coconut water
2 cups spinach (or kale)
½ cup frozen pineapple chunks
1 cheek mango
2 teaspoons Alkalizing Greens (Super Elixir)
Blend and enjoy!
Benefits:
Spinach: loaded with vitamins and minerals to help the liver detox (when the liver is in trouble, it often shows on our skin)
Mango: contains carotenoids, which help the skin glow, and beta-carotene, which the body converts into active vitamin A or retinol to help fight aging
Pineapple: high in vitamin C, which is key to the production of collagen, giving our skin firmness and strength
Complete protein breakfast smoothie
1 heaped scoop of chocolate Nourishing Protein
2 teaspoons Alkalizing Greens (The Super Elixir)
Handful of fresh berries: blueberries, strawberries, raspberries
½ frozen banana
1 scoop organic probiotic yogurt (or coyo for a nondairy option; however, yogurt as an additional source of calcium is a good thing)
300 mL (about 1¼ cups) almond milk
The 3 p.m. pick-me-up shake
Shake or blend and enjoy!