Mantra Rocks And Other Fun Crafts To Make With Your Little Yogi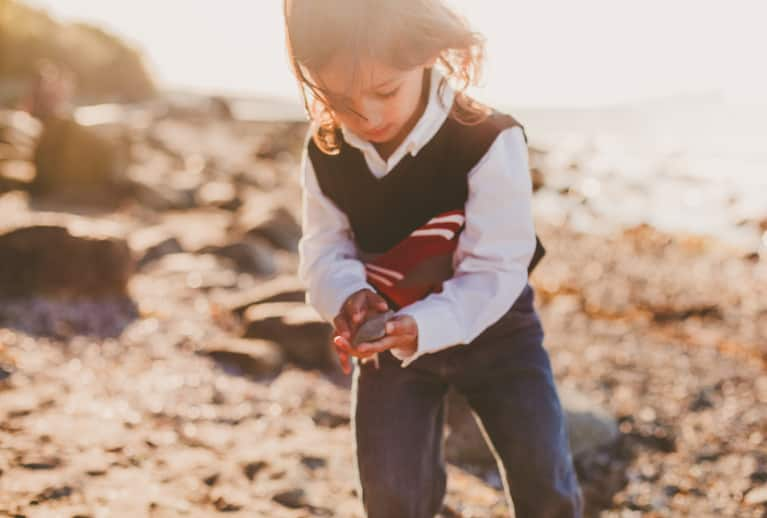 Kids' yoga tends to be considered "asana heavy." The practice for children is often thought of as being all about the poses, while in reality, teachers are incorporating breath work, mindfulness, meditation, and community-building activities into their teachings, as well as helping children cultivate compassion and gratitude toward themselves, others, and the environment.
One of the many ways kids can take their yoga off the mat is through crafting. (Plus, who doesn't love a good DIY?) Below are three of my favorite projects to help teachers and parents extend the practice of yoga beyond poses into the everyday lives of children big and small:
Rocks
Sharpie fine permanent markers in different colors
Begin by having a conversation about what a mantra is. Children love the idea of something they can repeat to themselves that makes them feel good, strong, and proud of who they are. Ask them to think of their own mantra.
Next, have the children pick out a rock. A variety can be supplied, or the kids can select their own out in nature. Either way, they should choose their own, as rocks are as individual as people, which lends itself to a wonderful discussion about uniqueness, compassion, and the environment. Have the children write their mantra on the rock (with help if needed) and decorate it however they choose.
These mantra rocks can be used during classes in multiple ways as a way to focus the breath or feel grounded during savasana or meditation or as something kids can have at home as a self-affirmation whenever they need it.
2. Mind or "swirly-whirly" jars
Glass Mason jar/jars with lids
Water
1 teaspoon glycerin
Colored glitter
These jars are a tangible way to help a child understand how the mind gets cluttered and muddied with strong emotions—and to give them a calming and coping tool.
Begin with a conversation about feelings. What are they? What causes them and can we name some both good and bad? Ask kids to give examples of how strong feelings like excitement or anger can get in the way of the ability to focus or be present. Younger ones may need prompting by giving an example from your own experience.
Next, fill a jar with water and a bit of glycerin, and have a few colors of glitter handy. Ask the children to drop in a pinch of glitter as they name a feeling or emotion. Put the lid on the jar and swirl it around, showing kids how emotions cloud the water and get all mixed up, just as their minds can get when filled with all of their thoughts.
Set the jar down and watch as the glitter slowly settles at the bottom. Share how stillness and quieting the mind helps to calm things down and create space and clarity. Trust me, you won't need to say much—kids get it.
Children can make their own individual jars, or larger ones can be made for a class or a household. The mind jar is a powerful meditation and self-regulation tool for kids and adults. And they're pretty snazzy to look at!
5-by-8-inch index cards
Colored pencils or markers
This is a great craft that can be created over time. Although it is often based on poses, children can add their own mindful flair. I prefer large index cards for this activity, but the options are endless.
Ask children to draw themselves or a friend in their favorite yoga pose (or perhaps one that stood out in a class or on a particular day). Underneath, leave space to answer a question. A few possible prompts are:
This is my favorite pose because…
When I am in this pose I feel…
When I close my eyes in this pose, I imagine…
In the end, the child will have his very own deck of yoga poses and thoughts to use over and over again as he chooses.