Exclusive: Now You Can Make Bulletproof Coffee Anytime, Anywhere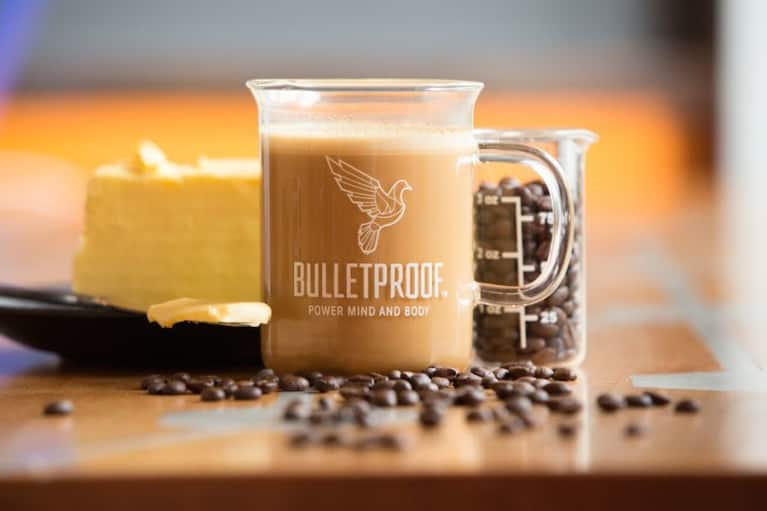 April 13, 2016 — 13:00 PM
By now, we've all heard of—and probably tried—Bulletproof coffee, biohacker Dave Asprey's coffee concoction made of black coffee blended with grass-fed butter and MCT oil. With claims that having the 450-plus-calorie cup of coffee instead of breakfast suppresses hunger, promotes weight loss, and provides mental clarity, Bulletproof coffee has attracted a loyal following that ranges from startup execs and Hollywood A-listers to regular Joes.
Which is why we're excited to reveal—to all the devout Bulletproofers out there—that you will now be able to make your buttered brew anywhere and everywhere. Today, the company is announcing the launch of Bulletproof InstaMix high-performance coffee creamer, which combines their MCT oil called Brain Octane Oil and grass-fed butter in a convenient powder form. The powder quickly dissolves in coffee—no blender required.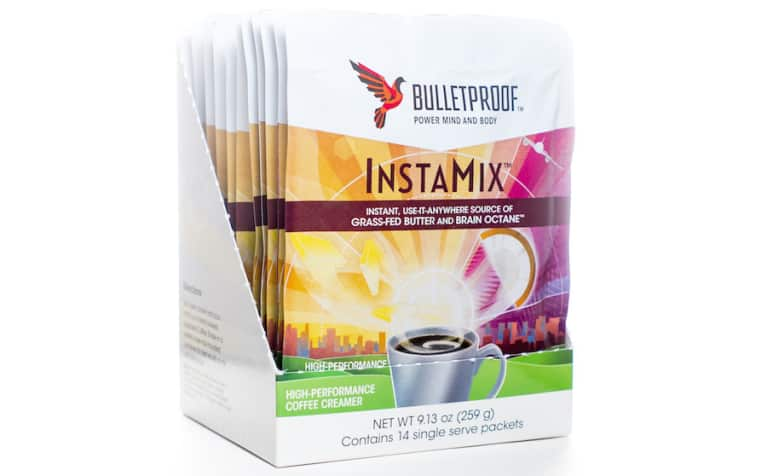 It still contains all the ingredients people have come to love in the traditional, blender-mixed Bulletproof Coffee.
Here's the full list of ingredients: Caprylic Acid Triglycerides (Brain Octane Oil), Grass-fed Butter, Highly Branched Cyclic Dextrin, Oleic Fatty Acid (from Olive Oil), Sorbitol, and Vitamin E TPGS.
But how is exactly is the InstaMix made?
"We developed a proprietary process for InstaMix, creating a stable blend of Brain Octane [their MCT oil] & grass-fed butter that easily dissolves in coffee without separating," Dave Asprey told mbg over email. "This mixture is dried on a minimal amount of highly resistant, structured starch (Highly Branched Cyclic Dextrin) which is metabolized differently than other carbohydrates and doesn't spike blood sugar. We only use the all-natural, non-GMO ingredients listed to process our products, never any harsh chemicals."
Whether Bulletproof coffee lives up to its nutritional claims is widely disputed, but the nutritionists we spoke to agreed that, if you're going to put butter in your coffee, it should be grass-fed like Bulletproof recommends, which is higher in omega-3s and other nutrients like vitamin K2 that may protect against heart disease. Like with everything, they preach moderation.
And Dr. Robin Berzin, a functional medicine physician and the founder of Parsley Health, seconded this sentiment.
She doesn't think that the saturated fat from the butter should necessarily dissuade people from drinking the coffee: "From my perspective it just means you shouldn't have it regularly without regular testing of lipid levels with a doctor who knows you, as unique individuals have unique risk factors that should be considered," she told us.
As for the taste of the InstaMix, our tasters agreed that it's surprisingly similar to the fully blended Bulletproof Coffee. "Still got that creaminess!" one said.
Busy Bulletproofers of the world: rejoice!