I'm A Celebrity Nutritionist: Here's How I Stay Healthy On The Road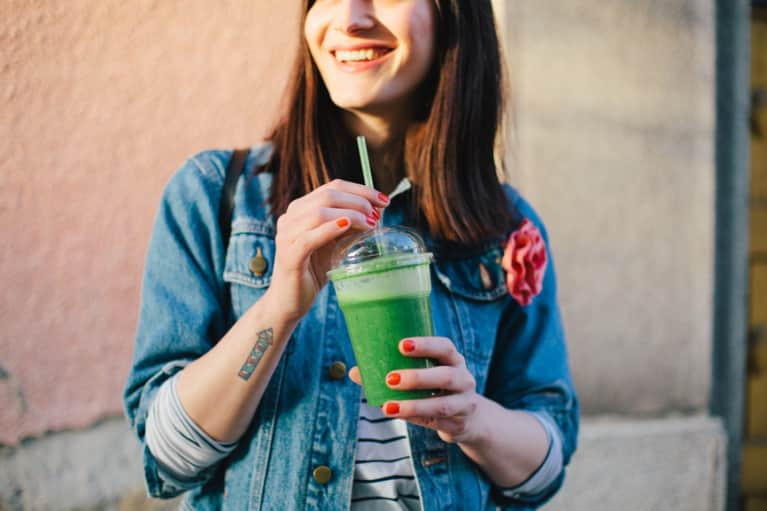 I travel a ton, mostly for work but occasionally—OK, too rarely—pleasure. Over my three decades as a celebrity nutritionist, I've become incredibly savvy navigating tricky terrain like carb-heavy continental breakfasts, airline food (I use "food" loosely!), and roadside diners where iceberg lettuce is the only greenery.
My big takeaway from that trial-and-error: You have complete control over what you eat, but preparation makes healthy eating much easier. After all, succumbing to some deep-fried monstrosity when you're jet-lagged or driving cross-country becomes all too easy when you don't carry essentials.
While it demands some savviness and forward thinking, packing your own food and other healthy necessities means you're never backed into a sugar-craving corner. You prioritize weight loss and your health goals.
I always pack several fab pairs of jeans with my Jimmy Choo pumps, but to stay lean and healthy on the road, I carry these seven essentials:
Bring on the organic dark roast (make mine half-decaf, please!) before my early-morning flight, but I stay hydrated with filtered water. Most airports and hotel gyms have filtered water stations, so keep that canteen filled and bypass exorbitant bottled-water costs.
Continental breakfasts and coffee-shop pastries quickly add up for your wallet and around your waistline. A protein shake makes an economical, fat-blasting breakfast or other meal-replacement alternative. Blend nondairy, non-soy, plant- or animal-based powder with unsweetened coconut or almond milk along with a handful of slow-roasted or dehydrated almonds, and you've got a fast, satisfying meal that keeps you full for hours.
If I'm in the air or otherwise don't have an electrical outlet, a shaker cup becomes a great way to whip up that protein shake. Otherwise, the NutriBullet becomes my must-own travel accessory. I've even whipped out this portable powerful mini-blender at the airport. People might stare, but I can throw in cool extras like leafy greens, avocado, and cacao nibs for a fast, filling shake that keeps me satiated and focused for hours.
Every so often on the road, I'll have a meal that contains more starchy carbs than I normally eat. A starch blocker provides science-based extra insurance to prevent that quinoa pasta from converting to fat.
Jet lag, time-zone differences, and super-early-morning conferences become just a few of the many on-the-road sleep impediments. Melatonin supplements provide a great way to gently drift into a solid slumber. I use a professional-quality synergistic supplement that combines melatonin with other science-supported sleep nutrients like inositol, theanine, and 5-HTP.
The grab-and-go convenience of airport kiosks and roadside bodegas usually mean compromising with less-than-stellar food options. That's why I always keep nonperishable, portable crave-crushers on hand like nitrate-free jerky, low-sugar-impact bars, chopped veggies, nuts and seeds, and tiny packets of almond butter with celery sticks.
I've got enough things to do pre-trip. The last thing I want to do is sort, count, or otherwise measure supplements. So I pack all-in-one nutrient packets that combine a professional-quality multi with anti-inflammatory omega-3s to cover all the nutrient bases we're probably not getting from food. I simply toss enough packets in my bag for the number of days I'm gone. Easy, done, and one less packing hassle to contend with.
Your turn: What nutrient essential do you always carry on the road?