7 Nutrient-Dense Foods You Should Being Eating Right Now
Written by
Leah Vanderveldt
Leah Vanderveldt is an author living in Brooklyn, New York. She received her Bachelor's in Communications and Media from Fordham University, and is certified in culinary nutrition from the Natural Gourmet Institute.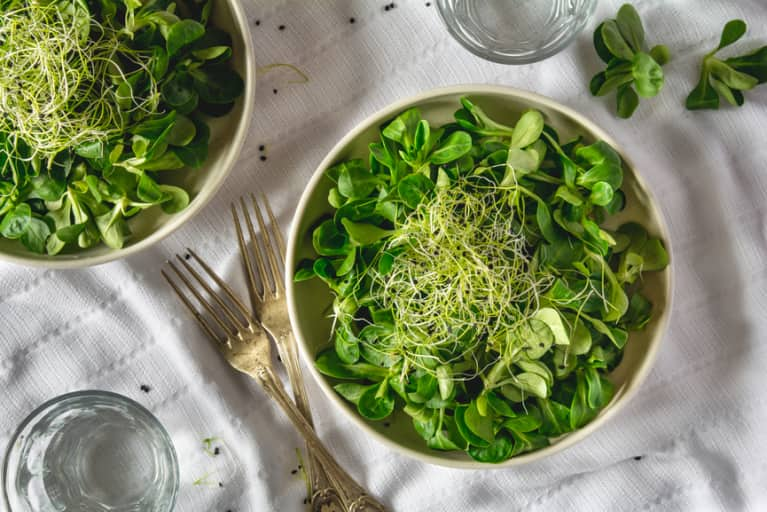 Spring is a truly amazing time of year. Not only does is feel great to shed the darker, colder days of winter, but we get a complete produce refresh to match.
In contrast to the denser, heartier root vegetables of winter, spring offers us lighter, brighter fare that delivers much-needed nutrients and flavors right when we need them the most. Check out some of our favorite in-season foods to eat for maximum nourishing benefits.
Beyond their delicate texture and petite charm, microgreens are lauded for being super nutrient-dense. These tiny, brand-new greens may have four to six times more nutrients than the mature versions of the vegetable.
Types of microgreens include beet, kale, basil, pea, spinach, and many more and contain concentrated nutrients like vitamins C and E and beta-carotene.
You can even grow them at home. Use them in salads, on sandwiches, and as garnishes for pretty much anything that might need a little extra green.
Is there anything better than spotting late spring strawberries at the farmers market? These ruby red little nuggets are bursting with vitamin C, manganese, and fiber.
Strawberries are great in desserts, breakfast bowls, and on their own. For a more savory twist, try them in a spinach salad—the vitamin C in the strawberries actually helps our bodies absorb the iron in the spinach.
Another peppery all-star, radishes add a zesty crunch and pretty pink color to dishes. You can finely slice or shave them to top a big salad or a plate of nachos, eat them whole dipped into hummus, or roast them for a different, deliciously mellow flavor profile. You can use their greens like you would watercress, too.
One of the most beloved spring vegetables, these green (and sometimes purple or white) spears are irresistible in terms of nutrients and flavor. Loaded with B vitamins (including folate), as well as vitamin K, selenium, and fiber, asparagus checks a lot of boxes.
We love it sautéed, grilled, and roasted—either on its own or in a dish. For a complete guide to the many ways you can cook asparagus, check out: "What To Do With Spring Asparagus."
More than just a refreshing herb, mint's antimicrobial and antiviral properties can help quell inflammation. It's also commonly used as a digestive aid, making it a soothing addition to many meals. We like it in sweet and savory dishes alike.
Spring peas are well worth the effort of shelling and cooking them. These sweet little orbs pack in lots of protein, vitamin K, and fiber, all with a vivid color that's fit for springtime. Frozen peas work in a pinch, too.