Locals React To The New Whole Foods 365 Market Coming To Silver Lake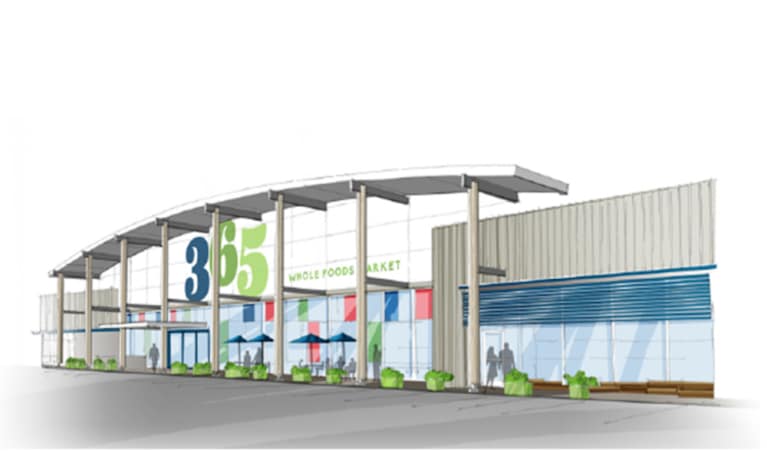 April 11, 2016 — 18:09 PM
Whole Foods Market has delivered on the promise they made last May to bring millennials a "hip, cool," healthy, and lower-cost grocery chain. Last week, the brand announced that the first-ever 365 by Whole Foods grocery store would debut in the Silver Lake neighborhood of Los Angeles on May 25 (yes, that soon!).
Each new location will incorporate the company's "Friends of 365" initiative, featuring in-store partnerships with a range of food retailers, vendors, and even record shops and tattoo parlors.
The first companies to receive the honor at the inaugural location are by CHLOE., a trendy vegan restaurant with a West Village location, Allegro Coffee Company (Whole Foods' own coffee subsidiary) and teaBOT, a self-serve, personalized tea kiosk.
by CHLOE. will offer guests a diverse menu of plant-based foods, such as The Guac Burger, Quinoa Taco Salad, Mac n Cheese, and Air-Baked Fries, that can be enjoyed in the restaurant, taken to-go, or to a communal dine-in experience elsewhere in the store. Aside from hot coffee, Allegro Coffee Company will serve up cold beer and a selection of food items. And teaBOT's kiosk will give customers the option to mix up to three of 18 different teas and herbal ingredients.
We already know how millennials feel about the new chain ('cause we asked 'em)—but what about the local business owners of Silver Lake? Are they intimidated? Angry? Concerned about change?
Well, we called around to a bunch of local businesses in the area, and actually, for the most part, they're all pretty pumped.
"All of the workers here are stupid excited about it," Amanda, an employee at Silverlake Coffee Co told us. "The Ralphs that was there before just never had what we wanted. A bunch of people are excited about not having to drive all the way out to West Hollywood for certain Whole Foods products."
And she's not worried about the business at her coffee shop—in fact, she thinks it'll bring more people into the community and the business.
Tricia La Belle, owner of Bon Vivant Market & Cafe, reiterated this sentiment.
"This destination grocery store will certainly improve the patronization of local businesses by default and encourage community redevelopment in neighborhoods that need some love," she told mbg over email.
But, of course, the arrival of Whole Foods, the ultimate symbol of gentrification, is a little scary for the smaller independent grocers in the area.
"We're a hidden little market—one of the last in the area," Carmen, the daughter of the owner of Vince's Market, explained. "There were four others and they closed a long time ago. It's become very competitive."
But even though she knows her business will feel a (potentially negative) impact from it, she says it's a good thing for the neighborhood since it doesn't have enough conveniently located stores with affordable, high-quality products.
"This will be especially good for the elderly who don't drive and really need a place to go to," she said. Without Silver Lake Ralphs, people have been buying their groceries at Trader Joe's, Vons, Gelson's, and Super King, but those are all pretty tough to get to without a car.
And those with cars, like La Belle, are a bit concerned about the traffic, which is already bad because, well, it's Los Angeles. But, she says she's still "thrilled" to have a Whole Foods nearby. "I love balance," she said. And with all the other stores in close proximity to 365 Market, that's exactly what she thinks it'll bring to the area.