Should You Be A Reducetarian? 10 Delicious Ways To Start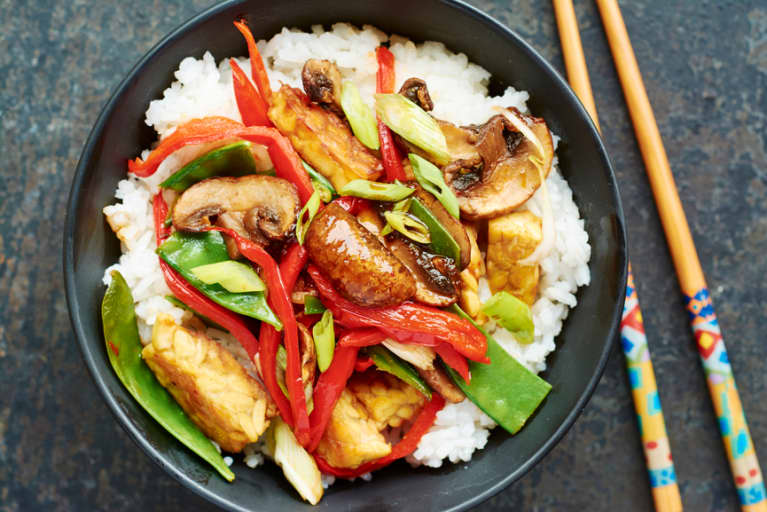 Many of us are aware of the benefits of leaning into a plant-based diet for our health, the environment, and animals.
But for aspiring strict vegans, giving up Buffalo wings and cheeseburgers is a minor hardship—what's harder is giving up the thousands of traditional meals that contain eggs, cheese, and milk.
The "reducetarian" movement aims to fix that problem. It provides everyone with a platform to eat fewer animal products without necessarily giving them up entirely.
Here are 10 meal swaps to make your transition to a reducetarian lifestyle just a little easier:
1. Avocado for mayonnaise
Use as a replacement on sandwiches and dressings. Avocados are so creamy and buttery you won't even miss the mayo! Plus they are a great source of healthy MUFAs (monounsaturated fatty acids) and keep you feeling full. Avocados: We love you!
Coleslaw With Creamy Avocado Dressing
½ medium head purple cabbage, shredded
½ medium head green cabbage, shredded
2 to 3 medium carrots, shredded
2 to 3 medium apples, thinly sliced
2 avocados, pit removed
2 limes, juiced
½ to 1 jalapeño, deseeded
2 tablespoons cider vinegar (optional)
1 teaspoon Dijon mustard
1 tablespoon honey
½ teaspoon salt
¼ teaspoon cumin
2 to 3 tablespoon olive oil
¼ teaspoon ground black pepper
pinch of cayenne
¼ to ½ cup freshly chopped cilantro, plus more for garnish
Preparation
1. Place cabbage in bowl and set aside.
2. Place all other ingredients into a blender or in a bowl to blend with an immersion blender. Blend until well-combined. Taste and adjust seasonings as necessary.
3. Dress about 1 to 2 hours before serving.
2. Ground flax/chia for eggs
Great as a substitution in pancakes, brownies, and cookies.
Here's how: 1 tablespoon of freshly ground flax or chia seeds + 3 tablespoons of water = 1 egg. Let sit for about 10 minutes in the refrigerator, then use it in a recipe.
3. Tempeh for animal protein
Worried you'll miss the heartiness of meat? Not to worry: Tempeh is extremely versatile and easy to cook, plus you won't be missing any of your protein, as it provides roughly 16g per serving.
Use it in sandwiches, make it as a scramble, incorporate it in stews, or simply pan-fry it.
Here's a tip: Steam tempeh for about 15 to 20 minutes before marinating or cooking so it will absorb flavors better. My favorite ways to use tempeh are in curries or sloppy Joes. Yum.
4. Black beans for burgers
Did you know 2016 was named Year of the Pulses? With so many varieties and uses, no wonder these little guys are gaining so much attention. Just Googling "black bean burgers" will open your eyes to a plethora of mouthwatering recipes.
5. Coconut cream for cream
Rich, decadent, and smooth, coconuts deliver the perfect amount of creaminess without any of the dairy. Use this to make drinks like hot chocolate, desserts like mousse, or savory dishes like curries.
1 large ripe avocado
¼ cup cacao powder
¼ to ½ cup full-fat coconut milk
3 tablespoons maple syrup
1 teaspoon vanilla extract
pinch of salt
ripe banana
berries
nut butters
½ teaspoon ground espresso
cacao nibs
chopped nuts
chocolate chips
coconut shavings
Preparation
1. Combine all ingredients in a high-speed blender or food processor. Mix until desired consistency is reached. A hand mixer can be used as well.
2. Spoon into small bowls and garnish with desired toppings.
Protein-packed and extremely delicious, hummus comes in so many different flavors.
Stick to the basics with just olive oil, tahini, and salt, or expand your horizons with ingredients like sun-dried tomatoes, basil, and toasted pine nuts.
Blend frozen bananas and BOOM—ice cream!
Trying to be a little fancier? Add any of the following: cinnamon, coconut milk, peanut butter, chocolate, or nuts. Maybe just add them all!
8. Homemade creamy nut milk
Use nut milk in place of regular dairy milk.
1 cup raw Brazil nuts (or nuts of your choice)
3 to 4 cups filtered water (possibly more if you are using macadamia nuts)
1 teaspoon vanilla or 1 vanilla bean
2 to 4 dates, or other sweetener, to taste
pinch of sea salt
Preparation
1. Soak nuts for 2 to 4 hours (soaking time will vary for different nuts). Rinse.
2. In a high-speed blender, blend nuts and water. Sweeten to taste.
3. Strain through nut milk bag and store in airtight jar in refrigerator. Use for smoothies, cereal, tea, and so much more!
9. Nutritional yeast for cheese
Commonly grown from sugarcane or beet molasses, nutritional yeast can add a cheesy flavor to help round out your dish.
How do I love to use it? Mix with extra-virgin olive oil, garlic powder, and salt, then drizzle over popcorn for a healthy and satisfying snack.
10. Vegetable broth for stock
I always save my vegetable clippings in a freezer bag for broth. A nutritious addition to soups and stews that will create a flavorful base for many of your dishes.
Cook grains in vegetable broth for an extra boost, or simply sip on a cup of warm broth for those chilly days.
Makes 3 quarts
Ingredients
1 lb. sweet potato or yams
3 garlic cloves, crushed
½ large onion
¾ lb. green beans
½ lb. greens such as kale or spinach
¼ bunch parsley
¼ cup shiitake mushrooms
1 strip kombu
10 black peppercorns
2 bay leaves
Preparation
1. Wash vegetables well and roughly chop.
2. Place vegetables in a large stockpot, starting with sweet potatoes. Cover vegetables with water and simmer for 2 to 4 hours.
3. Strain vegetables and allow to cool. Store in large mason jars and refrigerate.
4. If using as a drink, salt to taste and serve warm.