Better Than Takeout: Lightened-Up Pad Thai In Under 15 Minutes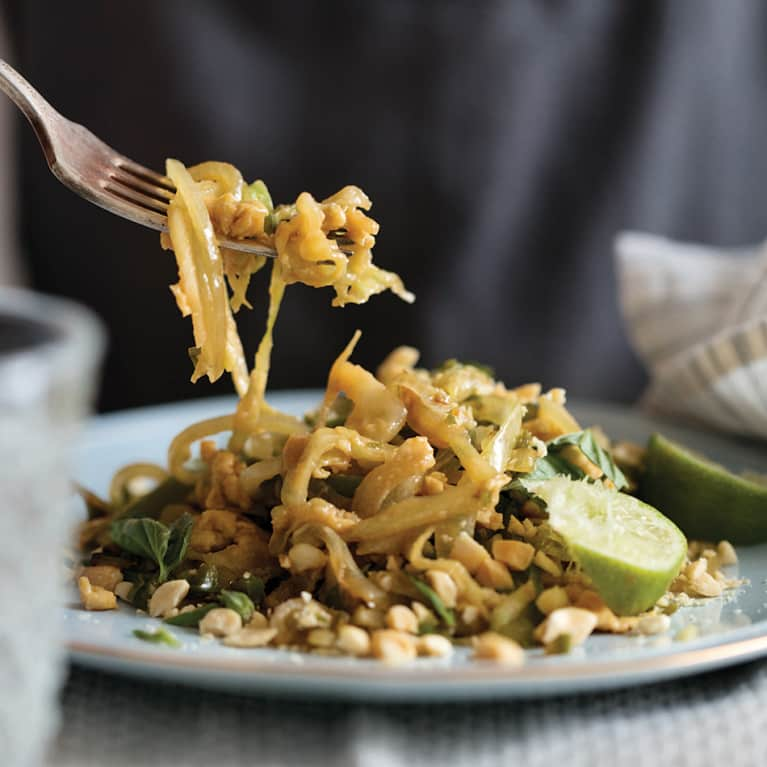 Andie Mitchell's cookbook, Eating in the Middle, is a great example of what a balanced life and love of food should look like. Andie combines delicious, whole foods recipes with more decadent dishes for sharing and celebrating—and all of it is worth savoring.
Today, we're sharing her Lightened-Up Pad Thai recipe—which not only has the crave-worthy flavors of the traditional takeout dish but it also comes together in less than 15 minutes. Cabbage subs in for the noodles, making it more veggie-heavy while keeping it on the lighter side.
Lightened-Up Pad Thai in Under 15 Minutes
1 tablespoon low-sodium soy sauce
2 tablespoons fish sauce
¼ cup low-sodium chicken broth
1 tablespoon sugar
1½ teaspoons cornstarch
4 large eggs
4 teaspoons canola oil
1 jalapeño pepper, ribs and seeds removed, finely chopped (about 2 tablespoons)
1 small onion, thinly sliced (about 1 cup)
1 small green bell pepper, seeded, ribs removed, and thinly sliced (about 1 cup)
4 garlic cloves, minced
5 cups finely shredded green cabbage (about half a medium head)
½ cup packed roughly chopped fresh cilantro or Thai basil
2 tablespoons finely chopped dry-roasted unsalted peanuts
Preparation
1. In a small bowl, whisk together the soy sauce, fish sauce, broth, sugar, and cornstarch.
2. In another small bowl, beat the eggs.
3. In a 12-inch nonstick skillet, heat 2 teaspoons of the oil over medium-high heat. Add the jalapeño, onion, and pepper, and cook, stirring frequently, until tender but still crisp, about 5 minutes.
4. Add the garlic and cook, stirring constantly, until fragrant, about 30 seconds. Transfer the vegetables to a plate.
5. Add the remaining 2 teaspoons of oil to the skillet. Add the cabbage and cook, stirring frequently, until tender but still crisp, about 5 minutes. Add the eggs and cook, stirring constantly, until just set, about 2 minutes.
6. Add the soy sauce mixture, stir well, bring the mixture to a boil, and cook until the cabbage is coated in a thick, glossy sauce. Stir in the onions and peppers. Remove the pan from the heat and stir in the fresh cilantro.
Recipes reprinted from EATING IN THE MIDDLE by Andie Mitchell Copyright © 2016 by Andie Mitchell. Photography copyright © 2016 by Aran Goyoaga. Published by Clarkson Potter, an imprint of Penguin Random House LLC.