The Biggest One-Week Launch Of Any Product Was For An Electric Car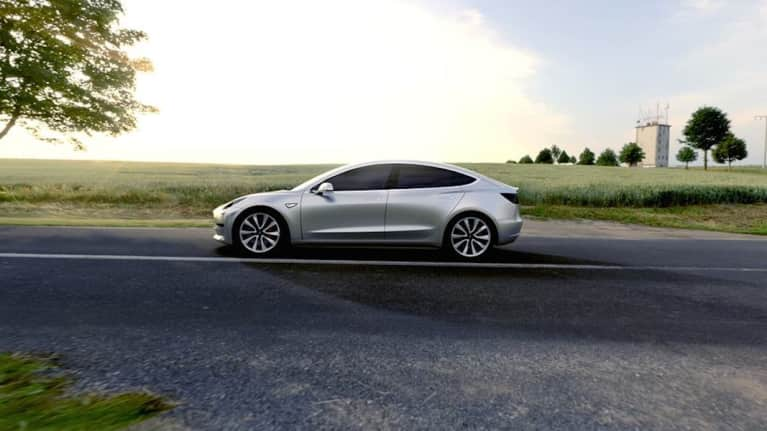 It's been about a week since Elon Musk unveiled the long-awaited Tesla Model 3. And the world has welcomed it with unbelievably open arms. The company announced Thursday that it has already received 325,000 preorders of the car (which requires a $1,000 deposit). This corresponds to about $14 billion in implied future sales, making this the "single biggest one-week launch of any product ever."
Any. Product. Ever. And we're talking about an electric car. Tesla called this past week "The Week that Electric Vehicles Went Mainstream."
"This has been a true grass-roots effort driven by the passion of the Tesla team that's worked so hard to this point, and our current and future customers who believe so strongly in what we are trying to achieve," the company said.
Industry analysts and executives have been stunned so far by the reaction.
"We are not aware of any precedent of this level of order interest for any other car," Adam Jonas, a Morgan Stanley analyst, wrote in a research note.
In fact, sales of current electric cars and hybrid models have suffered as American consumers have taken advantage of low gas prices by buying gas guzzlers like SUVs. But the new Tesla completely obliterated expectations.
"Despite its many accomplishments, Tesla had not yet truly disrupted the auto industry," Mr. Jonas wrote. "We are now getting the feeling that this may be starting to change."
More than 100,000 people had laid down their money before they ever even saw the car. Musk tweeted that 276,000 people reserved the Model 3 during the first three days. And the current number is twice as many Model 3s as Tesla reportedly expected to make. Hopefully, Tesla will be able to meet expectations building far more cars than it's ever built.
But even though Tesla has grappled with production problems in the past, Elon Musk, the company's chief executive, doesn't seem too concerned. In a Twitter Q&A the other day, he said he expects the Model 3 to crack a half-a-million preorders—and this is all for a vehicle that's been only half-revealed.
So, it seems, people are not only ready for electric cars—they're actually lining up around the block for them.