A Yogi's 4 Favorite Unexpected Food Combinations To Fuel An Active Lifestyle
I'm a yoga instructor, but if I could choose only one thing that affects my health and well-being the most, it would have to be food. Yes, you read that right.
It's not that I don't think movement is incredibly important—I do. In fact, I think that food, exercise, sleep, water intake, and mindfulness all equate to a happier and healthier person. I'm committed to feeling good, looking good, and being the best teacher I can be, and I can't do any of that without eating clean meals that leave me energized and happy.
I'm always looking for food options that seamlessly #GOTOGETHER to enhance my lifestyle. It's not just about the workouts or the food; it's not just about my career or my family—it's about how these important elements of my life work together to create the best version of myself.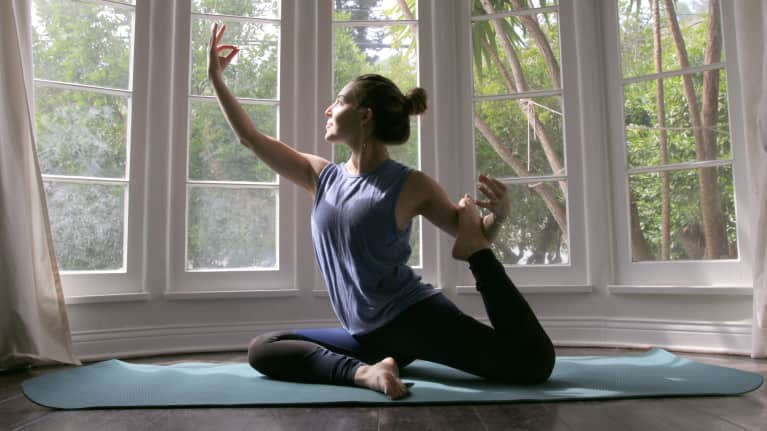 My Feel-Good Food Philosophy
I know I need food that tastes amazing (otherwise I will continue to have cravings), and I also know, given that my job requires me to move all day long, I need nutrient-dense food that gives me energy.
My blog has become a place for me to share the recipes that I've found and made up in my kitchen. I don't believe in diets; I believe in finding what makes you feel good. When your food and lifestyle #GOTOGETHER, your mind and body sync up and diets disappear. That's the secret to eating healthy without depriving yourself of the tastier things in life.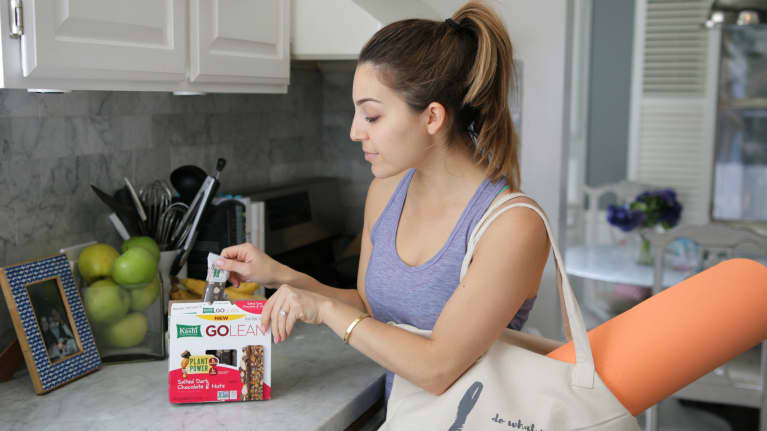 How I Satisfy My Cravings (in a Healthy Way)
Healthier alternatives to my all-too-frequent chocolate cravings (like my go-to bar, Kashi GOLEAN Salted Dark Chocolate & Nuts) give me the sustained energy needed to teach three to five classes each day, write interesting posts for my blog, play with my puppies (Toby and Beatrice), and make dinner for my fiancé (even though he cooks most of the time!).
Since I love sweet treats, I've found alternatives to the doughnuts and ice cream that I crave (and yes, sometimes I go for the real deal!). In my world, ice cream has become "nice" cream. All you need are frozen bananas, your favorite cereal to sprinkle on top, and you have a sundae! May I suggest Kashi GOLEAN Clusters Vanilla Pepita? The texture of the pepitas and sweetness of the vanilla and banana just #GOTOGETHER!
Living and eating healthfully is about opening your mind up to new ingredients that #GOTOGETHER unexpectedly while maintaining your overall well-being. You don't have to deprive yourself. Life is full of sweetness; you just have to be open to different ways of experiencing it.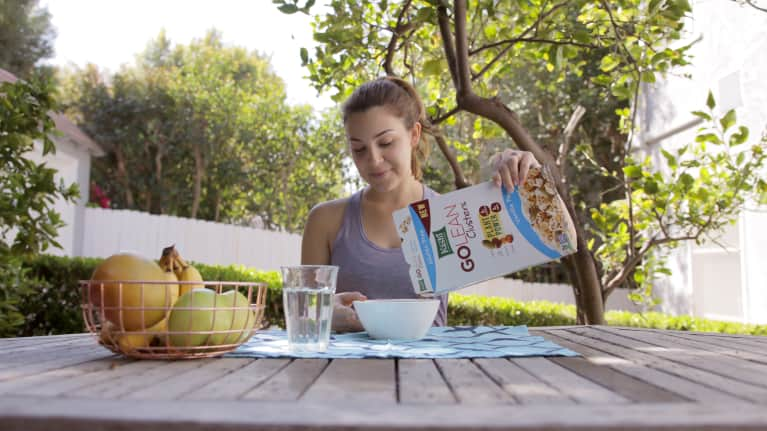 My Go-To Foods That Fuel My Lifestyle
Here are my four go-to snacks made with ingredients that #GOTOGETHER in unexpected yet delicious ways. They'll give you a healthy energy kick and satisfy cravings—a win-win for your whole, active self!
1. Two-Ingredient Cookies
Combine oatmeal, a banana, and chocolate chips if you'd like, and place onto a baking sheet in tablespoon-size balls. Bake in an oven heated to 350°F for 11 to 13 minutes.
If I had to choose, this is my favorite treat! Drizzle raw honey over air-popped popcorn, and enjoy! Make sure you have a napkin nearby for those sticky fingers!
3. Two-Ingredient Pancakes
Mix 1 ripe banana and 1 egg, and cook on a griddle as you would a pancake! I love adding Kashi GOLEAN Clusters Vanilla Pepita into the mix for an extra flavor and protein boost. Cereal AND pancakes? Yes, please!
Combine plain Greek yogurt, sliced almonds, and chocolate chips for a quick snack that will keep you satiated for hours.