A Guide To Using Essential Oils For Shiny Hair, Skin, & Nails
Integrative Medicine Doctor
By Taz Bhatia, M.D.
Integrative Medicine Doctor
Dr. Taz Bhatia is a board-certified physician, specializing in integrative and emergency medicine, pediatrics and prevention, with expertise in women's health, weight-loss, hormone balance and nutrition. She attended Emory University, the University of Georgia and the Medical College of Georgia.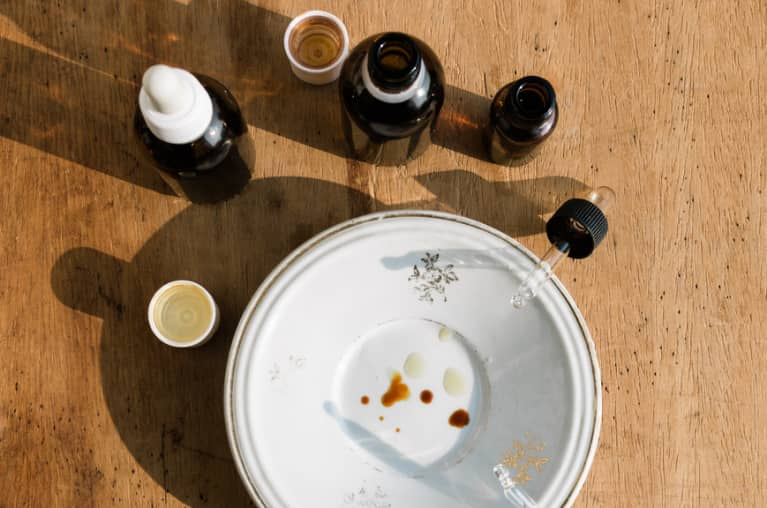 Winter can leave skin, hair, and even nails dry and damaged. Oily skin and hair appear noticeably drier, your scalp is left "flaky" or itchy, and nails can become brittle and weak. Essential oils are a great natural solution to help skin, hair, and nails get their shine back. But it is important to pick the right ones. Here are some common issues caused by the change of seasons and my favorite essential oils to help, keeping your hair and skin glowing and healthy:
Sometimes a change of season heralds a change in each hair strand, altering in texture to a papery consistency that breaks easily when pulled. Use Geranium Oil and Sandalwood Oil on your strands and scalp to breathe new life into damaged hair. Geranium Oil contains antioxidants that repair hairs while Sandalwood Oil strengthens each strand.
Have you been experiencing dry flakes when you comb, or worse, a "snowfall" when you wear a dark shirt? You may have a condition called seborrhea dermatitis, often caused by candida. The itchy scalp is uncomfortable but often not as damaging as the loss of hair this can trigger. Melaleuca Oil, better known as Tea Tree Oil, functions as an antifungal and antibacterial. It can help kill candida and, with the help of peppermint, soothe an itchy scalp.
Colder temperatures can leave skin looking dull and feeling dry. Add a few drops of Frankincense and Sandalwood Oil to your favorite nighttime moisturizer or face mask. Frankincense functions as an anti-inflammatory to skin, while Sandalwood helps to moisturize and soothe the skin.
Dry skin is not the only concern; dry, brittle nails can be an issue too! Use Myrrh, Frankincense, and Lemon Oil on your nails nightly to improve nail strength. Myrrh is a moisturizing oil while frankincense soothes inflammation and lemon oil works to strengthen nails. It is also important to pay attention to nutrition. The most common nutritional deficiencies associated with dry, brittle nails are B-vitamin and iron deficiency.
Related reads: