12 Things To Know Today (April 8)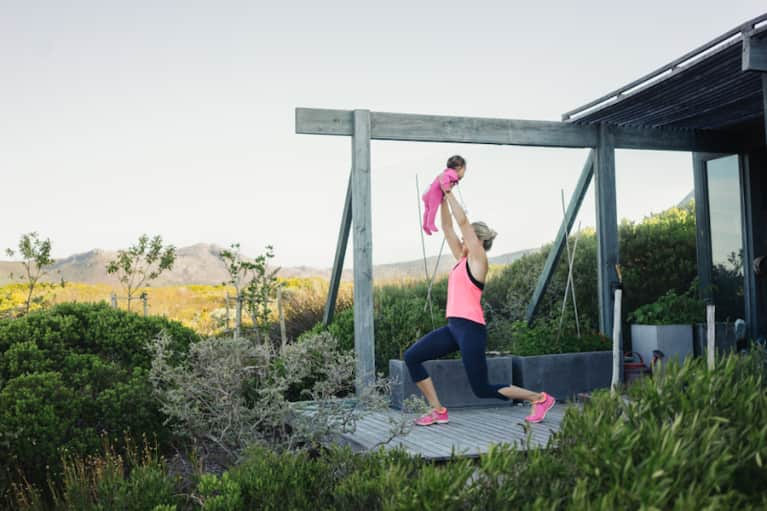 1. Celebs are loving "Mommy & Me" yoga.
Drew Barrymore, a mother-of-two, shared a photo on Instagram that shows her doing yoga alongside her daughter Olive dressed Elsa from Frozen. They really know how to "let it go." And Spanish model Elsa Pataky also posted a picture on Instagram featuring her and two-year-old twin sons Tristan and Sasha striking their best downward dog poses on the beach. (Instagram, Instagram)
2. This life insurance company will reward customers who eat healthy.
John Hancock announced that it will let policyholders earn discounts and cash back in exchange for loading up on fruits, veggies and other nutritious foods at the grocery store. The initiative is part of the company's Vitality program, which already doles out rewards for healthy moves like working out and getting an annual physical. (USA Today)
3. Could plant-based shrimp improve the fishing industry?
The shrimping industry is notoriously plagued by corruption and human rights abuses. Now, a startup in San Francisco is hoping to create a more conscious, sustainable version—one that's made with plant-based protein powder and red algae. (The Atlantic)
4. Vitamin D levels could be connected to cancer risk.
A new analysis shows that your risk of getting cancer can be lowered by upping your intake of Vitamin D. Researchers say that prevention, rather than early detection or improving treatment, is our best bet at reversing the upward incidence of cancer worldwide. (Science Newsline)
5. The subtle "dominance" men exhibit over women is getting some scientific attention.
Called "microagressions," these "stereotypic messages" presented in overwhelmingly male environments (like in the engineering field)—for example, talking over a woman in a conversation—will be studied over the course of three years by the University of Michigan. (The Cut)
6. Adidas' new fitness tracker could soon hit elementary school gym classes.
The fitness company is unveiling the Zone tracker, which monitors heart rate and is intended for kids in K-12 gym classes. They hope that being able to track students' performance and create goals based on individual fitness levels—not group standards, like running a 9-minute mile—will help personalize classes and lead to better fitness outcomes. (Mashable)
7. Health experts want to put exercise labels on food.
U.K.'s Royal Society for Public Health mat start labeling packaged food with the amount of exercise it would take to burn off a serving in hopes of encouraging people to be more physically active and thereby reducing obesity. However, more gym time may not solve the problem either way. (TIME)
8. You can now see what the melting ice caps mean for your city.
New map projections predict the effect of rapid sea level rise on various global cities. And it isn't pretty. (Fast CoExist)
9. Protecting the planet doesn't mean putting the economy at risk.
A new study found that 21 countries, including the U.S., have officially decoupled their economic growth from their carbon emissions. Though their GDPs continue to rise, their pollution levels have begun to decrease—an encouraging sign for the future of environmentalism and alternative energy. (NY Times)
10. Tennessee just passed a bill that would let therapists refuse to treat gay people.
If the bill becomes law, the state would be the first to protect the right of therapists to refuse therapy at will. More specifically, the bill states that a counselor could turn away anyone whose "goals, outcomes, or behaviors that conflict with the sincerely held principles of the counselors or therapist." (Daily Intelligencer)
11. We may start treating sugar addiction like drug abuse.
Millions of people globally are overweight, and sugar is a major culprit. A new study is suggesting that the same drugs used to treat tobacco addiction could also work for sugar addiction. Could this be the answer to our obesity problem? (Science Daily)
12. This cold spring weather is throwing off more than just our moods.
The combination of this year's mild March and unseasonably cold April has damaged fruit crops across the country—especially in the Northeast. Some farmers already report losses of 90 to 100 percent. (Grub Street)