This Is What A Vegan Preschool Looks Like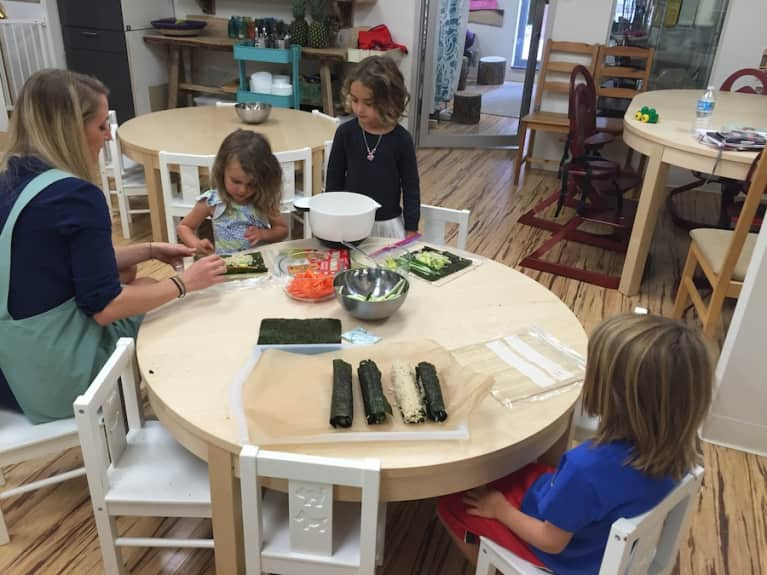 Unlike so many preschools across the country, at the Scandinavian School of Jersey City, chicken nuggets or mozzarella sticks are never for lunch. Instead its preschoolers eat lentil soup made with vegetables from the school's garden, homemade bread, and cashew milk made from scratch.
In fact, the entire menu is vegan, the Wall Street Journal reports.
Vegetables are typically a tough sell for toddlers (Broccoli? Eww. Brussels sprouts? Yuck!)—so you might be wondering, How?
Well, these 92 lucky students, age one to six, are getting the opportunity to smell, touch, play, and experiment with the ingredients that go into their meals at lunchtime—which obviously makes them more interested in tasting them.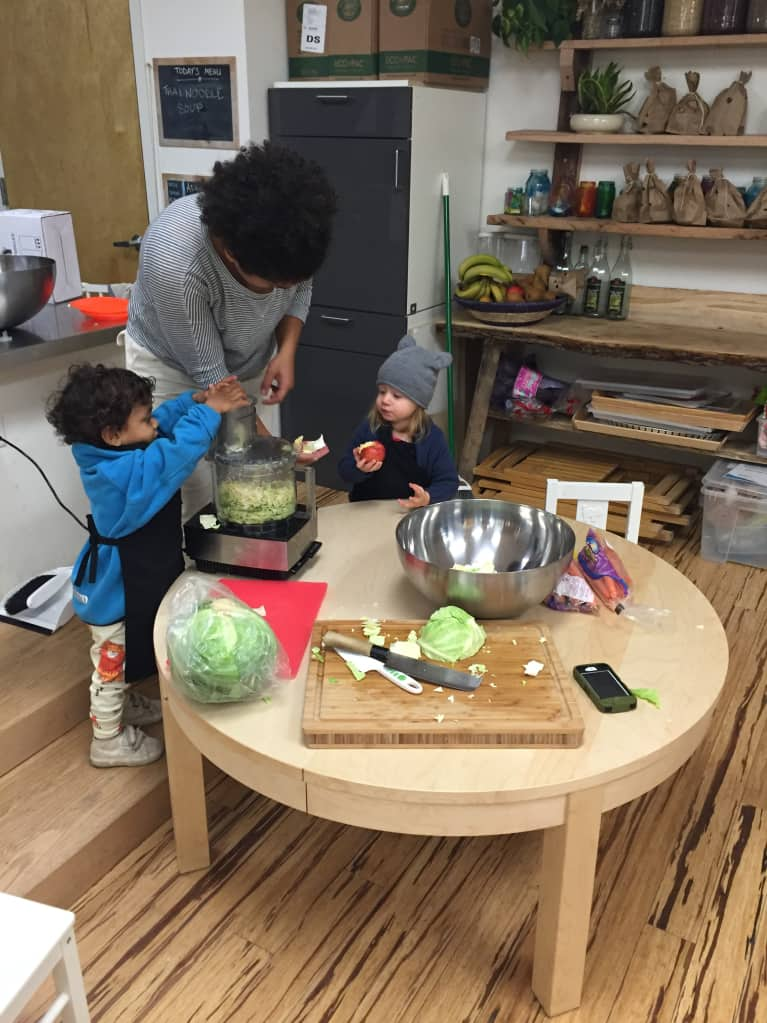 "Of course there are some very picky eaters, and some children that have never seen a whole rainbow of colors on their plates before," school director Maria Germerud-Sharp told mindbodygreen via email. "But it doesn't not take long before they start to try the food, and little by little they grow to love the food as well."
Not only does this affect the children; it impacts the lives of the parents, too. Instead of preparing separate meals for their children, they can enjoy dinner together as a family. "Ultimately, the way we eat and the exposure our children have to a wide variety of foods, they are more prone to trying new foods at home as well," she said.
The school started vegetarian but made the switch four years ago when some vegan students came onboard.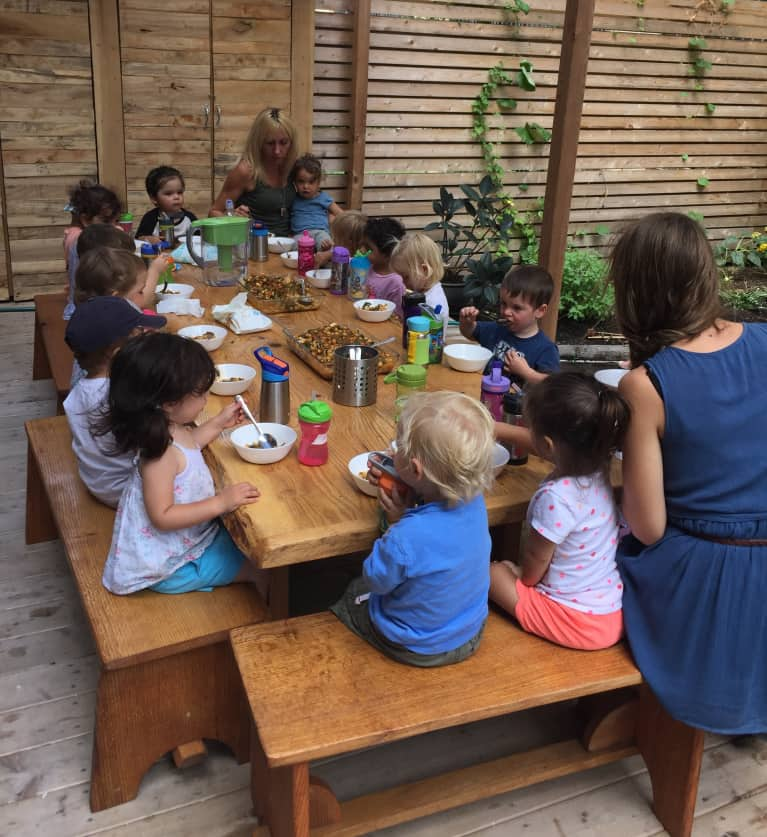 "Moving to a strictly vegan menu allowed all of our children and teachers to enjoy the same meals, 'family style.' This choice is just one of many that align with our mission," said Ms. Germerud-Sharp. "We want our children to grow up and make a difference in the world."
Which means not only eating together as a community but also understanding where their food comes from and how to take care of themselves and their planet.
And every day, the children are involved in a variety of tasks in the food-making process. They do everything from helping out in the kitchen to planting in the fall and spring using compost from the worm bin, and from harvesting the food they planted in the summer and fall to picking out items at our weekly farmers market.
Each week, the school posts the lunch menu to its Facebook page.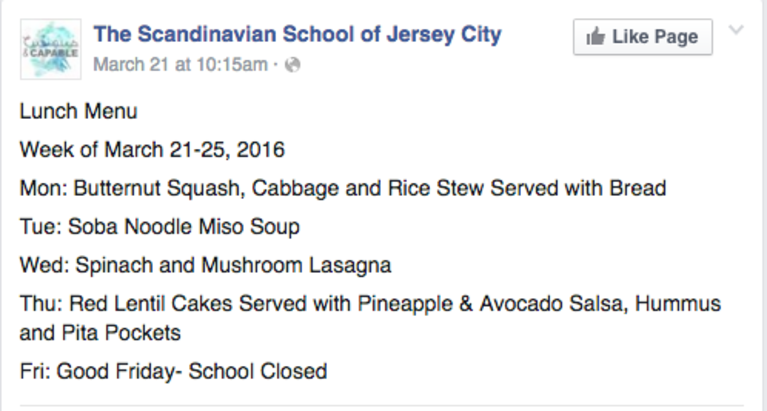 But some experts question whether strictly vegan diets are healthy for such young children.
Eugene Dinkevich, director of the division of general pediatrics at SUNY Downstate Medical Center in Brooklyn told WSJ that "While I don't see anything particularly wrong with a vegan preschool, I surveyed my colleagues in the practice and none of them seem particularly enthusiastic about it." But, he added, "They agreed that if parents want this and child is growing well, there is no problem."
To this, Ms. Germerud-Sharp responded, "The vast majority of our children are not vegan; however, we believe that we make a great difference in our children's lives by giving them one main meal a day that is filled with a variety of proteins, nutrients, vitamins and minerals every day. Much more so than a traditional school lunch."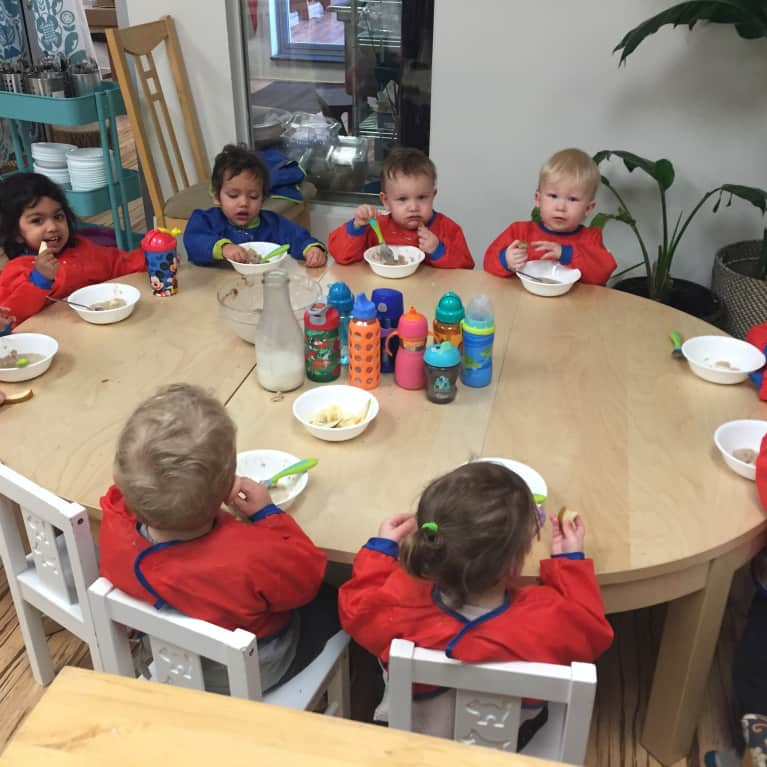 But if you really think about it, these students are almost certainly eating better than peers at places that pile on the pizza and sugary drinks.
Still, in order to convince parents that their kids are getting enough calories and nutrients, the $18,500-a-year school hosts an annual "tasting" with a nutritionist.
"We know that it is possible to have a strictly vegan diet that provides your body with all the nutrients you need, and we are more than confident that regardless if a child at our school is a vegan or not, they get what they need from their meals at school," she explained.
According to the WSJ, one four-year-old plopped his spinach-mushroom lasagna into his miso soup, mashed them together and said, "Yummy." Better than boogers, to be sure.