5 Ways To Reawaken Your Creativity This Spring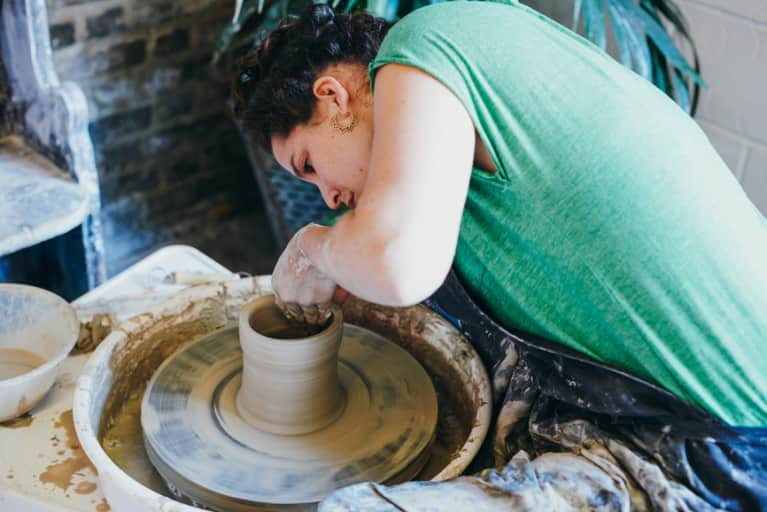 We spend all winter banking on this expectation that, come the first morning of spring, we'll have boundless energy and jump out of bed saying, "I am going to get shit done." The PJs-and-cookies habit we developed during winter hibernation will just disappear. All we need to get our shit together is just one ray of sunshine.
Not that I speak from experience or anything.
I did, however, recently take a course called "Discover Your Creativity." I don't think I ever totally lost it—I work as a writer and a yoga teacher, so I'm required to think outside the box. But I did feel like I'd lost my creative momentum. The course focused on things like making secondary colors from primary colors. Sounds super-simple, right? I thought that, too. Sometimes it's harder than you realize to make the simplest of adjustments.
So, here are some tools to help you wiggle your way out of a rut and spark your creativity. The next time your brain says, "Just one more episode ..." consider one of these counterarguments:
1. Invite your saboteur along for the ride.
You know that part of yourself that says, "I don't need to create. I should just lie here." We all have the part of ourselves that sees the road ahead and thinks, "Nah. I'm good." Recognize that this is normal. We all have doubt and we all experience a lack of motivation sometimes. When you recognize this, it is more likely that you will start to see this voice as part of the creative process. In fact, that voice is welcome to come along for the ride. It may even be surprised.
2. Try something you don't think you're very good at.
We're forced to try all sorts of subjects, sports, and extracurricular activities when we're children. Chances are, you weren't excellent at every single one of them. Trying something that you'll never become an expert in could be seen as inevitably frustrating. Or it could be seen as an opportunity to grow and play. Same language, different story.
In one of my writing classes, they give us prompts at the beginning of class to inspire a story. Whether it is a quote or a picture, we can use someone else's art to help our own creativity flow. The next time you see a quote, painting, photo, or anything that moves you, pause and meditate on it. Then write or paint or do a dance for your cat using the inspiration you found there.
4. Don't imagine the end product.
Whether you're cleaning your closet or making a birthday card, imagining the end product can bring out your perfectionistic side. Allow the process to evolve. Allow things to be messy. Somehow out of that messiness, your innovation will have a chance to express itself.
5. Do it because you love it.
Love the process of creating. Love the fact that you will only be a beginner in this exact way once. Love the process, which is rarely linear but is always, always worth it, because it is an expression of you.
Related reads: