4 Steps To A Happy Monday Morning Commute (Yes, Really)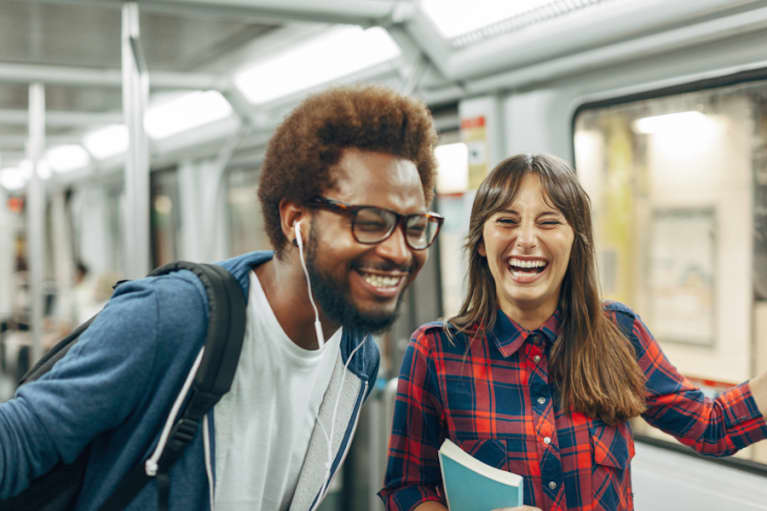 Commuting to work on Monday can be one of the most stressful and frustrating parts of the week—you're tired, worried about being late, and your fellow commuters seem more annoyed than usual.
You arrive at the office already cranky and irritable, and the workweek hasn't even started yet.
If this sounds like you, it's time to reframe your Monday commute into a more positive experience. Research shows that three out of four people who start the week off feeling happy stay positive through the rest of the week.
Use this simple four-step process to refresh your Monday commute and start the week off on the right foot.
Before leaving the house, take a few deep, cleansing breaths. Settle your mind on the sensations and rhythm of your breath. Imagine inhaling fresh air and energy and exhaling tired, stale air.
You can also think of a specific quality you want to bring into your week, like calmness, kindness, or confidence. Imagine breathing in this positive quality and breathing out any unwanted thoughts or worries you want to leave behind.
During your commute, pay attention to the sights and sounds of your journey—the rumble of the train, horns honking, and conversations around you. Anchoring your awareness in the moment can settle your mind and allow you to savor the world around you.
If an anxious thought arises, just notice it without reacting or judging and let it go like clouds passing in the sky. You can also return to the sensation of breathing and try repeating the word or phrase you want to bring into your life in the coming week.
3. Shift to the positive.
Reframe your experiences so they become more positive. Sitting in traffic can be a chance to reflect. Walking from the train can be an opportunity to breathe fresh air and get some exercise. Being in a crowd is a way to feel connected to others sharing your experience.
Extend good wishes and happiness to your fellow commuters. You might try picking someone specific, or you can focus on everyone sharing your journey. Try repeating the phrase "May you be safe, well, and happy."
Have a happy new week!
Related reads: