Charlie Knoles On Ayurveda, Giving Up On Competition And #Wellth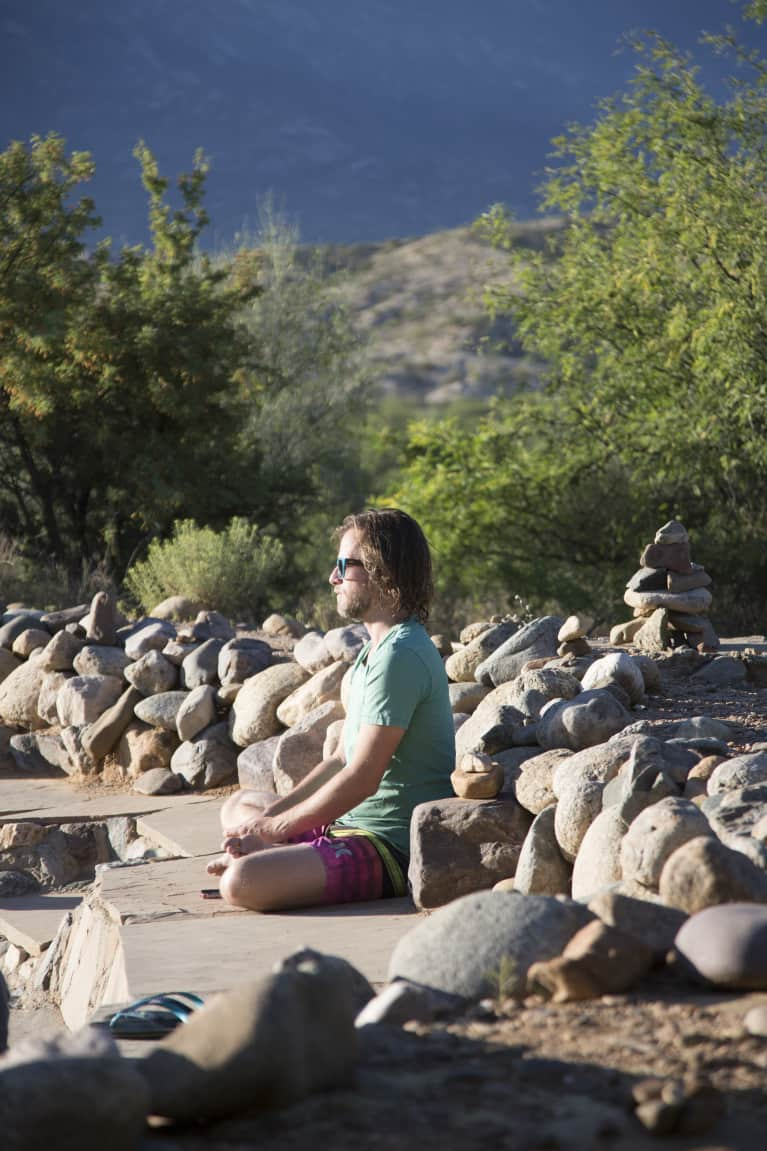 Our editors have independently chosen the products listed on this page. If you purchase something mentioned in this article, we may
earn a small commission
.
I've spent the past year thinking a lot about "wellth" — the idea that success is found in a lifestyle devoted to mental, physical, and emotional health. (I even wrote a book about it.) In this new series, we're celebrating visionaries who embody what it means to be wellthy.
Charlie has devoted his life to teaching meditation and has been featured as a teacher in the Wall Street Journal, the New York Times, and of course here at mbg. He's a dear friend who has spoken at Revitalize and after teaching more than 7,000 people to meditate from all walks of life (including convicts, CEOs, celebrities, monks, and stay-at-home-dads), he has yet to find a person incapable of meditating.
mbg: Favorite healthy place to eat?
CK: Custom-ordered vegan dosas at Hampton Chutney in New York City are a constant go-to for food. Spinach, roasted tomatoes, mushrooms, and turmeric-spiced potatoes wrapped in a fermented rice and chickpea flour crepe with mango chutney is my idea of heaven.
What's your favorite way to get some nature?
I love white-water kayaking, although I haven't done it in a while. I go hiking more often because I can take my kids with me. I adore anything that gets me into the ocean—surfing, snorkeling, scuba, floating, and swimming.
What's your favorite way to break a sweat?
I love doing quick, 12-minute HIIT exercises. Actually, I'm lying. I hate them while I'm doing them, but afterward I feel great. I do legitimately love a well-taught ashtanga yoga class but they're hard to find. Usually, if I'm in the U.S., I prefer a more open practice like Strala yoga.
Favorite holistic treatment?
I'm a huge fan of intensive Ayurvedic treatments like Panchakarma. I'm very happy that modern Vaidyas (Ayurvedic doctors) are making vegan versions of treatments — these don't involve the dairy these treatments traditionally used.
How do you practice self-care?
I meditate for a minimum of 20 minutes in the morning before breakfast and in the early evening every day. I have done this consistently since I was about 16 years old. As a result, I always feel like I have a reservoir of peace and fulfillment inside me—even when the surface layer of my mind is occupied with challenging things. I have been a lifelong vegetarian and in the last two years have been a vegan.
What does wellth mean to you?
When you become rich, you stop having to worry about paying your bills. But all the difficulties of creating a life filled with love, fulfillment, health, and happiness remain with you. Wellth is the recognition that we can apply strategies to these problems the same way we can to our finances.
Any advice for someone who's trying to follow their passion and build a life they love?
Be excellent at what you do. You should know your field so well that your B game is as good as most people's A game. It's amazing how easy it is to stand out from the pack when you actually walk the walk. Give up on the idea of competition. Whenever you feel yourself being jealous or hostile toward someone in your field, let it go and work on improving what you do rather than trying to push them down.
If you do your job well, you'll create a whole ecosystem of followers in your wake. When people copy you, it's a sign that you're doing a great job. Keep innovating rather than fighting them. Be the person that everyone else follows.