Eat Brekkie Like An Australian (And Never Get Hungry Mid-Morning Again)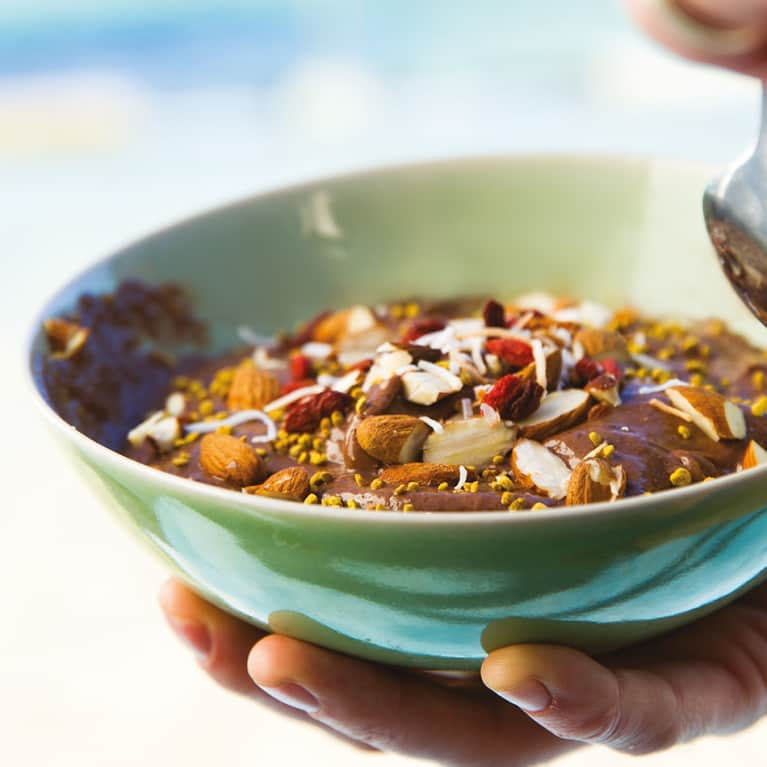 Australians know how to do breakfast right. I think it's something about the sunny, warm weather that really makes you want to kick-start the day with a hearty meal.
Here are three super-powered breakfast ideas from the new cookbook Bondi Harvest to inspire you to start your morning the Aussie way.
So thick and luscious you need to serve it in a bowl and eat it with a spoon, this smoothie tastes like chocolate mousse but is healthy enough to kick-start your day. It would also make an epic quick and easy dessert when mates drop by! Yeew!
Serves 1
Ingredients
125 ml (4 fl oz/½ cup) almond milk
80 g (2¾ oz/½ cup) chia seeds
1½ frozen bananas
½ avocado
1 tablespoon raw cacao powder
2 tablespoons maple syrup or raw honey
½ teaspoon ground cinnamon
200 ml (7 fl oz) coconut water
½ cup ice
100 g (3½ oz) activated (or soaked) almonds
½ tablespoon bee pollen (available from health or natural food stores)
1 teaspoon toasted coconut
1 tablespoon goji berries
Ingredients
1. Put the almond milk in a pitcher and add the chia seeds. Stir until the mixture begins to thicken, and set aside for 10 minutes.
2. Put the bananas, avocado, cacao, maple syrup, cinnamon, coconut water, and ice in a high-speed blender and blend until smooth. Add the almond milk and chia and pulse a few times until just combined. Add a little more ice or frozen banana if you're after a thicker consistency.
3. To serve, spoon into a cold bowl and sprinkle over the activated almonds, bee pollen, toasted coconut, and goji berries.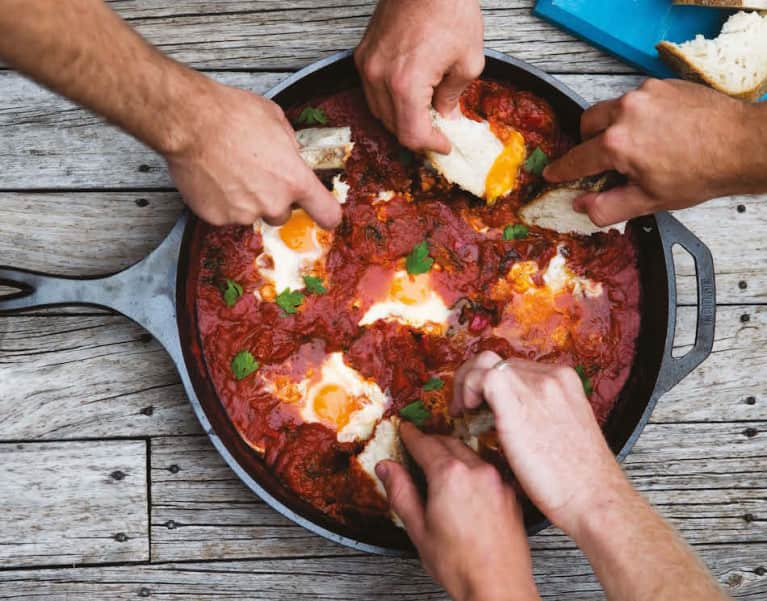 We love making this shakshuka in one big pan and serving it on the table for people to help themselves. But you can prepare it in individual ramekins—put the tomato mixture into the ramekins and crack an egg or two on top, then bake in a 350°F (180°C ) oven for 10 minutes or until the egg is cooked.
Serves 4 to 6
Ingredients
20 ml (½ fl oz/1 tablespoon) olive oil
1 onion, finely diced
2 garlic cloves, crushed
1 red pepper, finely diced
2 long red chilies, finely diced
2 tablespoons tomato paste (concentrated purée)
1 teaspoon sweet paprika
1 teaspoon smoky paprika
1 teaspoon ground cumin
425 g (1-lb) can diced or crushed tomatoes
½ teaspoon brown sugar
500 g (about ½ a bunch) kale, stalks removed and finely sliced
6 eggs
1 small handful parsley sprigs fresh crusty bread, to serve
Preparation
1. Heat the oil in a medium heavy-based frying pan over medium-high heat. Add the onion, garlic, pepper, and chili. Cook for 3 to 5 minutes, or until tender and slightly caramelized.
2. Add the tomato paste, paprika, and cumin, and cook for 1 minute or until fragrant. Add the tomato and sugar, and stir to combine. Reduce the heat to medium-low and cook for 15 to 20 minutes.
3. Add the kale and stir in the tomato sauce. Crack the eggs one by one into the tomato mixture in the pan.
4. Reduce the heat to low and cook for 5 minutes or until the eggs are cooked the way you like. Scatter over the parsley, season with salt and pepper, and serve with fresh crusty bread.
Quinoa Bircher Muesli With Baked Plums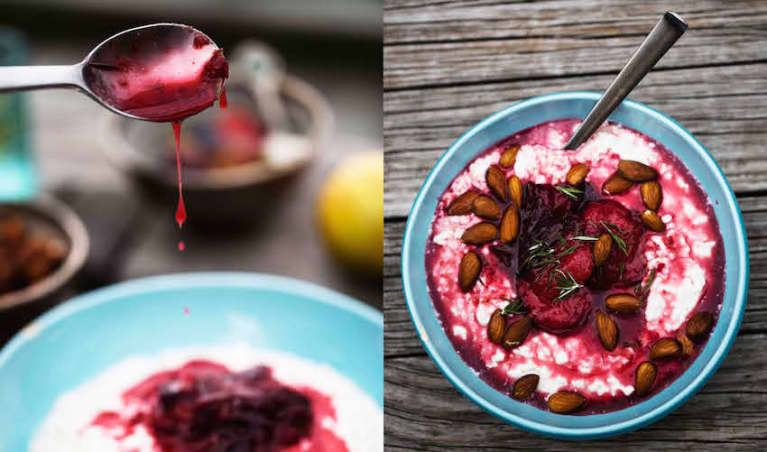 Bircher is our summer version of porridge. This quinoa one is the perfect breakfast to have prepped and ready in the fridge. We like to make a big batch, scoop a serving into a jar, and race out the door.
Serves 2
Ingredients for quinoa porridge
1 cinnamon stick
½ vanilla bean, split and seeds scraped
1 star anise
1 whole clove
250 g (1 cup) quinoa
250 ml (1 cup) coconut cream
2 tablespoons honey
2 tablespoons almond meal
200 g (7 oz) almonds
1 cup quinoa porridge (above)
260 g (1 cup) natural yogurt
2 tablespoons chia seeds
Ingredients for the baked plums
zest of 1 lemon
1 vanilla bean, split and seeds scraped
1 tablespoon honey
2 teaspoons coconut oil
2 plums, halved and pits removed
2 sprigs rosemary, leaves picked
Preparation
1. To make quinoa porridge, put 300 ml (10½ fl oz) water in a medium saucepan over medium heat. Bring to a gentle simmer and add the cinnamon, vanilla seeds, star anise, clove, and quinoa. Reduce to medium-low and simmer for 15 minutes, or until the quinoa is soft and cooked.
2. Add the coconut cream and continue to cook until thick and creamy. Stir in the honey and almond meal. Store in the refrigerator overnight.
3. Put the almonds and 300 ml (10½ fl oz) water in a container. Allow to soak overnight to activate the almonds.
4. To make the baked plums, preheat the oven to 345°F (175°C). Put the lemon zest, vanilla seeds, honey, and coconut oil in a medium bowl and combine to form a paste. Add the plums and stir to coat in the honey paste.
5. Scatter the rosemary leaves over a baking tray and spoon the plum mixture on top. Bake for 15 to 20 minutes, or until the plums are soft.
6. To serve, combine the quinoa porridge base and yogurt in a bowl. Top with the baked plums and sprinkle with the activated almonds and chia seeds.