Do You Need To Take A Supplement? A Nutritionist Explains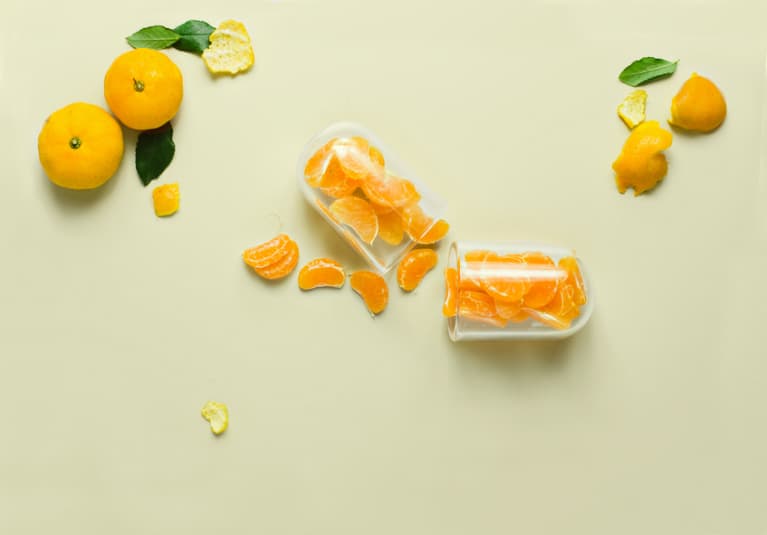 It's difficult to walk into your local pharmacy without contemplating whether you should be taking a dietary supplement. There's practically an alphabet of synthetic vitamins and minerals for sale on your way to the toothpaste aisle.
One pill claims to cure the common cold, another pill reads "for sustained energy," and another pill may just be the remedy for your stomach ailments. We've brought in the dietitians from Tovita Nutrition to help us answer the million-dollar question: Should we be taking a daily dietary supplement?
First and foremost, it's important to understand the function of a supplement. It's intended to supplement the diet, not replace vitamins and minerals we would otherwise consume from foods.
The diet is always the preferred method of ensuring proper nutrition. So yes, we're telling you to continue to get your vitamin A from carrots, your vitamin C from citrus fruits, and your vitamin E from almonds.
Your goal should be to get all of your vitamins and minerals from real, whole foods.
However, we understand that there are certain circumstances in which this isn't always possible. For example:
An older person may have difficulty absorbing vitamin B12.
Someone who lives far from the equator may have little exposure to vitamin D.
A pregnant woman will have higher needs of myriad vitamins than someone who's not pregnant.
These are all instances in which supplementing the diet is encouraged.
If you're not at risk of a vitamin or mineral deficiency, your goal should be to get all of your vitamins and minerals from real, whole foods. Yes—it is possible! When you eat a fruit or vegetable, for example, you're consuming lots of nutrients simultaneously.
There's something to be said for the synergistic effect of nutrients from foods versus from a synthetic form. In other words, if you rely on a pill for your vitamin A intake, you're missing out on all of the other vitamins, minerals, and fiber that the vitamin A-containing food naturally confers.
Let's take our beloved kale, for instance. Kale is an excellent source of vitamins A, C, and K and fiber. If you were to isolate and concentrate just one of the vitamins it provides, you would be missing out on all the rest!
Furthermore, when you take an over-the-counter supplement you always run the risk of toxicity. Too much of any vitamin or mineral can have detrimental effects, especially those that are fat-soluble.
This is because we store fat-soluble vitamins like vitamins A, D, E, and K, in our livers, so concentrations can build up. Conversely, it's very difficult to overdose on vitamins coming from food.
There's something to be said for the synergistic effect of nutrients from foods.
To throw in yet another wrench, supplements like probiotics and fish oil are a different can of worms. Not everyone needs to take them, but studies seem to show that their potential benefits outweigh risks.
This doesn't mean you need to run to your local pharmacy and buy a probiotic pill this afternoon—but if, for example, you suffer from stomach issues and want to see if probiotics may help, there's likely little harm in trying them. (Though we might recommend you first turn to probiotic-rich foods like Greek yogurt, miso, kimchee, or kombucha.)
The major take-away here is that food comes first, and supplements come second. Taking a supplement isn't a bad thing, and for some people it is necessary.
As long as you're able to maintain a diet full of fruits, vegetables, whole grains, lean proteins, and healthy fats, taking a supplement in addition is up to you!