How One Young Yogi's Courage Changed Me Forever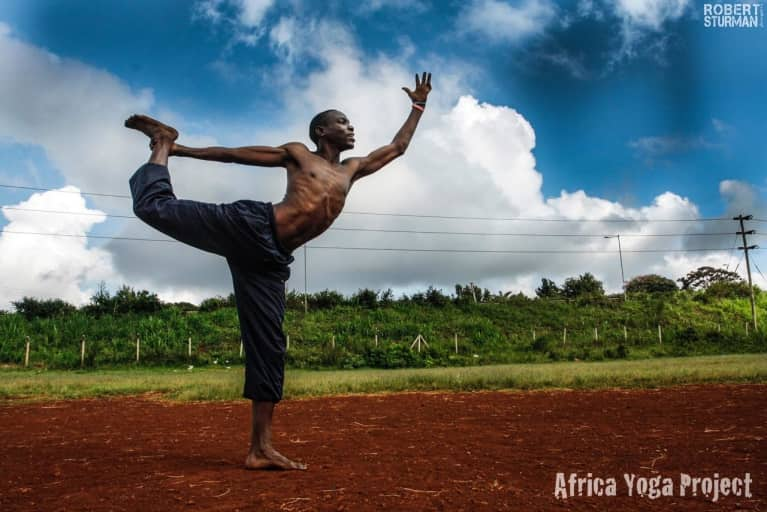 In 2012, I had the opportunity to travel to Africa as a resident artist for Africa Yoga Project, an organization that educates, empowers, elevates, and employs youth from Africa using the transformational power of yoga. The vision of Africa Yoga Project is to create opportunities for youth to step into their greatness and become self-sustaining and leaders in their communities. The organization has trained more than 100 Kenyan yoga teachers and empowers more than 6,000 people a week through its 300 free outreach yoga classes.
The following is the remarkable journey of one man I had the honor of working with. Written by my friend Kelly Holzscheiter while we were working there in May 2012, it was already one of the most inspirational stories I've encountered in my career. David Maina, an Africa Yoga Project teacher, had been the face of my work for many years. Earlier this week, his life was tragically taken from him. I'm honored to have been trusted to tell his story. —Robert Sturman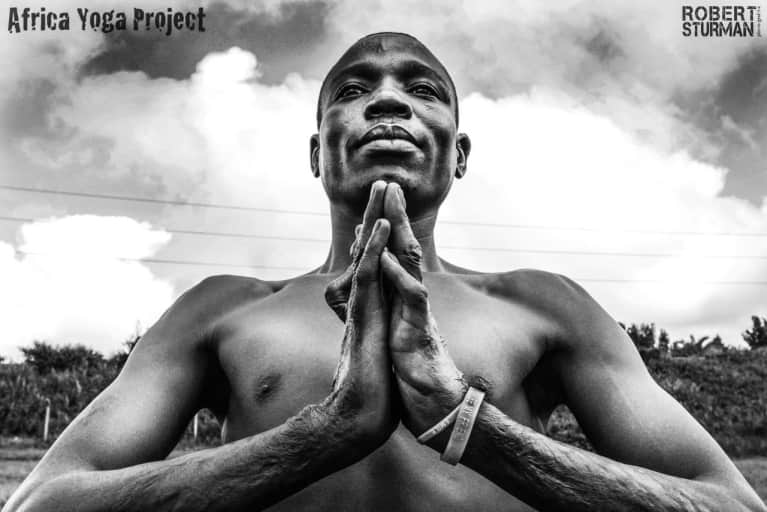 "I am ugly," he said as he choked back tears. The emotion surfaced so quickly with those three simple words.
My throat instantly felt tight, and my hands were clammy. He couldn't look us in the eye. "I need a minute," he whispered as the tears began to fall from his eyes. He got up and left our circle. There were five of us remaining. Silently we looked at one another, each one of us obviously affected by his words and stunned by his vulnerability. I felt him—his pain, his anguish, his fight.
As a small child, David Maina woke up one day to the roar of an angry fire and heavy smoke billowing around him. Frightened, he threw the covers off and jumped out of bed, frantically looking for an escape route. In the midst of his search, the roof collapsed overhead, and a piece of it came crashing down on his forehead, searing his skin and imprinting this moment on his face forever. It was then he blacked out, only to later awaken in the hospital. David miraculously survived the fire as a child, but in its wake, it left him with deep scars on his face, hands, and arms—a constant reminder of that fateful day.
With his parents divorced and neither one of them around, David lived with his grandfather and his aunt while growing up. Life was difficult for him, but after the accident, it became much more challenging.
One particular incident touched a part of his soul so deeply, tears immediately filled his eyes and ran down his cheeks as he began to explain. His aunt often had visitors over, and when she did, she forced David to stay alone in a room completely out of sight. He felt unloved, unwanted, and ugly. Anger and resentment grew toward her, which caused a deep rift in their relationship. He carried these feelings with him well into adulthood; his scars were a reminder of them every time he looked down.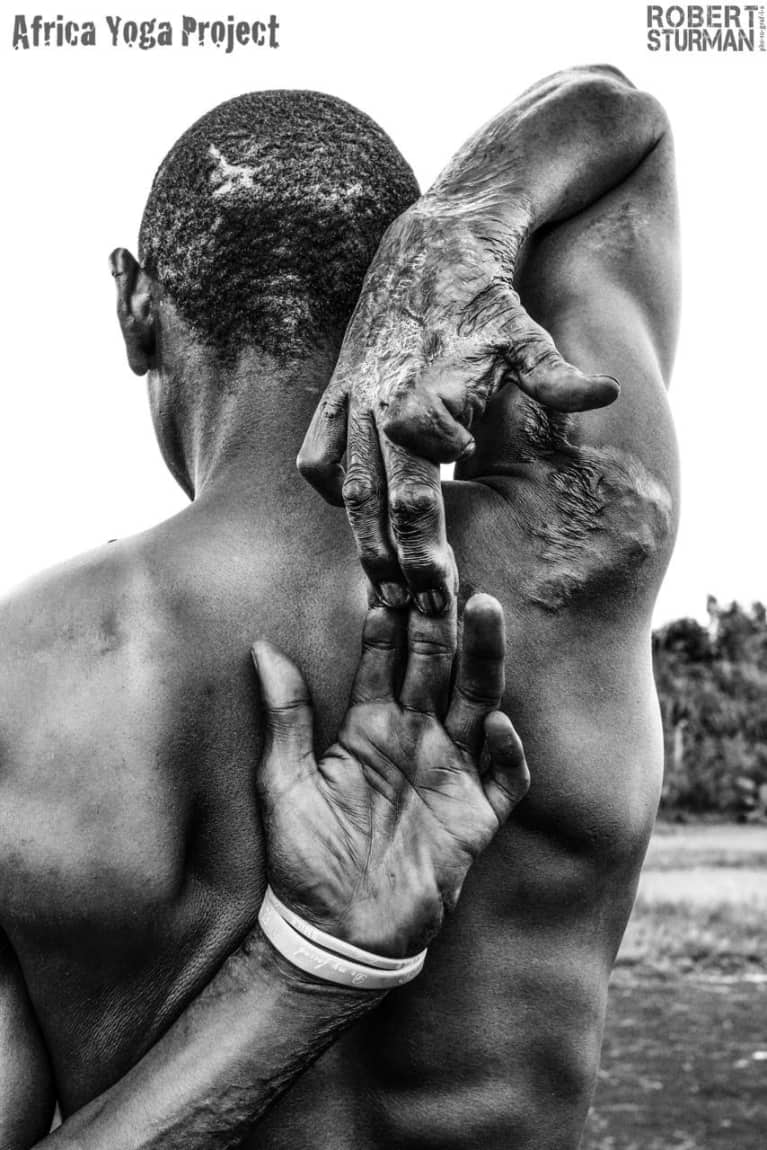 Fast-forward to April 2013. David, now an adult, took part in Africa Yoga Project's 200-Hour Teacher Training Program in Nairobi, Kenya. In broken English, David courageously stood in front of 150 people from around the world to share his story.
"Who have you been in this relationship?" Paige Elenson, director of Africa Yoga Project, asked David as she coached him through the pain. "What can you apologize for?"
David began to see that by harboring these deep emotions, he was creating the rift in his relationship with his aunt. To let go would allow space to create something new. He committed to apologizing to her for carrying anger and resentment toward her all these years.
"I spoke to her," he said to me with a big smile. His eyes were shining. "I apologized."
I could not believe how much lighter David seemed. He took ownership of his feelings and his actions, which led him to let go of all that emotional baggage.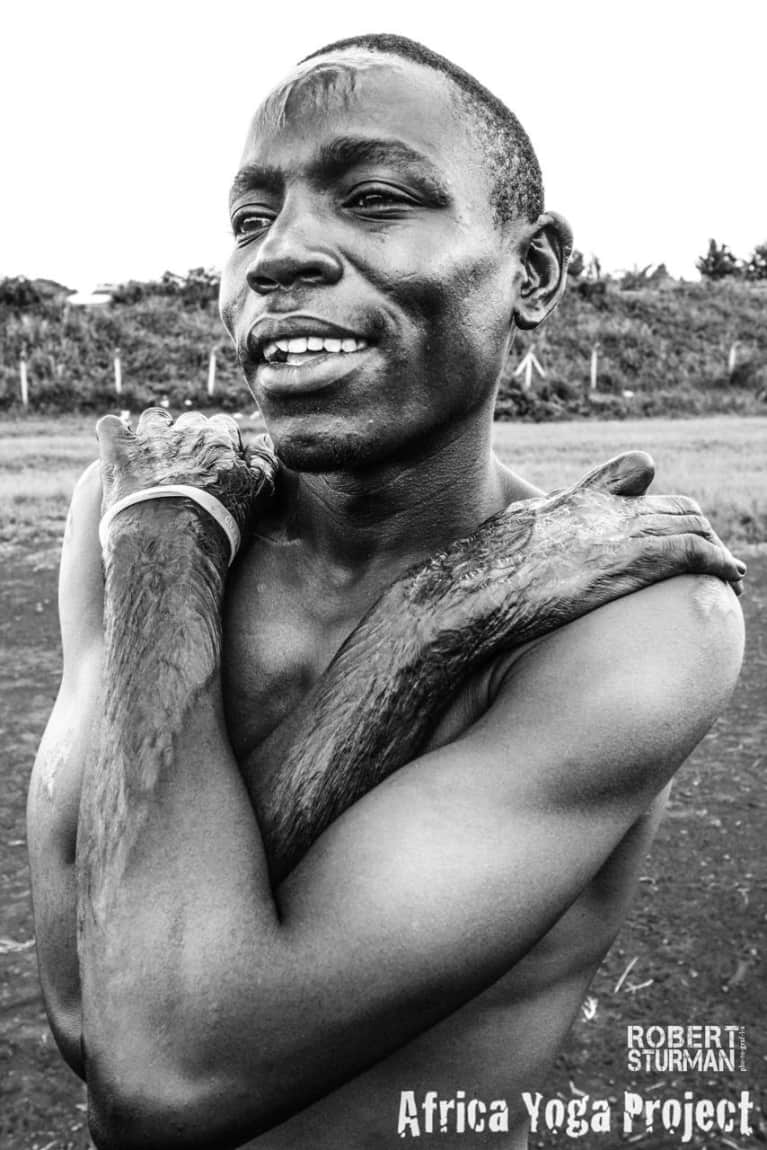 Continuing, David shared that his aunt had no idea how he felt. She apologized to him for the way she had left him feeling. She just wanted to protect him and that was the only way she knew how. She told him that she is here for him always and even purchased medicine for him that day.
Now when I look down at his scars, I no longer see pain. To me, they represent strength of character, deep compassion, and unconditional love—the mark of a true yoga teacher.
Thank you, David.