The Founders Of Sakara Life Share Their Clean Beauty Routines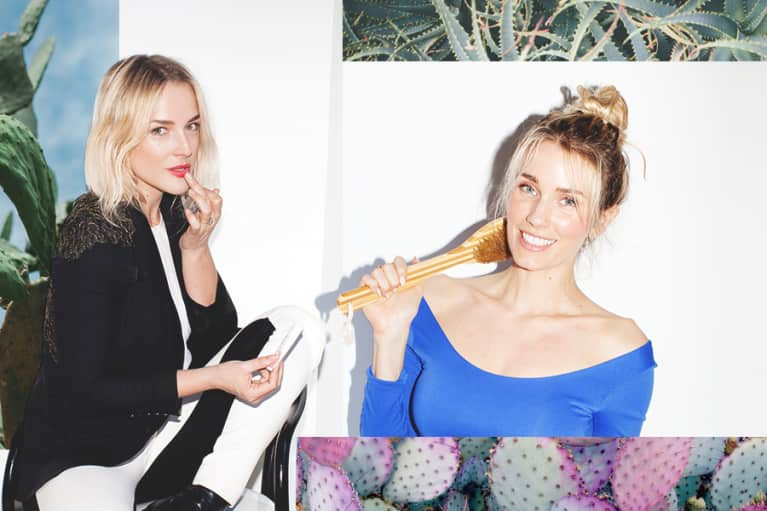 Our editors have independently chosen the products listed on this page. If you purchase something mentioned in this article, we may
earn a small commission
.
Danielle DuBoise and Whitney Tingle are the co-founders of Sakara Life, an organic meal delivery service and wellness lifestyle brand formed on the idea that food is the foundation for holistic change in body, mind, and soul. Sakara Life delivers its signature plant-based, nutritionally designed meals to thousands of customers across the United States each week, including numerous celebrities and power players.
It might sound like a cliché, but it's true: REAL beauty, the kind that makes you feel like your best possible self (meaning confident, strong, powerful, inspired, and prepared to turn all your #thoughtstothings) comes from within. And, that kind of beauty starts with what you eat. We've spent years creating a program that cleanses, nourishes, and fuels the body on a molecular level, so that you can radiate true beauty from the inside out. Without a doubt, the plant-based diet we've designed—filled with hydrating, colorful fresh produce, healthy fats, and nutrient-dense superfoods—is our #1 beauty secret.
Just as we honor our bodies at mealtime by slowing down and experiencing our food with all of our senses, we appreciate our beauty routines for the way they encourage us to show ourselves some well-deserved self-love. Also, just as we take extra-special care to put only the best-quality stuff in our bodies—think organic, whole, unprocessed plant foods—we also focus on using clean beauty and skin care products. Because what you put ON your body is as important as what you put IN your body. The following are beauty rituals that my partner and I turn to each day, which are an integral part of getting our signature glow.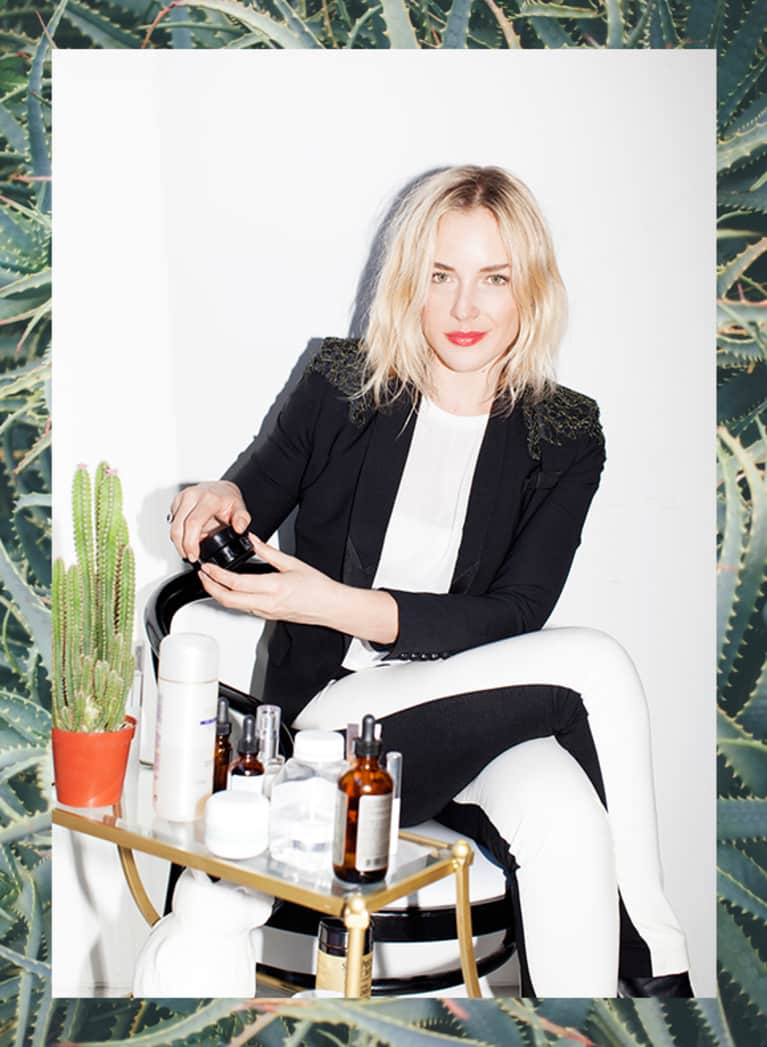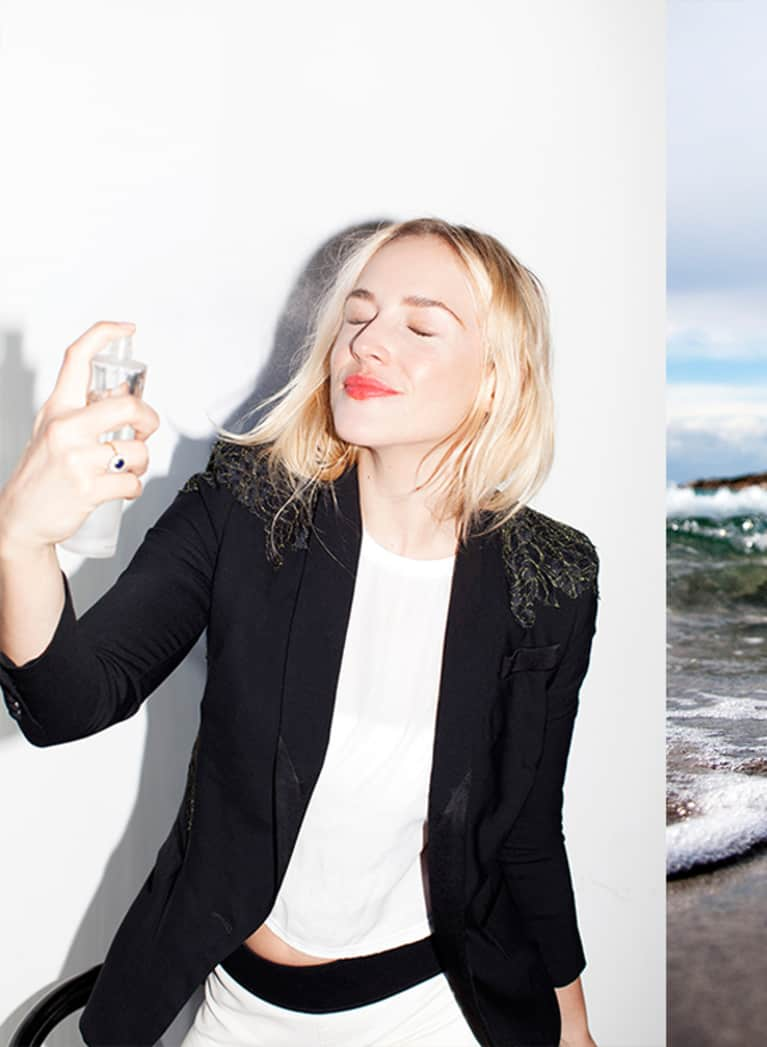 Our Sakara Beauty Water is called that for a reason! I drink one every morning when I wake up; silica, trace minerals, and pure rose oil deeply nourish my cells and give me a glow. It also gets my metabolism going first thing. And of course, staying hydrated is key to a bright, youthful complexion, since drinking plenty of water keeps your cell membrane plump and smooth (i.e., no fine lines).
Then, onto oil pulling, a detoxifying Ayurvedic ritual, which I actually picked up from my husband. I use coconut oil because it has antibacterial properties, making it the perfect all-natural mouthwash. The couple that oil-pulls together stays together, right?
While it's not exactly a beauty ritual, one of the most important parts of my morning routine is meditation. It helps me get clear on my intentions for the day ahead. I meditate on my intention for the day before I open my emails—it's hard to do, but it's key! A mantra I often return to is, "I am beautiful exactly as I am right now." So maybe it IS a beauty ritual after all.
Dry brushing is one of my favorite ways to rev up the detox process, because it stimulates the lymphatic system, which removes toxins from the body. Plus, the physical exfoliation helps slough off any dead skin cells that are clogging my pores, regulate natural oil production and keep my skin soft and bright from head to toe. Unlike blood, lymph only moves in one direction—toward the heart—and that helps me remember to do the same when I'm dry brushing, starting at my feet and working my way up in long, upward strokes.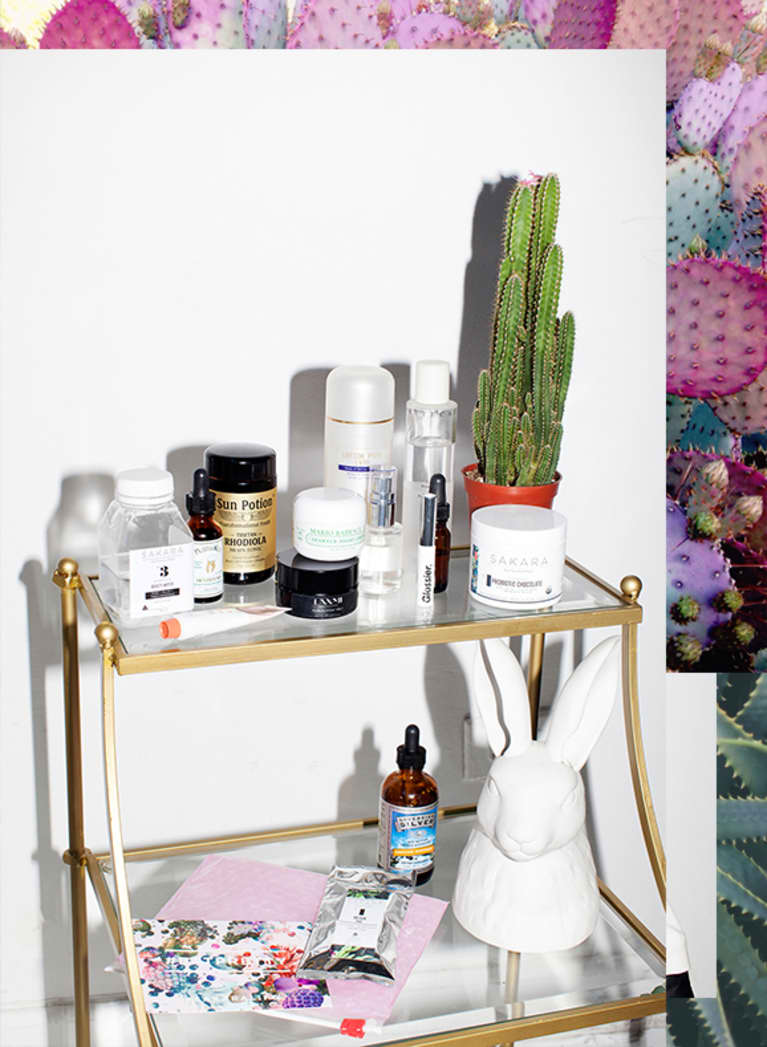 A warm, detoxifying bath is the perfect complement to dry brushing. I love to add Pursoma's Resurrection Bath to the tub. It's made with pure, raw, plant-based ingredients like cleansing French green clay (which draws out toxins and impurities) and hydrating, mineral-rich spirulina and laminaria seaweed. Sea veggies … great in your salad AND your bath!
Chocolate is one of my not-guilty pleasures, because why would I feel guilty about all those cell-protecting antioxidants? My favorite way to get my nighttime chocolate fix is with one of our Probiotic Chocolates. Not only does the dark cacao provide anti-aging flavonoids, but the multiple strains of active probiotics nourish my microbiome and fight inflammation to help keep my complexion clear. Happy gut bacteria = happy skin!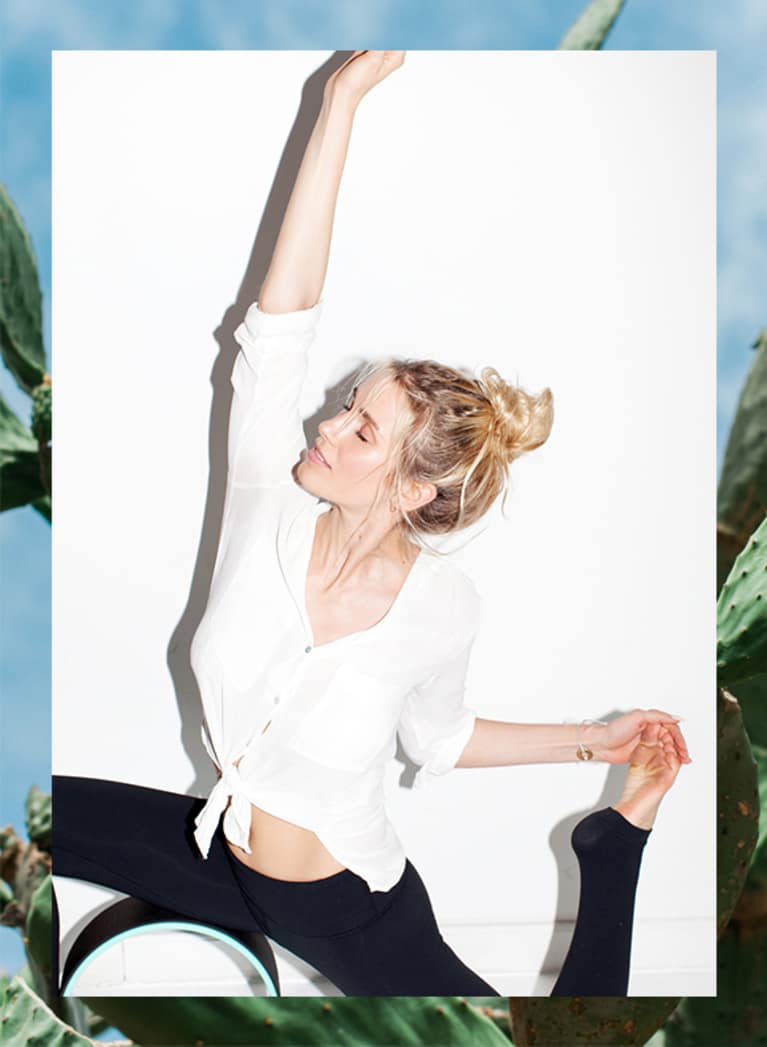 My latest morning obsession is our new Beauty Elixir, which we created especially for Sakara's Eat Pretty Week. Antioxidants are essential for combating free radical damage caused by stress, sun exposure, air pollution etc. By protecting your cells, they can prevent premature aging. This special blend uses hibiscus tea, which contains potent antioxidants, along with camu camu (which has more collagen-producing, healing Vitamin C than an orange). MSM provides essential sulfur to strengthen hair and nails, and schizandra berry is an adaptogenic stress-buster (which is a good thing, because when the stress hormone cortisol is up, it can cause all kinds of skin issues).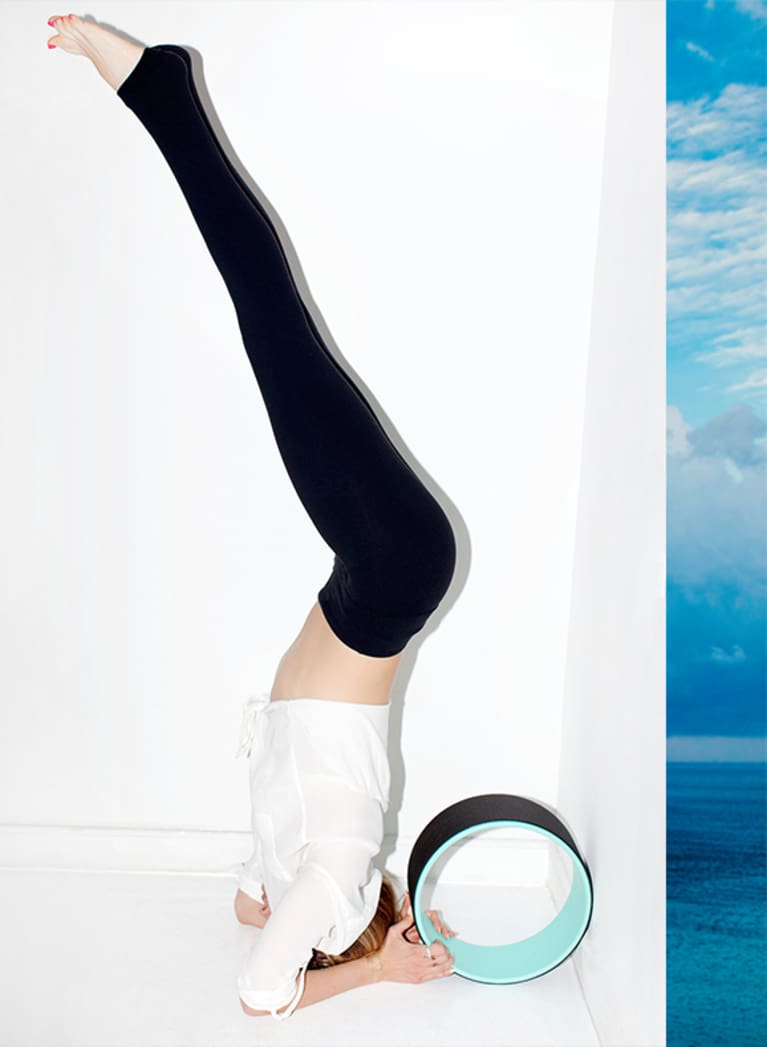 Outer beauty starts with inner beauty, so I make sure to start the day with a healthy, plant-based breakfast. Hair and nails are made of protein, so getting a dose of plant protein power first thing helps keep them both strong. Another essential beauty nutrient is fat—the good kind, which I love. Omega-3 fatty acids (found in foods like avocado, nuts, and flaxseeds) keep inflammation at bay, ensure the cell membrane is supple and strong, and balance your hormones—all necessities for clear skin. And the medium-chain triglycerides in coconut oil, like lauric acid, are antimicrobial. Coconut oil also makes a great deep conditioner for hair, ointment for dry skin patches, and cuticle moisturizer, FYI. Who doesn't love a multitasker?!
Setting the mood helps me wind down at night—I always light my Santal 33 candle from Le Labo when I get home. My fiancé actually dedicated it to me … it even has my name on the label.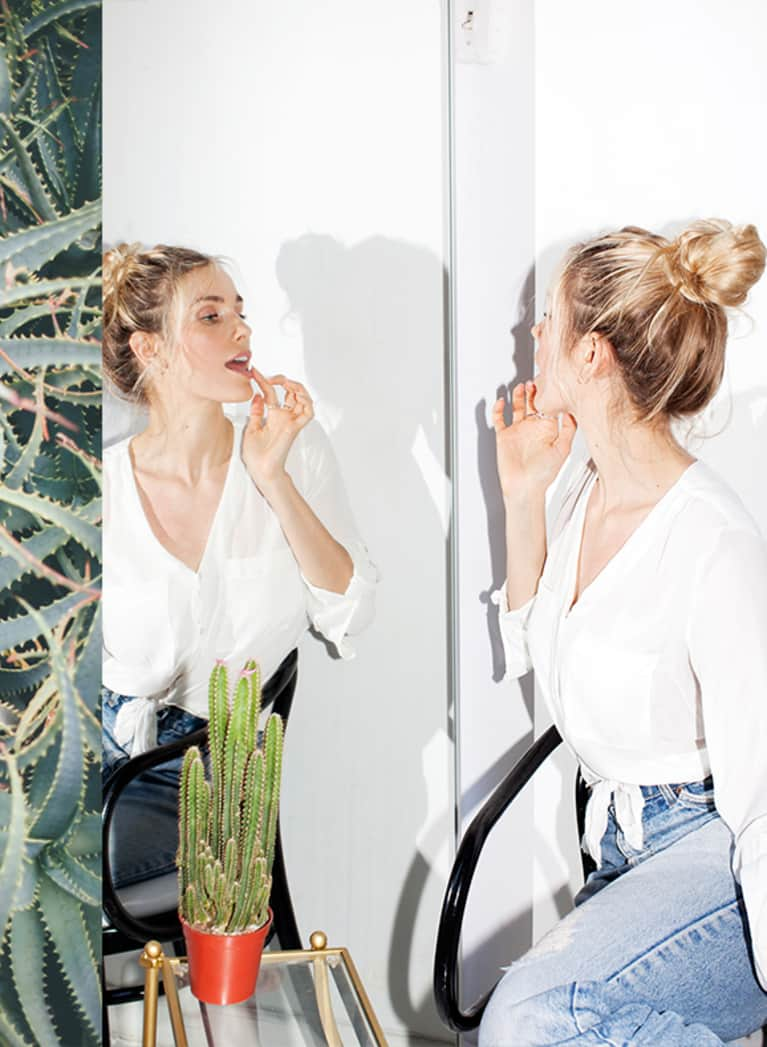 It wasn't until I switched to a clean, plant-based diet that I finally got my skin issues under control. While I've tried practically every topical treatment and medication on the market, I find that these days, just like with food, a clean, natural approach to skin care is the key to clear skin for me. I love Jiva Apoha facial oils. They're made with 100 percent pure ingredients to heal and hydrate my complexion. The Sundara face oil has calming Roman chamomile, nourishing jojoba and Vitamin E, anti-aging rose, and quick-absorbing grapeseed. And the sandalwood and lavender give it a soothing fragrance … just what I need at bedtime.
Sakara Night Water is the perfect nightcap to send me off to dreamland. Not only is it extremely hydrating (which helps the skin look plump and smooth), but it's also got chlorella to flood my body with oxygen and help my insides heal while I sleep. Oh, and if you've happened to have a glass of wine (or two or three), drinking this at bedtime will help ensure tomorrow's morning isn't too painful. Sweet dreams!