A Crystal To Help With Overreating + 4 More Surprising Gemstone Remedies
mbg Contributor
By Emma Mildon
mbg Contributor
Emma Mildon is a millennial activist, co-host of 11:11 podcast, and best-selling author of Evolution of Goddess and The Soul Searcher's Handbook.
Medical review by
Roxanna Namavar, D.O.
Doctor of Osteopathic Medicine & Psychiatrist
Roxanna Namavar, D.O. is an adult psychiatrist focusing on integrative health. She completed her residency training at the University of Virginia Health-System and currently has a private practice in New York City.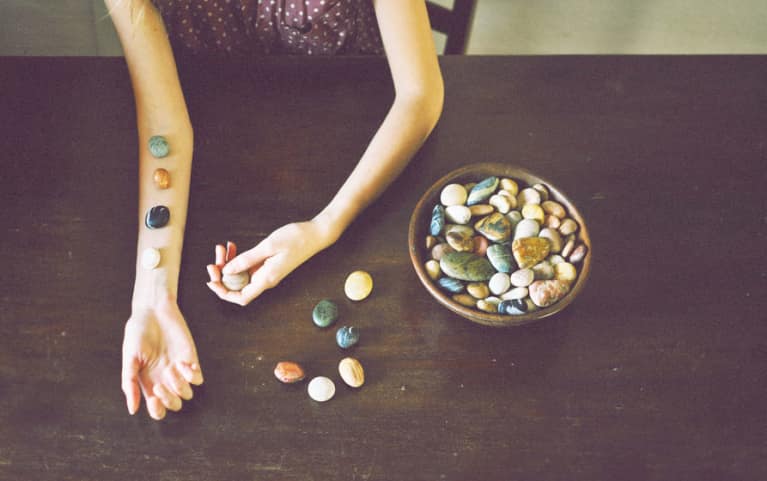 Our editors have independently chosen the products listed on this page. If you purchase something mentioned in this article, we may
earn a small commission
.
Last updated on December 13, 2019
The most interesting and rewarding thing that I've found out about crystals is their potential to heal.
If you ever feel out of balance, lost, worn down, ill, or just plain angry and in need of a break, I recommend trying out crystals and gemstones. If the idea of lying around with a bunch of rocks strewn all over you makes you giggle or groan, don't fret. Trying new things is supposed to be uncomfortable—even silly. And seriously, what have you got to lose?
Here is my overview of some common physical ailments and their corresponding crystal that just might be supportive. Mix and match; try out one and skip another—whatever works for you!
There are many different forms of addiction: smoking, alcohol, drugs, sex, or even overeating to name a few. Using smoky quartz or sugilite can help ease the cravings of addiction—especially if these stones are worn as a bracelet or necklace or carried in an easily accessible pocket. This way, in moments of stress, boredom, social pressure, or in any other triggering situation, you can hold the stone between your fingers as a gentle reminder to stay strong.
I am a specialist in allergies—I rock the puffy eyes, stuffy nose, and Sean Connery–esque vocals every spring. So listen to this advice from a seasoned sneezer: Carnelian stones can help reduce or even eliminate the itching, scratching, rashes, and sneezing associated with most allergies. If the allergy affects the skin, try to either wear the stone as jewelry on that location or hold the stone to the affected area. For example, if you're experiencing an itchy nose or irritated eyes, wear earrings or a necklace featuring carnelian.
Wear amber, cat's eye, tiger's-eye, or malachite stones close to your chest. Long-chained necklaces tend to work best as they rest close to your heart chakra, which is also linked to the lungs.
Boils—yeah, they're about as pleasant as they sound—are often the body's signal that you have a blocked energy center. (In most cases, violently blocked!) Hold a sapphire and imagine your body's blockages breaking down and releasing through a practice like yoga or meditation to send your boils packing.
Stones like agate, bloodstone, pearl, moonstone, and jade all work with the body's sacral chakra—the one related to pregnancy, birth, and post-pregnancy healing. Using these stones is said to help support fertility and pregnancy, ease labor pains, and soothe the body after labor. These stones are great to place in the pockets of pants, or even down your underpants! Yep, I went there.
Disclaimer: Firstly, crystals should never be used in place of medical treatment. Secondly, I can't believe I am going to say this to you, and I know this is a little bit captain obvious … but … I had an awkward situation with someone swallowing crystals and stones to help heal them. It doesn't quite work like that. In fact, it brings new meaning to the idea of a constipated soul—please do not eat them!