Try Plant Detoxing With These 4 Teas & Tonics For Spring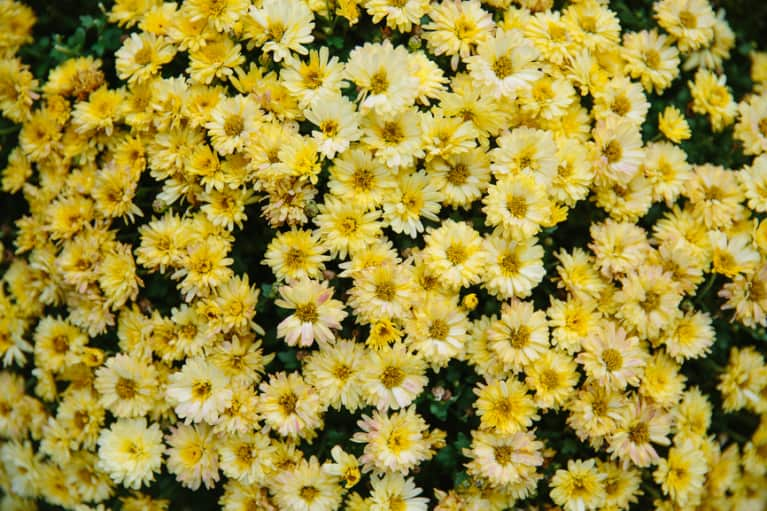 These remedies for spring have straightforward purposes: to cleanse the blood, fight allergies, decrease inflammation, and strengthen the liver. May they move you forward into the year with clarity, rejuvenation, and purpose. Revisiting these essential practices can be done throughout any season, as needed.
1. Chrysanthemum (Chrysanthemum indicum)
Chrysanthemum is a bittersweet herb that is said to calm the liver and resolve toxicity. In Traditional Chinese Medicine, chrysanthemum tea was prescribed to people who felt on edge and hot-tempered. Brewing the flowers in the form of a tea requires steeping them in hot water for about five minutes. The aroma is gently floral, and the smell is instantly calming.
2. Dandelion (Taraxacum officinale)
Dandelion is a common meadow herb of the sunflower family that herbalists have used for general detoxes for centuries. Dandelion can restore the liver and purify the blood. The young leaves of the dandelion in spring are somewhat bitter, but chewing on them stimulates bile production and the liver starts to purge. Dandelion also reduces blood cholesterol and uric acid levels and improves the functioning of the kidneys, pancreas, spleen, and stomach.
3. Milk thistle (Silybum marianum)
Milk thistle has been used medicinally for over 2,000 years—most commonly for the treatment of liver and gallbladder disorders. It is the most researched and best understood of all the medicinal herbs. Study after study has confirmed its ability to protect and actually rejuvenate the liver. Need more proof? People who have accidentally ingested the very fatal death cap mushroom (which poisons by attacking the liver) have been saved by taking milk thistle as an antidote.
4. Turmeric (Curcuma longa)
Turmeric is in the rhizome family of roots and is related to ginger. The spice has been as a vital part of Chinese herbal and Ayurvedic medicine for centuries. It's what gives curry powder its distinctive golden yellow color. Traditional herbalists used it for liver ailments and as a digestive aid, but it's recently become popular in the Western world due to its multiple anti-inflammatory, antioxidant, and antibacterial properties.
German researchers found that when turmeric was taken with milk thistle, it increased bile flow about six times more than when the herbs were used without it. There have been warnings about several brands of turmeric containing high lead levels, so make sure you buy a reputable brand.