Deliciously Ella's Fast, Easy Weeknight Dinner Bowl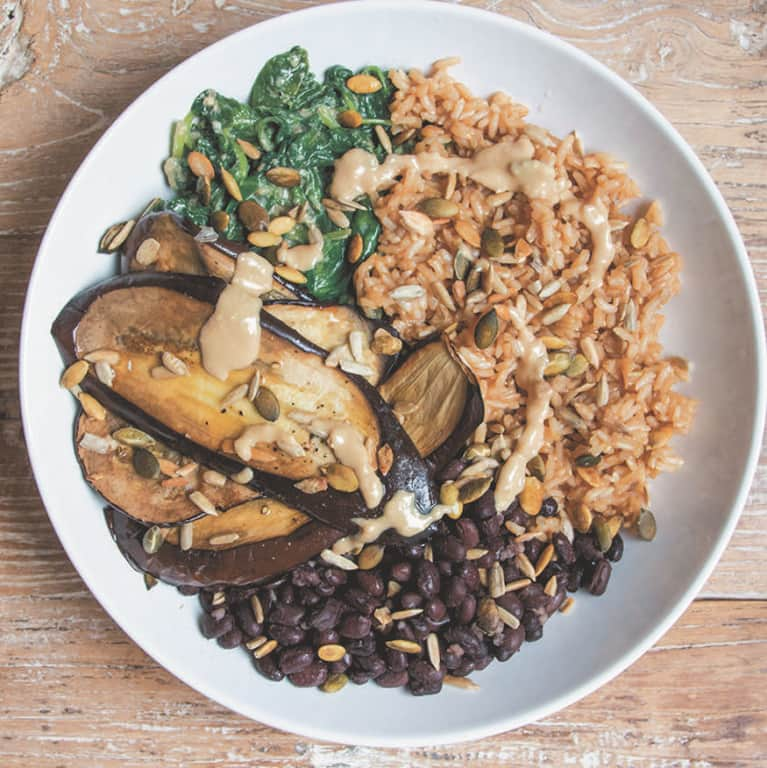 Our editors have independently chosen the products listed on this page. If you purchase something mentioned in this article, we may
earn a small commission
.
The perfect weeknight dinner, filling and delicious yet so energizing and nourishing. It's easy to throw together, too. I make big batches of brown rice every weekend so that I can put the whole thing together in just 20 minutes.
My favorite thing about this recipe is the way that all the ingredients complement one another, from the slightly firm eggplant slices to the soft wilted spinach, the garlic-sautéed black beans, the toasted sunflower seeds, and the warming brown rice, all mixed with rich tahini, salty tamari, and tangy lemon juice to create lots of incredible flavor and a creamy texture.
Roasted Eggplant + Tahini Bowl
½ cup brown rice
2 teaspoons tamari
1 eggplant
olive oil
salt and pepper
3½ ounces spinach
1 garlic clove, crushed
2 heaping tablespoons tahini, plus more to serve
¾ cup canned black beans, drained and rinsed
juice of 1 lemon
big handful of sunflower and pumpkin seeds
Preparation
1. Start by placing the brown rice in a saucepan with 2 cups of boiling water and 1 teaspoon of the tamari. Allow it to simmer for about 40 minutes until cooked; make sure that it never runs out of water.
2. Once the rice has been cooking for 15 minutes or so, preheat the oven to 400°F (convection 350°F). Then cut the eggplant into very thin slices, about ⅛-inch thick.
3. Oil a baking sheet with olive oil and place the eggplant slices on it, then drizzle a little more olive oil on them plus some salt and pepper. Put the baking sheet into the oven for 15 to 20 minutes until they are starting to get crispy but not burned.
4. Next, sauté the spinach: Simply place it in a frying pan with a little olive oil, the garlic, salt, pepper, and half the tahini. Allow it to wilt for a few minutes.
5. Once the spinach has cooked, add the beans. Sauté for a couple more minutes until they are warm and delicious.
6. When the rice finishes cooking, stir in the second tablespoon of tahini, the second teaspoon of tamari, and the lemon juice.
7. Finally, toast the sunflower and pumpkin seeds for 1 minute or so in a dry skillet.
8. Then place everything together in a bowl, drizzling with extra tahini before enjoying.