How To Have Better-Than-Ever Sex After Childbirth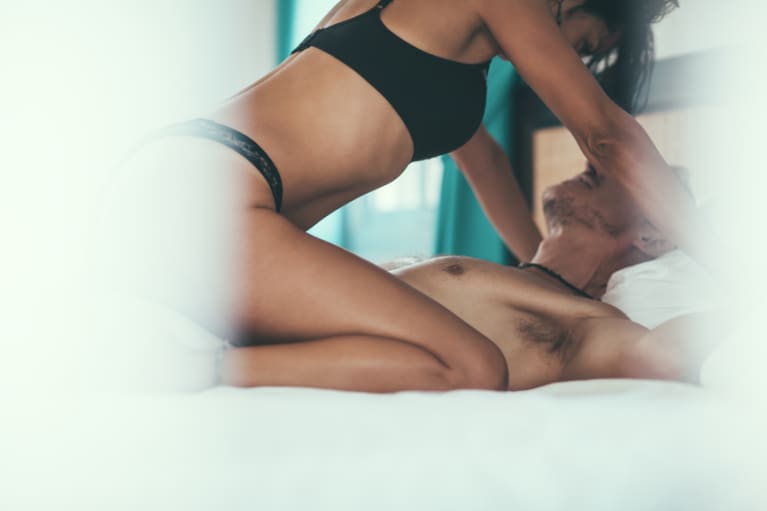 Women often look at me like I'm crazy when I tell them I have really great sex after giving birth. Some describe their birthing experience as like being hit by a car and say that they definitely didn't want to be touched after it. They ask if I'm that rare woman that had an orgasmic birth, like a unicorn in a field of horses.
The answer is no. I didn't have an orgasmic birth. I experienced all the same strong sensations that most women feel. During my unmedicated birth, I used meditation techniques to shorten and ease labor and connect to my power—but my body went through the same stretching and opening that often leads to women feeling wrecked.
No matter how you give birth, you can have great sex afterward. It's about turning toward your body, toward your partner and embracing sex as a powerful tool for your recovery and a way to enhance your experience as a mother and a lover. Here are my favorite tips:
1. Reframe what sex means to you.
For many women—and men—it's scary to think about having sex after the trauma of giving birth. To have great sex, you've got to open yourself up to the idea that sex involves your entire being, not just a couple of intimate bits of the body.
Expanding your definition of sex to include all of the erogenous parts of your body unlocks a whole new realm for exploration and possibilities to stimulate that euphoric rush.
2. Explore what you can do instead of what you can't do.
If parts of your body are feeling sore, remember that sex includes all forms of touching and tasting. As you begin to explore, you'll be surprised how good it feels to stimulate other parts of each other's body with tongues and fingers.
Try sucking a finger or toe and see what happens. You can use a vibrator—not just on your clitoris but around your nipples, inner thighs, and along your bikini line.
Moan and gasp. Using your voice helps you to find your climax. Don't fake it. Feel it. Getting into it really gets you into it. You have a voice. Use it for good. Make sure both partners bodies are feeling pleasure. That's the fun of being with someone else.
3. Invite your partner into your oxytocin bubble.
After you give birth, your body is flooded with oxytocin, the feel-good hormone. The tears, the smiles, the melty feeling of relief washes over your entire body. You feel high and euphoric.
Invite your partner to feel the rush by feeling you. Touching your arm, kissing your face, and holding you close stimulates the production of those same hormones in your partner. You will feel good together.
The third day after giving birth, your hormone levels naturally drop. This is when most feel that "hit by a car" feeling. It's usually when women have come home from the hospital (if they had a hospital birth) and friends and family have tapered off their visits. Women tend to feel alone and vulnerable.
It's great if you've already invited your partner into your bubble because you'll be able to continue the flow of good feeling hormones—but if you haven't, do it. It makes a world of difference. Look deep into each other's eyes and smile—it's like pushing a button to start the flow of oxytocin. You'll both feel better from it.
Even though it may feel counterintuitive, when your body feels out of whack, it feels good to be held close. Your body has been stretched and may feel loose. Firm but gentle pressure on your abdomen and vagina actually feels good. It allows you to feel the integral strength of your body and you begin to tone. You can do it yourself or show your partner what feels good. The connection is really powerful and speeds recovery.
Another part of your body to focus on is your ever-growing breasts. If you thought they were getting big while you were pregnant, just watch—they get really big after giving birth. If you're not paying attention, they can even get painful. But they don't have to.
Invite your partner to touch your breasts. The pressure should be light, similar to moving a coin across a table. This moves the lymph and relieves the pressure. It also feels really nice to look into your partner's eyes and smile. Appreciate the connection—the connection of your bodies and minds. Feel the energy flow between the two of you.
When you give birth, you get to really feel the strength of your muscles. After birthing, your muscles are tired but they are primed for a new level of connection. As soon as you're done giving birth and feel settled, practice tightening.
Tighten from your vagina all the way to your abdomen. If you birthed without medication, you felt your baby move all the way through your birthing canal. You will be able to tighten all the way up and feel it inside like never before. You will know what it feels like to engage the muscles deep inside, because you felt it when you were in labor.
You can take control of these muscles and use them to have tighter, more powerful sex than ever before.
After you've spent the early days as a new parent touching and caressing your partner and inviting them to touch you, you may feel ready to test the strength of your muscles and newfound depth of sensation.
When you feel ready, take it slow and make sure to get your juices flowing. You can use all sorts of oils and lubes to get started. Once you get warmed up, your body produces its own lubrication, which is a good indicator that you're ready for deep exploration.
After giving birth, you're open like never before. This is a special time because through birthing you shed the layers that usually guard your heart and soul.
Use this time of openness to feel more deeply. Embrace your vulnerability. Acknowledge that you are safe with your partner. They were with you and continue to be with you after seeing you like never before. Appreciate the depth of feeling possible when you are fully open and fully safe. Move into that space of protected vulnerability. It's where deep, powerful intimate love thrives and amazing sexual experiences bloom.
Related reads: