Deliciously Ella's 6-Ingredient Vegan Chocolate Cake Recipe
Founder of Deliciously Ella
By Ella Mills
Founder of Deliciously Ella
Ella Mills is the founder of Deliciously Ella, a popular wellness brand based in London. Since starting her blog in 2011, she has now launched an app, written multiple books, started a line of packaged goods sold all over the UK, and opened a deli.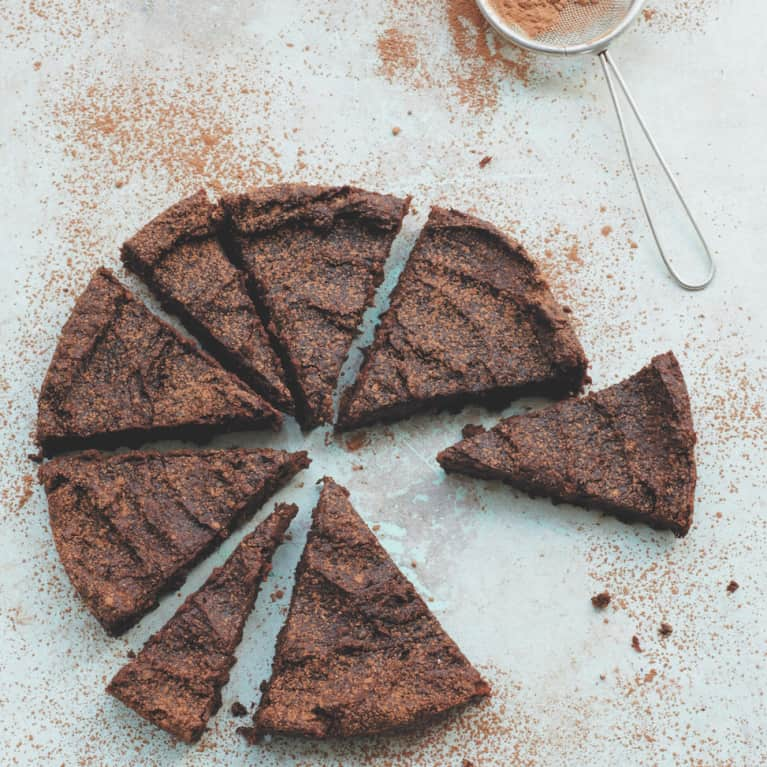 Our editors have independently chosen the products listed on this page. If you purchase something mentioned in this article, we may
earn a small commission
.
Ella Woodward is the woman behind the popular blog and best-selling cookbook Deliciously Ella. When Ella was diagnosed with a rare autoimmune disease, she decided to change to a plant-based diet and saw incredible results. Ever since, she's been sharing beautiful recipes that make eating plants simple, easy, and fun. We're so excited to share a recipe from her new cookbook, Deliciously Ella Every Day.
This is my favorite chocolate cake; it's just so soft and gooey. It may also be the simplest cake ever: just six ingredients blended together and then baked for 30 minutes, so it's great if you need a fancy dessert but have limited time or energy! It's perfect for a party, too, as I've yet to find anyone who doesn't love it.
Makes 1 cake
Ingredients for the cake
coconut oil, for the pan
3 avocados
7 tablespoons almond butter
½ cup raw cacao powder, plus more to dust (optional)
1½ cups plus 3 tablespoons maple syrup
1½ cups almond meal
3 tablespoons chia seeds
Ingredients for the frosting
¼ cup coconut oil
¼ cup raw cacao powder
¼ cup maple syrup
Preparation
1. Preheat the oven to 350°F (convection 325°F). Oil an 8-inch cake pan with coconut oil; I don't line it with parchment paper as I use a silicone pan. If yours isn't, you might want to line it.
2. Scoop the avocado flesh out of the skins and into a food processor. Add all the other ingredients and blend until smooth. Scrape the batter into the prepared pan and level the top.
3. Bake for 30 minutes or until a knife inserted into the center comes out clean. Leave to cool and bind together for at least 20 minutes before turning out of the pan.
4. Sift over a little more cacao powder, if you like, to serve, as we did for the photo, or make the frosting. For the frosting, warm the coconut oil in a small saucepan just until it melts. Stir in all the other ingredients until you have a smooth, glossy glaze. Use it to frost the top of the cooled cake, then leave to set.
Make It Better: This cake is perfect just as it is, frosted or not, but you could add a scoop of coconut ice cream to each slice if you want.
Related reads: