5 Tips To Make Getting Affordable, Healthy Produce A Breeze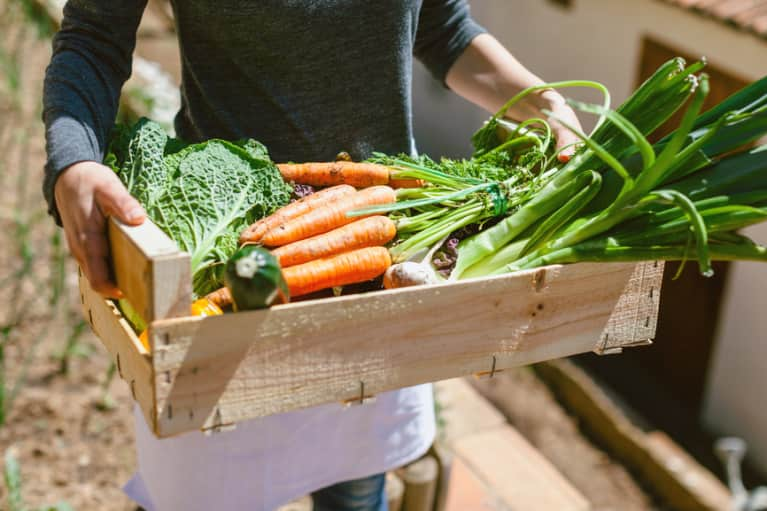 For most of us in the Northeast, there's that almost-out-of-the-woods feeling of spring coming, well, any day now.
Chances are, you haven't quite started thinking about your summer fruits and veggies yet. Before I was ever a professional farm manager, I fell hard for warm-weather produce: early spring lettuce, the juicy sweetness of June strawberries, and cucumbers for days.
My produce game as a whole, however, lacked the planning and preparation that ultimately cost me tons of time and money. Food and cooking brings me great joy, brings important people in my life together, and is at the core of everything I cherish, but the idea of investing a few days of research into any purchasing decision can be daunting.
Community-supported agriculture programs (or CSAs) are ways for consumers to support a local farm by purchasing shares before the season begins, injecting revenue into a farm at a time of year that it faces the toughest financial struggles.
As community members pay for shares, farmers are ensured the upfront funds to purchase seeds, soil amendments, and equipment and pay labor before they see any return in the fields. As a payout on their investment, those who purchased shares receive their "share" of fresh vegetables, usually once per week, for the duration of the season.
Now, on the other side of the fence, I'd like to offer my younger self (and you!) some CSA tips to get you started and keep you going:
CSAs are, first and foremost, focused on the community.
Those of us living our day-to-day lives on a farm are so excited to engage a broader community in our work. We know that you're looking for a dollar value as well as a way to bring more food awareness into your life.
So, go ahead—do a quick Google search for CSAs in your area and then pick up the phone and call! Getting a feel for a particular farm manager's communication style is really important.
2. This is a relationship.
And like all strong relationships, it's a two-way street. I'm passionate about growing food for my customers and community. But as with anything, it can always be so much more rewarding if those customers feel comfortable sharing expectations and feedback with me.
Signing up for a CSA is a monthslong commitment. Challenge yourself to stay in touch with your farm manager, other members, and never turn down an opportunity to give feedback.
The more ways in which you can plan and prepare throughout the entire season and each week, the more you can maximize your produce.
Try to integrate a few small steps into your routine: Keep track of simple, inspiring recipes and post them in your kitchen on a corkboard or virtually on your Pinterest boards.
Most CSAs will send out a "What's in the Bag" email a day or two before pickup, so use this to your advantage. Pair your recipes with their appropriate seasons for veggies. And keep in mind: This is a learning experience about seasonality and healthy eating, so don't beat yourself up about being an imperfect locavore!
Now that you've actually picked out a CSA and picked up your share, it's time to think like a chef. Professional chefs have a team of prep chefs who support them by chopping, slicing, and dicing every vegetable they use. You can be your own prep chef.
When you bring your share home, wash and prep all your veggies. Cut beets into cubes for easy poaching; peel and slice root vegetables; and wash, dry, and tear greens.
Store in clean, clear pint or quart containers, so, in two days when you're making curry and need three cups of cubed potatoes? Already prepped. Just toss 'em in!
5. Keep practicing gratitude.
It's so tempting and easy to give into that not-enough attitude, especially when diving into a new (giant) project. Your CSA share will be changing and evolving for the entire season—it's the best teacher we have for living in the moment, enjoying what sustenance we have in front of us, and moving on when the season changes.