The Saturated Fat That Keeps You Full + Burns Fat: A Doctor Explains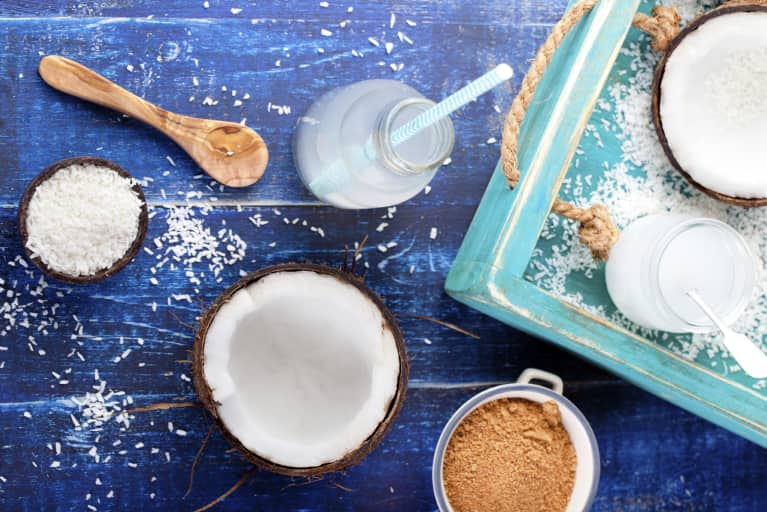 Our editors have independently chosen the products listed on this page. If you purchase something mentioned in this article, we may
earn a small commission
.
By now, you probably know that eating fat won't make you fat. In fact, there's a unique fat that can actually help keep you full and provide fuel to burn body fat: medium-chain triglycerides, or MCTs.
MCTs are a special form of saturated fat with antioxidant and antimicrobial properties that support your immune system.
You can find MCTs in coconut oil, although using MCT oil provides more therapeutic, concentrated doses of this fabulous oil. You can use it as a salad dressing, in your smoothie, in coffee, as a marinade base, or by the tablespoon.
I'm personally a huge fan and using MCT oil every single day because I find it keeps me full and satisfied longer.
How MCTs Can Help With Weight Loss
MCTs are the easiest type of fatty acid that your body can burn for calories. They get absorbed directly from the gut to the liver and burned very quickly. For many patients, they become that nudge to ditch those last 10 to 15 stubborn pounds that just won't seem to budge.
Research confirms that MCTs can make you lean and healthy. In one study, researchers compared the results of MCTs with long-chain triglycerides on body fat, energy expenditure, appetite, and other aspects of weight loss in overweight men. They put these men on different diets for 28 days. One group ate a coconut-oil-rich diet high in MCTs such as caprylic acid and lauric acid. The other group ate a diet rich in long-chain triglycerides like olive oil. They then switched the diets so that they could see differences in the same subjects.
The researchers found the coconut group lost more body fat, which they attributed to a greater increase in energy expenditure and burning fat. Coconut oil actually sped up their metabolisms, allowing them to lose more belly fat and curbing their appetite compared with the men on the olive-oil-rich diet.
In fact, studies suggest that MCTs can help men burn about 460 extra calories a day and women about 190 extra calories. MCTs also affect your hormones, including appetite-controlling hormones, helping you feel full.
Why You Shouldn't Fear Fat
You might be hesitant to use coconut oil or MCT oil because it's high in saturated fat, which has unfairly been demonized for decades. Yet newer studies vindicate saturated fat, with one study arguing "a variety of saturated fatty acids may provide distinct benefits to various metabolic processes and overall health."
Besides, there is a world of difference between quality saturated fat in coconut or MCT oils and what you might get in a fast-food cheeseburger.
Fat is one of your body's main building blocks, yet for decades we followed a low-fat diet according to U.S. dietary guidelines, which became a high-sugar, high-refined-carb diet—contributing to an epidemic of insulin resistance, obesity, heart disease, type 2 diabetes, and many other serious health problems.
We now know that inflammation caused by following these flawed guidelines is the true health-robbing villain. Rather than demonize fat, we need to restrict sugar and carbohydrates that break down to sugar, as well as inflammatory omega-6 fats.
Instead, we should be focusing on getting more omega-3 fats and MCTs like coconut oil, which can help you to lose weight and stay healthy. Quality rather than quantity matters here.