6 Ways To Maintain Your Yoga Practice Beyond The Studio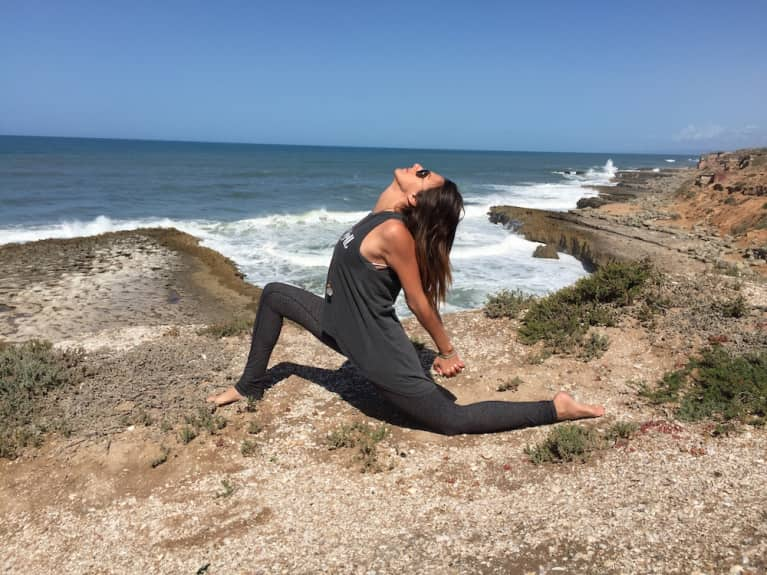 Our editors have independently chosen the products listed on this page. If you purchase something mentioned in this article, we may
earn a small commission
.
Thanks to my insatiable appetite for adventure, cultural experiences, and the wild unknown, I have been lucky enough to travel the world over these past few years. Traveling and yoga are very similar, because they both give you the opportunity to witness the world from a different angle, to help shift your perspective on life, and to bring you back home to who and what truly matters.
From traveling to different countries, to being on the road or an airplane, to airport layovers, to living out of a suitcase, and to being out of my normal routine and comfort zone, I've discovered some tricks for maintaining my yoga practice while jet-setting the globe. Trust me, if this Gypsy Soul can maintain her yoga practice while traveling, so can you!
1. Pack a yoga mat with you.
Ideally, that's a light travel mat that doesn't weigh too much (so that your luggage is not over the weight limit ... and so that you have more space to fill with treasures you bought while traveling!) One good one: the Manduka eKO SuperLite Travel Yoga Mat.
The beauty of traveling is going with the flow and not always having a plan. An unplanned day may take you somewhere magical, where you get to experience something new, where you have the opportunity to eat delicious local foods, and ... well, the only downside is that it may leave you with less opportunity to practice as the day goes on. So, I find it's ideal to get your practice on in the morning before you leave for the day. This way, you can be even more present to the experiences awaiting you, and you can fully immerse yourself in the local culture without feeling anxious about missing your yoga practice!
Find a space with enough room to practice and move your body. Creating sacred space can be outside in nature, ideally away from technology and distractions, and should be a space where you feel good and are inspired to get on your mat.
4. Pack your yoga goodies with you.
Travel with some items that bring you comfort from back home, help ground you while you're on the road, and help create the sacred space I just mentioned above (think "hippie" stuff: crystals, stones, mala beads, a photo of a loved one, sage, incense, yoga music, etc.). Place your crystals, stones, and your favorite mala bead at the top of your yoga mat, or somewhere nearby. Clear any unwanted energy by lighting your incense before or after your yoga practice. Play your favorite music. Suddenly, you won't feel quite so far from home.
Part of traveling is stepping out of your comfort zone and experiencing the world in a different way. Traveling teaches you how to go with the flow more in life. So when you are on the road, while you may have the intention to get on your mat, things may happen that prevent it. Give yourself a break, and know that your practice will look and feel different from your practice at your home studio. Embrace the journey and the opportunity to go with the flow, both on and off your yoga mat, and watch as it helps you become more fluid in your everyday life when you return home from your travels.
6. Remember: Traveling is already a form of yoga.
Yes, your trip really is an extension of your yoga practice. Anything approached with intention and mindfulness can be a form of yoga. From walking down a new colorful street with your eyes wide open, to fully savoring every bite of some new exotic cuisine, to having your heart crack wide open from otherworldly people and experiences . ..know that these experiences, when approached with intention and a desire to be present, are all a part of your yoga practice. Just like yoga, traveling can help to transform you into a more aware, connected, and deeply conscious human being.
Related reads: