Yogis Reveal The Secret Reasons They Keep Coming Back To The Mat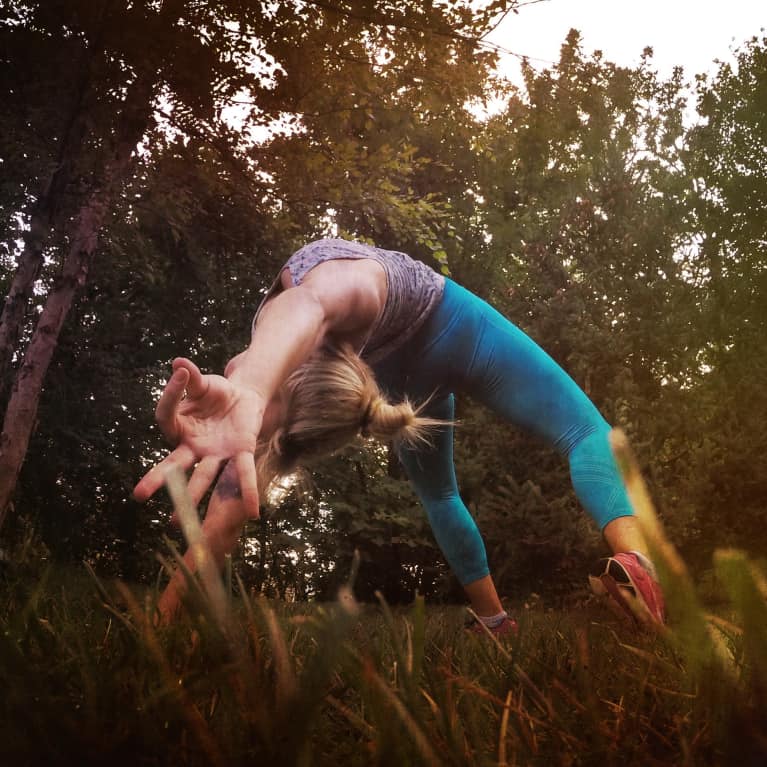 This year, 80 million Americans will step on their yoga mat. This explosive popularity indicates that yoga is clearly doing something good. But ... what's the point?
What's the point of yoga?
This is a question posed to my friend and fellow yoga teacher by one of her students. It didn't take me too long to think of my answer. To me, yoga is about finding and understanding my truth. By looking inward and seeking understanding of myself, mentally, emotionally, and physically, I can better understand who I am and why I'm here. From this point, I can better understand others and what I perceive to be truth in the greater universe.
I won't pretend to know it all or be a master, but yoga helps me find my truth (that is, what I believe wholly). It's a beautifully messy path. And this understanding translates to lots of great stuff:
more compassion toward myself and others
fewer expectations and more presence
detachment from the ego
acceptance of things as they are
and, yes, stronger muscles and more flexibility
Those are a few of the many benefits I experience through my practice, but to sum it all up, for me, "the point" is understanding. If I see someone hurting, I want to understand how I can best serve them. If I am overwhelmed by anxiety, I want to understand why so I can treat it. And if I'm trying to work into a handstand, I want to understand where my hips are in relation to my shoulders.
I was curious how others might answer this—yoga teachers, yoga practitioners, and yoga newbies. What's the point of their yoga practice? So I asked. While some themes emerged, I love the diversity of answers I received. Perhaps the reason yoga has grown so much is that it can be exactly what you need. In fact, when I first started practicing, the point was to aid in my quest for thinness. And if you ask me in 10 years what the point of yoga is, I will likely have a different answer than I do today. Because my journey, perspective, and experience will all change—and so will my practice.
If you need a little inspiration to get to the studio before work or hit the mat after a long, draining day, read on.
"For me, yoga is about being present in the moment. Human beings spend so much time worrying about what happened in the past or what's going to happen in the future, and we forget to focus on the only time there is—right now. My practice allows me to quiet my mind and become present within my body." —Sarah Scouler, yoga instructor
"The point of yoga is to connect the mind to the body through movement and breath. To create new space and let go of anything weighing you down." —Misha, yoga instructor
"To get to know and love my body." —Rae W., yoga practitioner
"Uniting the mind, body, and soul. Finding my truth and growing each aspect of myself to find balance and harmony." —Andi Wiltshire, yoga instructor
"To pause, to breathe, to stop thinking, to look at your butt." —Kris, new yogi [NOTE: This is my husband. He's literally talking about my butt.]
"To inhabit my body and push it to do things I don't think (but hope!) are possible." —J, yoga practitioner and blogger
"To me, yoga is about physical and mental fitness. For the physical, that means becoming stronger, more flexible, and more balanced; for the mental, it means giving my mind room to breathe, letting go of the stresses of my day-to-day life, and finding calm." —Elliot Kort, yoga practitioner
"To stretch, to reflect, to let my body unwind. I get so tense and drawn in and compact from the stress of work, obligations, and just usual workouts. Yoga allows me to release the tension all that brings by stretching out every thought and limb. When everything is stretched out in front of me, nothing seems so panicked and compounded." —Katrina Steffensen, yoga practitioner and blogger
"I practice yoga one to three times per week to stretch, reduce stress, and increase flexibility. It's also a type of meditation for me—it decreases my anxiety and helps me focus on how I feel physically." —Kelsey Jones, yoga practitioner and blogger
"To me, yoga is me-time. No kids, no husband, just me. Time to refocus and not let the hustle and bustle of every day make me go crazy." —Terri Richnak