Gabby Reece's 7 Tips For Working Out When You REALLY Don't Want To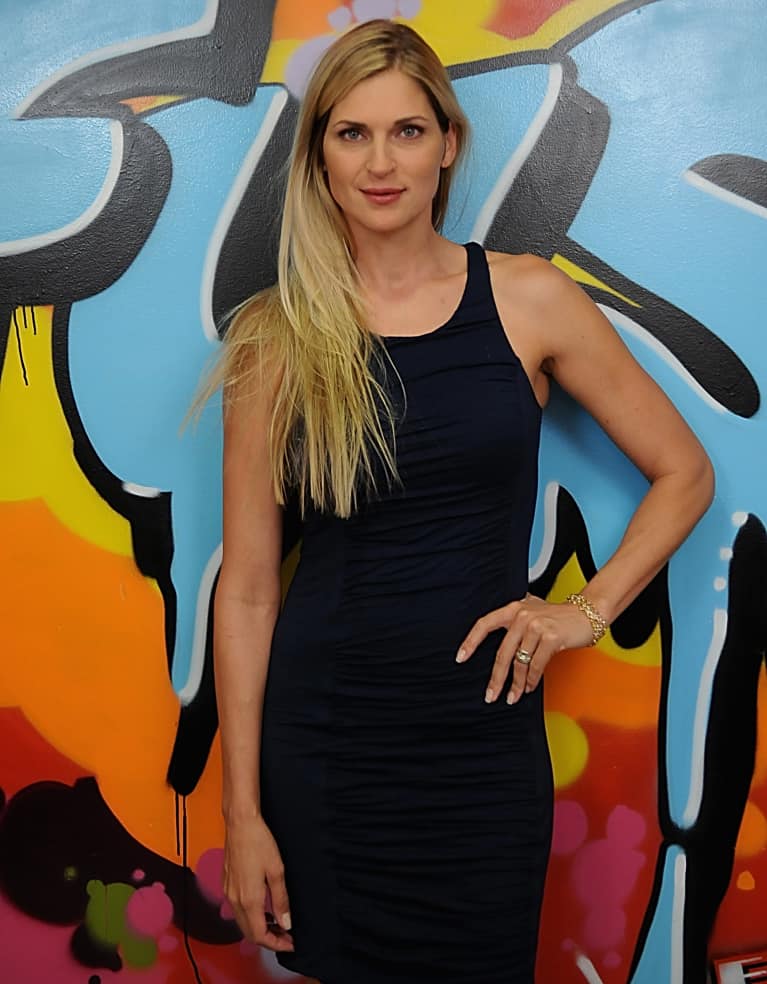 The toothpick physique is out, and resilience—inside and out—is the new ideal. That's according to Gabrielle Reece, the beach volleyball legend, New York Times best-selling author, wife, mother, and host of the new reality fitness show STRONG, debuting tonight on NBC.
"I'm 6'3" and 175 pounds on a small day," she says. "Am I ever going to be a size zero to two? It's never going to happen. For a lot of people, being the best you that you can be doesn't mean staying model-thin or having an unrealistic expectation of yourself. Our physical body alone isn't the complete definition of what makes us strong."
While she's traveling heavily now to promote her new show, Reece admits that her own exercise regimen has occasionally fallen by the wayside. To stay balanced, "my eating gets really healthy," she says. However, during a "perfect" week at home, the world-renowned athlete maintains a workout schedule of hourlong strength and circuit training three days a week, and low-impact pool training coupled with breathing exercises on the other days. If your own workout motivation level could use a charge, follow Reece's top mind tricks for staying the course:
1. Grab a partner in crime.
"If you fear going to the gym, take a partner along who feels the same way to lessen self-doubt. If you hate the idea of being judged, take things outside and walk with a friend instead."
2. Channel "the warrior" within.
"All of us have that warrior inside of us. Mothers have to be warriors to defend their children. It's so important to help catapult us, especially on days when we don't want to. If you don't muster that kind of energy, you can't get things done. With a fierceness about it, you actually have a shot."
"Different things motivate different people. I'm a happier person and more the person that I want to be when I exercise. When you understand what triggers you to want to feel good and eat well, you don't need to be sold on anything else."
"When you blame others for your stress or inability to focus, you're not in control. Figure out how to get it done and take power back into your own hands."
"If you compare yourself to others who are younger and fitter, the problem is that every year that you get older, you have a larger group to compare yourself to. When you can acknowledge other people's greatness, it makes you more powerful and centers you. People can sense your confidence. There's nothing sexier than someone who seems like they're pretty content about where they are and trying to be better and improve."
"It's important to realize when it's beneficial to be therapeutic to oneself, by nurturing and healing, rather than tearing down and destroying. On such days, it's better to swim, stretch, breathe, or take a walk outside if you live near water, to connect with your spirit."
"I most likely will get my knee replaced in the next few weeks. I've been in discomfort for 15 years and have lacked a lot of function the past 15 months, but I am not going to feel sorry for myself. After years of so much pounding on my body, I am healthy. When life takes an unexpected turn, you have to be the one to fix it. It takes discipline to gear your thoughts toward picking yourself up instead of being the victim. Continue to focus on what is right about your life and stay motivated and grateful."
NBC's STRONG premieres tonight at 9 p.m. ET with two episodes airing back-to-back. The show follows trainer/trainee teams who compete in mental and physical strength challenges for a $500,000 cash prize.