Up Your Snack Game With Beet Hummus + Almond Flour Crackers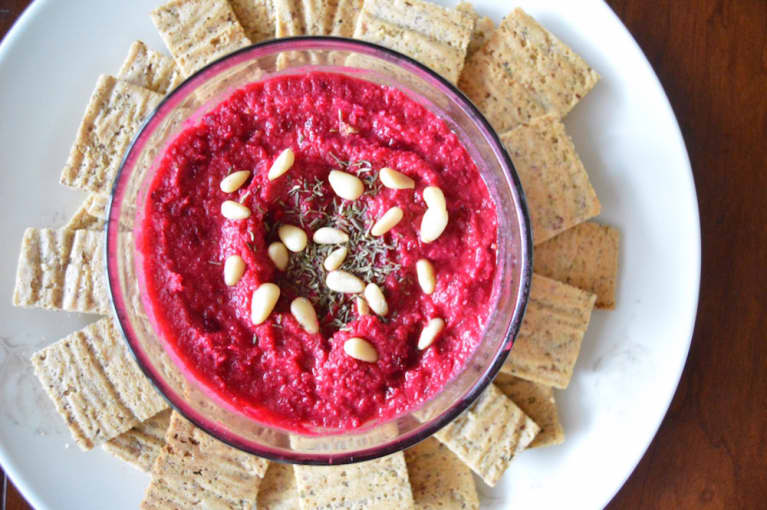 When you're looking for a snack that will leave you feeling good, dive into these easy-to-make crackers and hummus!
The hummus's hot pink color is sure to get your attention, and once you've tried it, it'll be hard to forget. There's no sugar involved and it's the perfect treat to bring to your next get-together.
Beets are a flavorful veggie with tons of detoxifying properties to get your skin glowing and taste buds jumping. Combined with protein and fiber-packed chickpeas, this hummus will become a go-to for sure.
Dip into it with homemade almond flour crackers that have that same great crunch as the big-name brands without any of the excess oils and processed ingredients.
1 large red beet
1 (15-oz.) can organic chickpeas
Juice of ½ a lemon
2 cloves garlic
2 to 3 tablespoons tahini
¼ cup extra-virgin olive oil
small pinch of sea salt and ground black pepper
1 tablespoon pine nuts
sprinkle of rosemary (optional)
Preparation
1. Roast red beet wrapped in tin foil in a 350°F oven for 45 minutes. Allow beet to cool, and peel skin.
2. Dice beet into fourths and place in food processor. Pulse beet until it is broken down for easier blending.
3. Add chickpeas, lemon, garlic, tahini, olive oil, salt, and pepper, and process until you reach a smooth consistency.
4. Top with pine nuts, rosemary, and a few small drops of olive oil.
Makes 20 crackers
Ingredients
2 cups almond flour
1 flax egg (1 tablespoon flaxseed meal + 3 tablespoons water)*
pinch of garlic powder
pinch of onion powder
pinch of Italian seasoning
pinch of black pepper
1 tablespoon water (if necessary)
Preparation
1. Heat oven to 425°F.
2. Combine all ingredients in a food processor, and pulse until a dough forms (add water if mixture is too dry).
3. Place parchment paper on a baking sheet, and spread the dough evenly at around a 1/16-inch thickness.
4. Bake for 10 minutes and remove to cut into 2-by-2-inch squares. Flip crackers over and place back in oven to bake for another 5 to 8 minutes (or until it reaches your crispness preference). Allow to cool.
*To make flax egg, combine flax and water and allow to sit for 10 to 15 minutes. The consistency should be similar to an egg.
Want more hummus? Try these recipes: